Poker Room Review: Santa Ana Star, Bernalillo, NM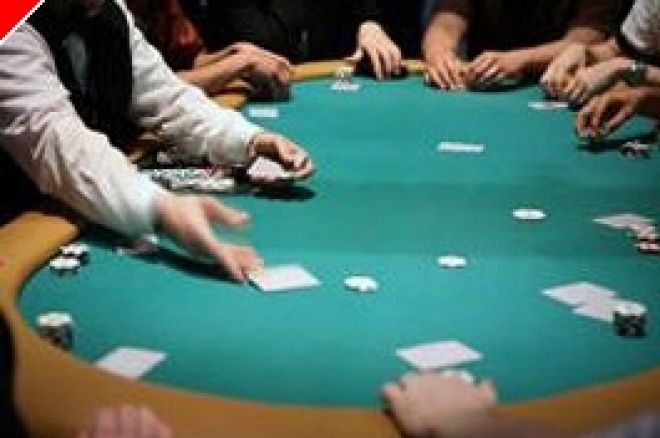 The Santa Ana Star Casino is located in Bernalillo, a small city between Albuquerque and Santa Fe, just west of Interstate 25. It is a full service New Mexican casino, located on an Indian pueblo, with all of the limitations required by law. This means that they must close by 4:00 AM during the week – though they can be open 24 hours Friday through Sunday.
The casino has 1,400 slot machines, including both video poker and traditional machines. They also have standard casino table games such as blackjack, craps, roulette, and Let It Ride. One interesting plus for this place is that their roulette cuts the house advantage in half, by offering a single zero wheel. This "European" roulette is the only one I found in my travels through New Mexico – and it makes roulette here nearly as good a gamble as craps or baccarat, with only a little more than a 2% house edge on the best bets on the wheel. I was told that they sometimes have a promotion where the 0 isn't a loss for players playing a number, but rather a push, meaning they get another spin for free. This further reduces the house edge to less than 2%.
Poker is a relatively quiet, local affair. There are tournaments every day at 11:00 AM, and live games after that. The chief game is $2/4 limit hold'em, though $4/8 with a half kill is offered later in the day and at night as players may desire. There is also sometimes a $1/2 no-limit game on the weekends, though the two times I came by they didn't have it going.
I was told, though I didn't see, that a $30/60 mixed game goes off about twice a month. This is, from what I gathered, more a home game that comes to the casino rather than a typical casino game of strangers. Still, had I the time, I would find out when it went off. I didn't find any games at that level in any of the New Mexican casinos I visited.
The poker room staff is extremely helpful and friendly. They eagerly answered all of my questions and helped make me feel comfortable and welcome. (I suspect this was out of friendliness – not just a desire to have me lose my chips to the regulars.)
They have the standard, inexpensive New Mexican rake of 10% up to a maximum of $3. They have a bad beat jackpot as well – with $1 taken out of the pot to fund it. They also have high-hand bonuses — $60 for quads, $100 for a straight flush, and $200 for a royal. Dealers keep their tips.
Drinks are served to players free, at the table. But no alcohol is served, in keeping with state law. There is also tableside food service from the sports bar or snack bar. There's a buffet as well, with what was described as an excellent seafood buffet on Friday.
Tourneys are popular and well structured for players who like a lot of play for their buck. The morning one goes off at 11:00 AM. They're $25, with $19 going to the prize pool, $3 to the house, and $3 to the dealers. Players start with 3,000 in chips, with blinds starting at 25/50. Most are no-limit hold'em tournaments, as you might expect. On Sunday, though, they have an Omaha-8 tourney. There are other, slightly bigger tournaments later in the day and into the evening. Check with the room for the latest schedule, as they tend to change. When last I checked they had $40 tournaments at 5:00 PM on Sunday and at 7:00 PM on Monday and Wednesday. There were no rebuys.
The crowd here is all local; I was the only out-of-towner when I played. I started at $2/4 and then was moved to the $4/8 (with kill) table. They have some interesting local rules. The kill posts $3, not $6, and has last action instead of action in turn.
I found the play to be generally competent but not very strong. For the most part, locals played a loose and passive game, which suited me fine. Unfortunately, as luck would have it, I had a couple of bad beats (A-K outdrawn by 5-6 with a board that ran out A-K-5-5-6), but nothing to cry about. The stakes were too low to attract any professionals, but one player, who was a regular, seemed noticeably better than the rest.
The players were very friendly as well. I had three eager recommendations for the best restaurants from three different players.
I doubt that I'd make this my regular room if I lived in the area. But as I was attending a conference at the resort hotel conference center next door, it was a convenient spot for a late evening game from time to time. It's the kind of place where new and relatively new players will feel most welcome and comfortable. And in this day of aggressive young players that seem to dominate a lot of rooms, that's saying a lot.
Santa Ana Star Casino
54 Jemez Canyon Dam Road
Santa Ana Pueblo, NM
87004
505-867-0000