Sexton's Corner, Vol. 42: The WPT Ceremony of Champions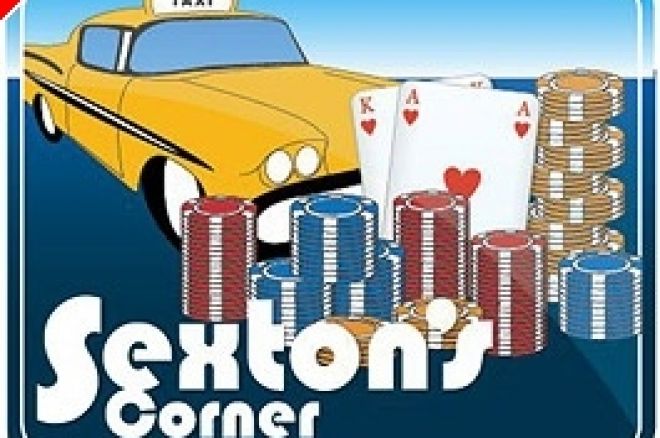 There was quite a poker ceremony held at the Bellagio last Monday, April 21st, in the Vegas showroom that hosts the "O" show six nights each week. The occasion was special, as it honored all the World Poker Tour's individual champions from the first six seasons. It was hosted by poker's funniest and most dynamic announcers, Mike Sexton and Vince Van Patten. Besides the individual champions from each season, being brought onstage in groups to receive their beautiful Tiffany silver WPT bracelets, there were some great moments shown on a huge screen that highlighted victories and special moments from season to season.
It was nice to see the players who won on the WPT over the last six seasons receive such deserved recognition. After all, the gauntlet they navigated to become a WPT champion is one of poker's finest achievements. Yes, there are some very famous players who have won on the WPT, such as Doyle Brunson, Barry Greenstein, Phil Ivey, Gus Hansen, Daniel Negreanu, Scotty Nguyen, Joe Hachem, Carlos Mortensen, Layne Flack, Gavin Smith, Erick Lindgren, Dan Harrington, Phil Gordon, Erik Seidel, Howard Lederer and many others. What struck me was that over half of the winners that were on stage might walk right by me down the hall, and I wouldn't know that they had won a title on the popular TV show, the World Poker Tour. Having such a first-class ceremony was not only a good tribute for the players, but also for a poker audience that loves to see new stars shine!
I've always been proud of my brother for his dedication to the game of poker, and this event was no exception. His performance, as well as Vince Van Patten's, was excellent, but Mike was playing in the Main Event himself, and had to leave his table not once, but twice, for the rehearsal at the "O" Showroom. Mike is too modest to say so, but he lost about 25,000 in blinds and antes during this. I happened to go with him to rehearsal both times behind the scenes, and first ran into Vince there. Vince asked me how things were going and I responded that Mike is over there talking to Robin Moder about the rehearsal and how long it might take, as he is getting anted out in the tournament.
I happen to know Vince and Mike are very close friends and it has come across on the TV screen every week for six straight years. Vince is a poker player himself, and offered to suggest that he and Mike walk down to the stage to go over their lines while there was a 20-minute break for the players going on. When Mike saw how involved the production was, with page after page of lines he had to do with Vince and various positions on stage he was expected to know with two speaking stands, he appreciated Robin's strong encouragement to be there for the rehearsal. Robin is the best, and is Steve Lipscomb's right arm for all of the TV productions, having been there from the start.
I saw Robin take Mike to the side and explain just how needed and important the rehearsal time would be. She handled the situation like a true professional, which is precisely why Steve has so much confidence in her abilities. To Mike's credit, he acted like a professional too, quietly accepting his loss of about 25,000 in chips to do the right thing. Mike has always put the game ahead of himself, which is why he has been such an outstanding ambassador. One can only guess how many of the players, in the biggest event of the year, would handle it the same way as Mike did. I might add that Mike had a tough situation happen to him during the last hour of play, before he had to co-host the ceremony. He had pocket sixes and the flop was 8-6-3 rainbow. The turn was an eight, making Mike a full house. His opponent then went all in with pocket aces. They both turned their hands over before the river, and his opponent caught an ace on the river for a four-outer in a 200,000 pot! Mike was still alive with about 135,000 left in chips, but had to go host the show like a trooper, and that is exactly what he did.
From 8:30 PM to 10:30 PM the WPT had a first-class reception party for the players. With cocktails and hors d'oeuvres being served, there were also some cast members of the "O" show in the mix. Affairs like this are wonderful for the players, to be able to socially meet and talk away from the tables. On the left side of the room there were huge banners on the wall covering all six seasons and including pictures of every player who has won a WPT event. It was fun to watch some of the players find their images and have pictures taken in front of the banners or conduct filmed interviews with the press. By 10:30 PM, the cordial atmosphere for the players set the stage to start the show in the adjoining showroom.
<center>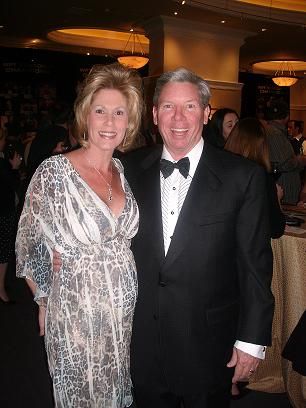 Karen and Mike Sexton at the WPT Ceremony of Champions. The couple are expecting their first child - a boy - later this year.</center>
Steve Lipscomb appropriately welcomed everyone, with a special thank-you to his staff and to the WPT participants these first six years. He gave a special tribute to Lyle Berman, as the man who had the vision to financially make it possible to create the WPT, as well as thank him for being his close friend.
Mike Sexton and Vince Van Patton were at their best, hosting the gala event all night with their humor and personal chemistry in sync as usual. Each group of WPT champions for the first six seasons were brought up on stage to receive their beautiful Tiffany WPT bracelets, with some inspirational clips on the movie screen of many of the WPT's best moments, including hilarious outtakes by Mike, Vince, and the five female hosts of the show.
The most touching moment of the evening was when Doyle Brunson was asked to say a few words about his close friend Chip Reese on stage. I was in the front row and could see Doyle was tearing up reflecting on what Chip had meant to him, as well as the poker world. Doyle revealed that each member of Chip's family was given a cross necklace with some of Chip's ashes inside it, symbolic of his being close to them forever. Doyle told us the family gave him one, too, and he wasn't able to wear it just yet, but will one day. I found myself tearing up at this point as well. It was a very special moment that put life and poker into crystallized perspective!
The "Ceremony of Champions" the WPT put on was a grand slam for everyone who attended, and it set up two big events for later in the week: The first Ladies WPT Championship ($1,500 buy-in) and the $25,000 buy-in WPT Championship event. These two televised events were held back to back on Friday, April 25th and Saturday, April 26th. For the WPT staff, including Mike and Vince, to work and commentate almost 14 hours in succession is no easy task!
The day after the first ladies event was held, I called Mike to get some inside tidbits about the winner. Mike said, "Her name is Nancy Todd Tyner, and she is an amazing lady. She attended two WPT boot camps that I taught myself. I remember she asked a lot of questions about how one would handle this situation or that one. She is good at everything she does in life, and approaches poker the same way. She wants to be the best. She has been involved in 196 political campaigns in 42 states and six countries, and has won 98% of them!" I could tell Mike was very impressed by her studious approach to the game. She also had on quite the collection of jewelry, which will make for great television. The ring on her hand was 33 carats; her 260-carat necklace rivaled the one in the movie, Titanic; and her matching ring of 165 carats must have blinded a few opponents occasionally! From being a two-time student of the WPT Boot Camp to finding instant TV fame and winning the first WPT Ladies Championship is simply one of the year's best poker stories.
As I talked to Mike the morning of the WPT Championship event, it was interesting to hear his view of the final. Mike said, "The bottom three players in chips are good, but it will be a major upset if one of the three top chip leaders doesn't win tonight. The chip leader is Gus Hansen with about 8.5 million, and this could be his fourth WPT title, which will double anyone else. Corey Carroll, in second chip position with $6,670,000, is very formidable and a very tough player. David Chiu, with $6,050,000 in third position, has won four WSOP bracelets, while his five opponents have never won one! David became famous by winning the first 1999 'Tournament of Champions' as well, where his amazing reads on opponents were illustrated when he laid down pocket kings pre-flop in one hand, and guessed right as his opponent did have pocket aces. A little later he called, winning a big pot on the river, when he only had a K-high! The three top leaders are very experienced and used to the TV lights. It will definitely be a major upset if one of the three leaders doesn't win tonight!"
Mike's prediction was right, as experience won out with David Chiu capturing the WPT Championship. I first sat down behind the John Roveto family in the stands, who were the most vocal rooters in the house. He would come over to the rail to huddle with his fans and give his pregnant wife a kiss, and ask, "How is the baby doing?" as he climbed from $263,815 (the expected sixth-place payout) to over $900,000 in prize money with three players left, while Gus Hansen mowed down the others. John ended up in third place winning $923,355. He used to be the field goal kicker for the Chicago Bears a few years back in the 80's.
The tournament started out like none other I've ever witnessed, as Gus Hansen knocked out the first four opponents in the first 22 hands! Wait till you see this incredible feat on TV. Hansen knocked Jeff King out in sixth on hand #12 with
versus
when he spiked a ten on the river. He then eliminated Tommy Le in 5th place on hand #15 with a set of tens over fives on the flop. Hansen then knocked out Cory Carroll on hand #16 with
versus
after a flop of
,
turn and a
river to catch a flush for a 15,000,000-chip pot. Gus seemed to have that magical Midas touch, as he held A-
versus John Roveto's pocket kings on hand #22. The flop was
, with the turn the
and the river the
to fill the straight. Four eliminated in the first 22 hands! This set a record that may never be broken in a major championship.
This led us into heads-up play between Hansen with 22,905,000 in chips and David Chiu with 4,360,000. Gus had a 5.25-to-1 chip lead, holding 84% of the chips on the table! It was like David verses Goliath! The very first hand heads-up Gus went all in. David thought about calling, but decided to wait and be patient. David chose his spots to battle Gus until he had the chip lead, with surgeon-like precision. The last hand with a pot over 20,000,000 turned the tables on Gus. There is an old saying: "Live by the river, die by the river." The flop was
. Gus finally flopped the best hand with his 10-8, making two pair. David had the
of spades, and had flopped a pair of aces against Gus's two pair. The turn was the
giving David a flush draw. The audience was buzzing and on their feet when the river brought the
! David Chiu jumped up out of his seat to celebrate with his catch on the river… trip aces! He quickly grabbed a huge Chinese flag to wrap himself up in, as he had made one of the greatest comebacks in poker history against the ever-aggressive legend, Gus Hansen, to win the prestigious WPT Championship. At the award ceremony, Gus found it hard to say anything, as he was still shell-shocked from coming in second.
When David Chiu pulled out the victory, I found myself going down memory lane almost ten years ago, as Mike was in his tuxedo, handing Chiu the winner's trophy, $214,543, and the keys to a new Lincoln Town Car in the 1999 ToC, held at the Orleans in Las Vegas. My, how tournament poker has grown, as first place here was $3,389,140! With six bracelets now in major tournaments — four WSOP bracelets, the 1999 Tournament of Champions, and now the 2008 WPT Championship — David Chiu deserves to be recognized as one of poker's genuine superstars. I might add that David has been super successful in high-stakes cash games for over 20 years as well, which only adds to his legend in the poker world. His modesty and congenial personality gives him the whole package of what a great champion should truly be like. Congratulations, David Chiu… you are a champion of champions!
The Cab is Parked,
Tom Sexton
Tom Sexton is a featured columnist for PokerNews.com. Tom attended the University of Oklahoma on a full gymnastic scholarship, where he was captain of the team four straight years, becoming the first NCAA All-American and Big Eight Champion in OU's gymnastics history in 1968. The Sexton family is well established in poker and includes Tom's brother Mike, the World Poker Tour commentator and poker's "First Ambassador", as voted by his peers. Tom welcomes your thoughts and comments about any of his articles. His e-mail is TSStarbuck1@aol.com.