Poker Book Review: Des Wilson's 'Ghosts at the Table'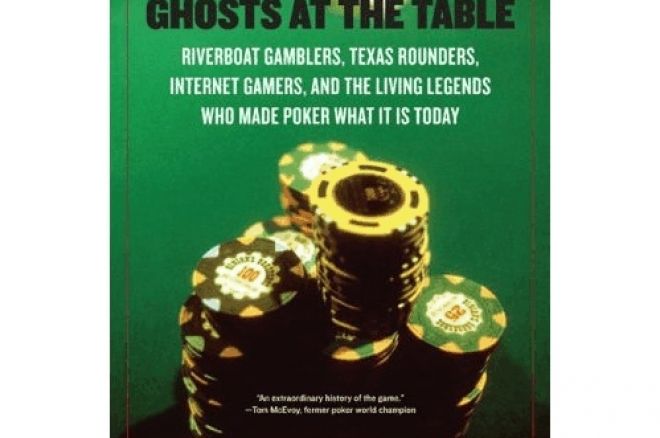 Just ahead of this year's World Series of Poker, poker player and historian Des Wilson provides an entertaining, insightful look into many of poker's most enduring characters and tales in Ghosts at the Table: Riverboat Gamblers, Texas Rounders, Roadside Hucksters, and the Living Legends Who Made Poker What It Is Today.
Whereas in Swimming With the Devilfish (published in 2006), Wilson focused on the U.K. poker scene and its colorful history, here Wilson primarily concentrates on poker's growth and development in the United States, tracing the story from its beginnings in 19th-century gaming halls all the way through the 2007 WSOP. Although Wilson admits the book is "not an exhaustive history of poker," he does ultimately highlight many of the game's important figures and stories, and in some cases adds significantly to our understanding of what he calls poker's "mythology."
Wilson's title has a couple of different meanings. Remarking on poker's status in the early 21st century, Wilson believes that in addition to all of the other reasons why poker endures, it is poker's rich history that is "the key to its popularity." "Poker's history is always there, hovering over every hand," Wilson explains. Thus do "ghosts" including Wild Bill Hickok and Doc Holliday, on up to Benny Binion and Stu Ungar, occupy a kind of permanent residency around the poker tables of today.
The title also reflects Wilson's unique approach to his material, insofar as he characterizes the history of poker as kind of like a "ghost story" replete with uncertainties in need of clarification. Starting from the premise that "poker is short on records and statistics," Wilson therefore takes it upon himself "to answer some of the game's unanswered questions and solve some of its mysteries."
What results is an engaging narrative that occasionally resembles a "whodunit"-styled detective novel, with Wilson himself taking on the role of lead investigator. Rather than rely solely on other written accounts, Wilson visits many of the sites where poker history was made, narrating his own adventures trying to uncover hidden facts or explode unsupported myths. For example, the book begins with the story of the shooting of Wild Bill Hickok during a game of draw poker, and his apparently clutching as he died what came to be known as the "dead man's hand," aces and eights. In telling the story, Wilson visits Deadwood, South Dakota to talk to locals as he tries to find out both the reason why Jack McCall shot Hickok that fateful August day, as well as what the fifth card was in Hickok's last hand.
Wilson ultimately divides his history into four distinct sections, what he calls the "four ages of poker." The first age deals with the 19th-century version of the game as it was played in Old West gaming halls and on Mississippi riverboats, focusing on figures like Hickok, Holliday, Wyatt Earp, and George Devol. For the second age, Wilson jumps ahead to the mid-20th century and down to Texas to consider the stories of Johnny Moss, "Amarillo Slim" Preston, T.J. Cloutier, Crandall Addington, and to try to determine the true origins of Texas hold'em.
The third age begins with the birth and growth of Las Vegas. There Wilson presents two extended portraits of the men he dubs the "Godfathers" of poker, Benny Binion and Doyle Brunson. He then discusses the origins of the WSOP, focusing on some of the more remarkable Main Event final tables as well as the "Big Game" at Bobby's Room. The book concludes with the fourth age in which "poker takes off" with the explosive growth of the online game, poker on television, and the WSOP.
There is much to recommend along the way. Wilson doesn't shy away from difficult or controversial subjects, and is certainly not content merely to exalt those not without flaw and/or deserving of criticism. Along those lines, his treatments of "Amarillo Slim" Preston (one of many whom Wilson interviewed for the book) and Benny Binion are particularly well managed. Perhaps the most riveting chapter is Wilson's account of the 1979 WSOP Main Event final table, in particular the lengthy heads-up battle in which amateur Hal Fowler improbably defeated seasoned pro Bobby Hoff. It's both an intriguing poker story, with the clearly-outmatched novice hitting card after card to pull the upset, and a poignant human drama which concludes with Wilson literally hiring a private detective to help him answer the question "Whatever happened to Hal Fowler?"
Ghosts at the Table ends with Wilson following the path of other poker historians to tell the story of his own participation in a World Series of Poker Main Event. It's a fitting end, given that we have, in a sense, been reading not just a history of poker, but a personal narrative of Wilson's own efforts to track down and examine the "ghosts" of poker lore. And, as Wilson points out, several of those ghosts "are watching . . . way up there . . . in huge black-and-white photographs, looking down at" himself and others at the Rio, all themselves looking to find their own way into poker's unfolding mythology.