Latin American Poker Tour (LAPT) Rio Day 1 – Carlos Lopez in Front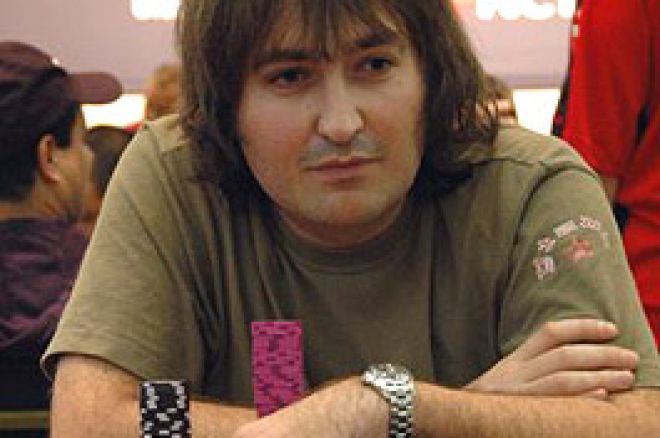 The first major poker tournament in Brazil has just wrapped up its Day One, as the PokerStars.com Latin American Poker Tour (LAPT) has come to Rio. 314 players either paid the $2,500 buy in, or won their way in on PokerStars. The players sat down at the Intercontinental Hotel Rio de Janeiro to play some poker and make some history.
A number of familiar faces dotted the tables, as players such as Humberto Brenes, Chris Moneymaker, Gavin Griffin, Isabelle Mercier, Greg Raymer, Vanessa Rousso, and Chad Brown were in the field.
More regionally known players such as Team PokerStars' Andre Akkari, and players including Igor Federal, Sergio and Alessandra Braga, Marcos XT, Sequela, Mojave, Salim, Decano, Fabio Deu_Zebra joined the fight for the top prize of $222,940.
The nice structure provided the players with plenty of play in the first levels, which were fairly uneventful, save for the quad aces made on one of the first hands of play by a player who called himself 'Assassinato'.
Early on in the day, Chris Moneymaker got all his money in the middle with Q-Q, only to run into the aces of a local player named Guedim. The flop brought a set of aces for Guedim, but Moneymaker picked up a straight draw. The river was a miracle 10, giving Moneymaker the straight and keeping him alive in the tourney.
The first Brazilian star eliminated was Leandro Pimentel Brasa, who finished fourth out of 3,151 entrants in a $1,500 no-limit tournament at the WSOP last year. On an eight-high flop, Brasa moved in with two tens, and was called by a player with two jacks. No miracles came for Brasa, who was eliminated from the tournament.
The first team PokerStars player eliminated was Chad Brown, who lost a 'blind against blind' confrontation against Brazilian André Pardal, who flopped the top pair, which held up against Brown, who had a ton of outs having flopped a straight and flush draw.
Humberto Brenes would soon join Chad Brown on the rail, when Brenes' pair of kings lost to an A-K in an all-in pre-flop showdown just before the second break.
One of the most incredible hands of the day involved Chris Moneymaker. The flop come
, and Moneymaker became involved in a three way all-in with two Brazilian players. Chris showed
, Reinaldo showed a set of sixes, and Renato showed
. A club on the river gave Renato a flush, eliminating Moneymaker from the tournament.
Two Team PokerStars beauties were eliminated within a short time of each other, as Vanessa Rousso ran Q-T into A-K, and Isabelle Mercier lost a coin flip with J-J to join Vanessa on the rail.
Shortly before the last level of the night, the prize pool for the tournament was announced:
* Figures in Dollars
Total Prize Pool: $ 785,000.00
1 - $ 222,940
2 - $ 117,750
3 - $ 86,350
4 - $ 62,800
5 - $ 47,100
6 - $ 31,400
7 - $ 23,550
8 - $ 15,700
9 - $ 11,775
10-12 - $ 10,205
13-16 - $ 8,635
17-24 - $ 7,065
25-32 - $ 5,495
At the end of the nine levels of play, 103 players made it to day two, and will continue play at 1pm local time today. Carlos Lopez of Spain ended Day One as chip leader, with approximately 121,000 chips. Below are the official chip counts:
Chip Counts entering Day 2:
Name Chips
Carlos Alberto Lopez Neira 121,200
Julien Nuijten 92,750
Cyril Thierry Bernard 84,650
Alex Brenes 77,425
Ronnie M Bardah 69,775
Piragibe Lindolfo Ataide 68,300
Jose Carlos Domingues Latorraca 67,525
Nicolas Ragot 64,325
Paulo Gaspar Marques 58,050
Bruno Cesar Scheffer 57,450
Leonardo Silveira De Castro Pires 55,350
Daniel James Aldridge 55,300
Jonathan Dull 53,725
Michel Alexandre Pereira Marques 52,750
Salim Dahrug 49,000
Victor Ramdin 48,025
Carlos Guilherme De Faria Nadal 46,475
Rodrigo Strong 45,000
Jose Vaughan 44,525
Rafael Pardo 42,475
Eugenio Carmo Neto 42,250
Marcos Felipe Arend 42,025
Gualter Jose Fortuna Salles Santos 41,775
Bruno Da Cunha Junior 41,650
Sumit Kumar 41,050
Bruno Gonzalez 40,150
Farhad Sinaei 38,625
Alberto Victor Bari 38,550
Helio Chreem 38,450
Nikolai Senninger 38,375
Alexander Fitzgerald 38,225
Hermann Debiagi 37,000
Eduardo Henriques David 36,925
Marcelo Valadares De Resende Costa 34,900
Gustavo Kein 34,100
Frank Ewald 33,900
Ricard Fasanaro 33,775
Oliver Sascha Kugler 33,350
Sebastián Eduardo Simonetti 32,825
Tal Atias 32,650
Murilo Dantas 32,250
German Simon Dansker 31,800
Brandon Demes 31,625
Vitaly Kovyazin 31,600
Alessandra Dos Santos 30,425
Alberto Ferreira Da Cunha Neto 30,025
Amritraj Singh 29,850
Rodrigo D Bandeira 29,475
Roman Nevtípil 28,275
Mauro Edison Nomura 28,200
Micha Hoedemaker 27,700
Severin Walser 27,700
Sjoerd Bos 26,900
Eduardo Alfredo Santi 26,800
Jesus Bertoli 24,925
Andrew H Li 24,725
Reinaldo Antonio Da Rocha Silva 24,250
Fernando José Saboya De Albuquerque 23,550
Rafael De Azevedo Marques Endres 23,200
Jeffrey Hakim 23,125
Alexandre Richard 22,425
Jose Severino 20,975
Felipe Steinfeld 20,450
Cinthia Escobar 20,150
Marcio Murilo Da Silva Motta 19,550
Sylvain Taddei 19,150
William Sullivan 19,125
Frederico Morgenroth 18,125
Marcos Grosso 18,000
Armin Mette 17,550
Luiz Edmundo Verie 17,325
Michael Naughton 16,425
Marcos Xavier 16,350
Ivan Marquez 16,300
Juan Carlos Burguillos 15,825
John Daniel Webb 15,525
Andreas Karl Rieger 15,000
Kien Hwee (Goh) 15,000
Carlos Alberto Franca Cunha 14,900
Ricardo Soares Tenorio 14,875
Joao Hermann 14,550
Albertino C Vilela 14,500
Etienne Bargibant 14,475
Rodrigo Rinaldi Balbi 13,800
Jesper Roll W 13,375
Fabio Lomelino Costa Barros 13,250
Jorge Arias 13,175
Artur Roberto Szcsupak 12,775
Petr Brezina 12,425
Hugo Adametes 12,300
Barry O'callaghan 11,650
Luiz Noal Neto 11,450
Mauro Sussan 11,450
Nilson Pascoal Da Silva Junior 10,475
Eduardo Fernandes 10,000
Marcio Gimenes Correa 10,000
Armando Jose Rinaldi Balbi 9,900
Rodrigo Kubitza 9,700
Mario Martinez Do Canto 9,500
Nemesio Carracedo Orueta 8,250
Leandro Guedes Burlamaqui 7,800
Griselda Sonia Coronel 7,125