Binion's Announces Second Annual Binion's Poker Classic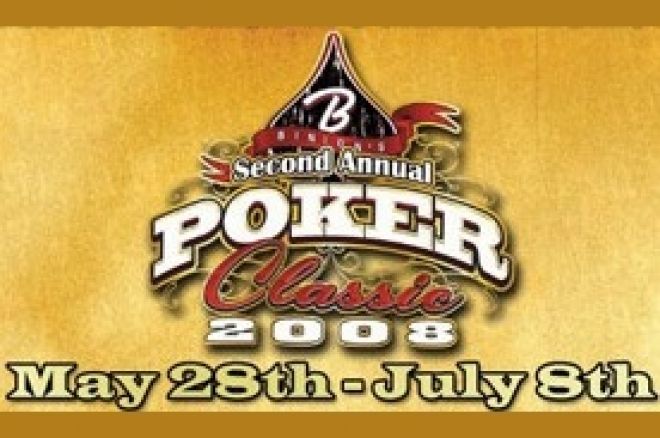 The downtown Las Vegas landmark Binion's, long the home of the World Series of Poker (when it was known as Binion's Horseshoe), will join a crowded poker summer scene in Vegas with the announced return of the Binion's Poker Classic. This year's BPC runs from May 28 through July 8, 2008.
The 41-day series includes 43 events, the vast majority of which include a very affordable entry fee designed for the budget-minded player. Entries for selected events are as low as $90+10, with a $10 "bonus buy" for an extra 2,000 in starting chips available in the majority of events. The buy-ins in most cases are designed to be about one tenth that of corresponding events going on at the World Series of Poker at the Rio.
The two largest buy-in events of the BPC are a June 27 PLO tournament ($950+50, 20,000 in starting chips), and the BPC's championship event ($1,920+80, 25,000 in starting chips). Satellites are available for selected events; starting times and blind levels vary. Binion's is suspended its normal 2pm afternoon tourneys for the duration of the BPC. More information is available on the www.binions.com site.
The complete schedule:
Date Time Event Buy-in Starting Chips Bonus Chips
5-28 2PM #1 - No-Limit Hold'em (Casino Employees)
$90+10 2,000 2,000
5-29 2PM #2 - No-Limit Hold'em
$135+15 3,000 2,000
5-30 2PM #3 - No-Limit Hold'em
$135+15 3,000 2,000
5-31 4PM #4 - Pot-Limit Hold'em
$135+15 3,000 2,000
6-1 4PM #5 - Limit Omaha 8 or Better
$135+15 3,000 2,000
6-2 2PM #6 - No-Limit Hold'em
$180+20 4,000 2,000
6-3 2PM #7 - Limit Omaha 8 or Better/Stud 8 or Better
$225+25 5,000 2,000
6-4 2PM #8 - Limit Hold'em
$135+15 3,000 2,000
6-5 2PM #9 - No-Limit Hold'em
$225+25 5,000 2,000
6-6 11AM #10 - Ladies No-Limit
$90+10 2,000 2,000
6-6 2PM #11 - Limit Omaha 8 or Better
$180+20 4,000 2,000
6-7 4PM #12 - No-Limit Hold 'em (Shootout)
$135+15 3,000 2,000
6-8 4PM #13 - Pot-Limit Omaha
$135+15 3,000 2,000
6-9 12PM #14 - No-Limit Hold'em
$460+40 10,000 N/A
6-10 2PM #15 - No-Limit Hold'em
$180+20 4,000 2,000
6-11 2PM #16 - Razz
$135+15 3,000 2,000
6-12 2PM #17 - No-Limit Hold'em
$135+15 3,000 2,000
6-13 2PM #18 - No-Limit Hold'em
$270+30 6,000 2,000
6-14 4PM #19 - No-Limit Hold 'em (Six-Handed)
$225+25 5,000 2,000
6-15 4PM #20 - Seven Card Stud
$135+15 3,000 2,000
6-16 2PM #21 - No-Limit Hold'em
$135+15 3,000 2,000
6-17 2PM #22 - No-Limit Hold'em
$135+15 3,000 2,000
6-18 2PM #23 - Pot-Limit Hold'em
$180+20 4,000 2,000
6-19 2PM #24 - No-Limit Hold'em
$135+15 3,000 2,000
6-20 2PM #25 - Mixed Hold'em (limit/no-limit)
$135+15 3,000 2,000
6-21 11AM #26 - Seniors No-Limit
$90+10 2,000 2,000
6-21 4PM #27 - HORSE
$225+25 5,000 2,000
6-22 4PM #28 - Pot-Limit Omaha 8 or Better
$135+15 3,000 2,000
6-23 2PM #29 - No-Limit Hold 'em w/rebuys
$90+10 2,000 2,000
6-24 2PM #30 - Seven Card Stud 8 or Better
$135+15 3,000 2,000
6-25 2PM #31 - No-Limit Hold'em
$180+20 4,000 2,000
6-26 2PM #32 - No-Limit Hold'em
$135+15 3,000 2,000
6-27 12PM #33 - Pot-Limit Omaha
$950+50 20,000 N/A
6-28 4PM #34 - No-Limit Hold'em
$135+15 3,000 2,000
6-29 4PM #35 - Limit Hold'em
$135+15 3,000 2,000
6-30 12PM #36 - No-Limit Hold'em
$460+40 10,000 N/A
7-1 12PM #37 - No-Limit Hold'em
$460+40 10,000 N/A
7-2 2PM #38 - No-Limit Hold'em
$135+15 3,000 2,000
7-3 2PM #39 - No-Limit Hold'em
$180+20 4,000 2,000
7-4 2PM #40 - Limit Omaha 8 or Better
$180+20 4,000 2,000
7-5 4PM #41 - No-Limit Hold'em (Casino Employees)
$90+10 2,000 2,000
7-6 4PM #42 - Pot-Limit Omaha 8 or Better
$135+15 3,000 2,000
7-7 12PM #43 - No-Limit Hold'em (Championship Event)
$1,920+80 25,000 N/A
7-8 #43 - Day 2 of Championship Event