Sexton's Corner, Vol. 44: Mike Sexton, Poker Visionary, Part 2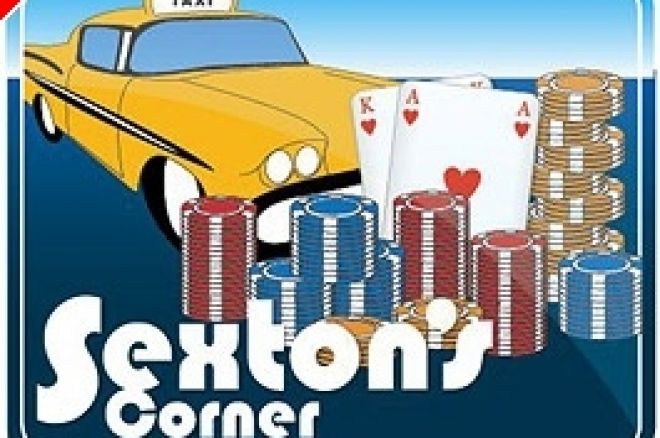 Before I describe the various factors that set the stage for Mike Sexton's career as a poker visionary, I would like to let many of the younger players know that my brother was a professional poker player for 25 years, before he was ever seen as an announcer on TV. One of the most common things I'll hear, especially from a young player is: "I didn't know your brother was such a good player himself." The pros that have been around for a while know Mike was a great player for many years. He started out as a seven-card stud hi/lo-split player and Omaha hi/lo split player. He later developed into an all-around player in all games. When Mike won the 1989 WSOP Seven Card Hi/Lo Split title at Binion's Horseshoe, he felt like he had just won the World Championship of poker, as that was the game he played every day for a living. Mike is one of those players today that plays both cash games and tournaments very well.
Mike is the only American player to win the European Championship twice. He was also the first player to win the $10,000 buy-in event at the World Poker Finals at Foxwoods. He has won the Four Queens Main event twice, the Legends of Poker, the Super Stars of Poker in the early days back in Lake Tahoe at Caesars, many other events including several all around awards, the 2006 WSOP Tournament of Champions, Poker After Dark, and a couple of large buy-in events with winner-take-all formats. Mike has been in the top five in cashes at the WSOP for most of his career.
Once in the early eighties Mike was at work playing $30/$60 seven-card stud hi/lo split at the Dunes Hotel. Telly Savalas came into the poker room with an entourage of friends and family and asked the floor man if he could sit behind one of the better seven-card hi/lo split players in the room. The floor man said Mike Sexton was over there and is one of the best players in town, so let me ask him if he would mind if you sat behind him to watch. Mike responded, "That's no problem at all. I look forward to meeting him." Mike was happy to meet Telly, famous for starring in the TV hit show, "Kojak", at the time and many major movies, including The Dirty Dozen. Mike said Telly sat behind him watching him play for seven hours… and he never moved, as Mike would allow him to see his hole cards to learn how the game should be played. Mike was impressed how cordial and polite Telly was at all times, as fans continually asked for an autograph or to have their picture taken with him. Later in life, Mike would go to dinner with Telly, or go on a cruise with him, and Mike said, "Telly never turned a fan down for an autograph or picture even though he was one of the biggest TV stars around! I learned a lot from Telly on the right way to treat fans, not realizing then, that I would have to ever deal with signing autographs or be asked to have my picture taken with a fan who watched the WPT on Television. Back in those days at the Dunes, we were 20 years away from what is referred to as the poker boom. Unfortunately, Telly Savalas passed away a few years ago, but he touched my life in a very positive way I'll always be grateful for."
Getting back to Telly's story at the Dunes in the early eighties, the next night Telly entered the room to play for himself. I happened to be there myself and witnessed how well Telly was doing in the game after his one lesson from Mike. You could see some of the pros in the game were starting to get annoyed, as Telly would win and scoop another gigantic pot, with a big smile on his face. That's when an incident happened, as one of the steaming pros leaped to his feet and bellowed out, "I know why they call you Maggot now!" This of course, was a reference to that psychotic character Telly played in the popular movie, The Dirty Dozen. Telly was so easy-going and laid back in his demeanor and personality, he just laughed along with the rest of the table when the player tried to insult him, and he just kept on winning the rest of the night. Telly glanced over at Mike in the game in his own way to say thanks, as they both smiled at each other. Mike loved being around Telly Savalas
The key year for my brother that helped him make the transition from player to entrepreneur was 1996 The first thing that happened was when the Main Event ($5,000 Buy-in) at the Four Queens was about to begin. Mike was on the rail, when Scotty Nguyen walked over and said, "Mike, aren't you playing in this?"
Mike said, "It doesn't look like it today."
Scotty said, "Here, take this $2,500. My money is lucky money." Scotty looked around and got two more players to put up the rest of the entry in just a few minutes, before the Main Event got under way. Mike was entered now and had a 25% free roll! Mike is one of poker's best players short-handed and it seemed like he was short-handed from the time they got down to three tables. Somehow he got down to the final table. I remember bringing our dad down to watch him play at the final table. It was amazing how Mike would have to go all in several times just to survive. Mike managed to get heads up, and made a great comeback to capture first place and the title!
Linda Johnson, who was the publisher of Card Player Magazine at the time, then asked Mike if he would write a guest article on his win. The article Mike wrote was interesting, articulate and modest, giving credit to Scotty Nguyen for the chance to play. Linda loved the story, and immediately offered Mike a full-time writer's job with Card Player, and he subsequently wrote a column every two weeks for eight years. The name of his column was Inside Professional Poker. If you check the archives in Card Player, you'll discover it only goes back to 2001, about when Barry Shulman bought the magazine. They have 134 articles Mike wrote, going back to 2001, even though his articles in fact go all the way back to 1996. Mike's writing career for Card Player played a key role in his future successes in founding and creating the Tournament of Champions, promoting the World Poker Tour, and hosting PartyPoker.com. These three projects completely changed Mike's life. When I reflect on how this sequence unfolded, with Mike first having to win that tournament to get the opportunity to write about it… well, it seemed like some sort of destiny!
After winning that big tournament and starting to write his column, Mike realized his dream in 1996 of creating the Tournament of Champions. Players don't realize how much work and time Mike donated to the ToC project and the rejections he ran into while finding a casino-hotel to host the event. The development period lasted three years before the first ToC was launched in 1999. I remember how excited he was the day he went to do a presentation for the board of directors of the Stratosphere. Ironically, the new owner, after Bob Stupak's exit, was Lakes Gaming owner Lyle Berman. This was exciting to Mike, knowing Lyle was also a high-stakes poker player. Lyle liked Mike's idea, but let him know up front that the board would have to approve it, to get it implemented. Mike had visions of the ToC final table being played at the "top of the world" at the Stratosphere, with the sensational view of the strip in the background. In the end, the board liked Mike's idea, but voted not to approve it at this time. Mike was disappointed, but didn't give up, as he went back to the drawing board again.
After a few more rejections, Mike took his TOC creation to The Orleans Hotel Casino in Las Vegas, where he got the green light. The facility worked out great, as two big ballrooms were used upstairs, one for the tournament area, and one as the Champion's Lounge. Mike said to me, "Tom, that special collage you did on Stu Ungar," (this after Ungar won his third WSOP Main Event title) "was great! Can you do 20 to 30 more on some of the famous players? I want to showcase them around the Champion's Lounge at the first TOC for the players to enjoy throughout the tournament." I worked for six months creating those one-of-a-kind collages, and started my own company Poker Masterpieces as a result.
<center>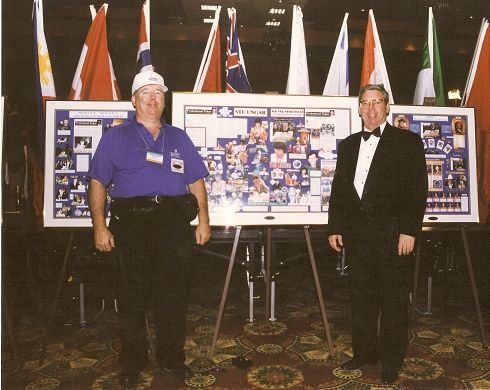 </center>
<center>Brothers for Life: Tom and Mike Sexton at the 1999 ToC in the Champion's Lounge</center>
Mike's vision of running the classiest event in poker started with the original 1999 ToC. He was in his tuxedo interviewing the players. He had over 600 players marching in behind their country's flags. He had hired an independent film crew to televise the event, including a large TV boom. A beautiful film of some of the best players in the world was shown on a gigantic screen for all to enjoy before play began, to the tune of Queen's "We Are the Champions. A special international trophy would be awarded to the best team of the 12 countries represented in the competition. Mike had travelled to Europe three times to recruit the best players and organize qualifying events, as one had to earn his way into the event by winning a ToC qualifier. The format of the event included multiple games, with no-limit hold'em to be played in the finals. Gold bracelet winners from previous WSOP events were eligible to play, as well as Poker Hall of Famers. Mike asked Doyle Brunson to act as official host, with Puggy Pearson and Amarillo Slim to also say a few words before the ToC began. With a multiple-game format, the 1999 ToC was going to be Mike's vision of what a first-class poker tournament should be. Mike was ahead of his time, and the event was the most talked-about poker extravaganza of its time. All of the poker magazine reviews gave it a five-star rating, a big thumbs-up! An interesting side note: The production company Mike had sub-contracted to film the first ToC was called Thumbs Up Productions.
Mike had organized a final table to be unlike any final table ever seen anywhere. There were international flags lining the entrance into the movie-like set of the final table that the players would walk through as they were introduced, surrounded by tiered stands and an international awards table. The look and pageantry of Mike's baby was breathtaking. Mike's good friend and host of the first ToC was the legend, Doyle Brunson, who made the final table himself. As Doyle was introduced to the crowd, he got a standing ovation, and sensing the moment, Doyle placed his crutch over his right shoulder like a warrior going into battle. The three-second window Doyle did this in might have been one of the greatest pictures I ever snapped! By the way, Doyle came in third, and got another standing ovation on his exit for his performance, while David Chiu was crowned champion of that first TOC in 1999. If his name sounds familiar, it should, as just about a month ago David won the prestigious 2008 WPT $25,000 Buy-in Championship at the Bellagio. He is truly a great poker player!
The poker world hadn't seen anything quite like the original ToC in 1999. The event Mike founded and created made poker players proud to be a player! Remember, Mike also had a tough job in recruiting the Europeans, as this wouldn't be a three- or four-week series with several events to play. No, there would only be one event, the ToC. Mike had asked the Europeans to come play in what he promised would be poker's finest event, and he delivered. The International Trophy Mike created went to France in that first ToC, with Mike bringing them up on stage at the beginning of the final table to receive their team award.
The Tournament of Champions was the most important part of Mike Sexton's story of success, as it set the stage for Mike to become a household word as the voice of poker as the commentator for the World Poker Tour. The film that he had hired an independent filmmaker to make turned into a terrific movie that also served as his audition tape for both the World Poker Tour and the most important job he ever landed in his career, as the host of PartyPoker.com. Stay tuned next week for the inside story in Part 3.
The Cab is Parked,
Tom Sexton
Tom Sexton is a featured columnist for PokerNews.com. Tom attended the University of Oklahoma on a full gymnastic scholarship, where he was captain of the team four straight years, becoming the first NCAA All-American and Big Eight Champion in OU's gymnastics history in 1968. The Sexton family is well established in poker and includes Tom's brother Mike, the World Poker Tour commentator and poker's "First Ambassador", as voted by his peers. Tom welcomes your thoughts and comments about any of his articles. His e-mail is TSStarbuck1@aol.com.