Visiting Vegas: Bars and Clubbing Near the WSOP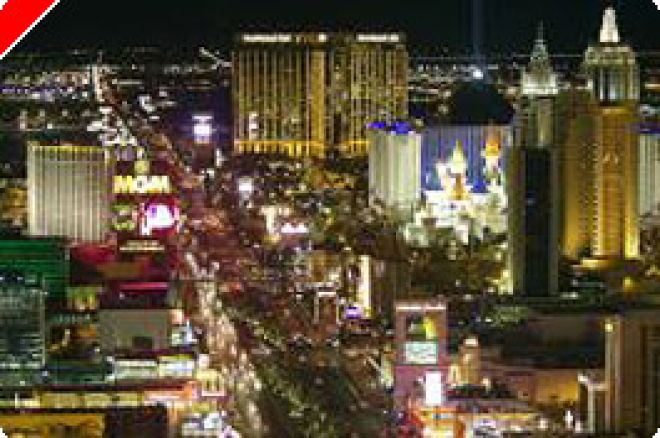 Many successful poker players realize that balance is necessary in order to succeed in both poker and life. While the WSOP offers a very profitable opportunity to increase your bankroll, it would be a shame to come to Las Vegas and not experience some of the attractions that the entertainment capital of the world has to offer.
Although the Rio has a very nice bar in the Voodoo Lounge, there are many great clubs close by that are easy and convenient to visit for those that would like to explore a bit of the Strip. One of the hottest spots for nightlife action close by is the Palms casino, located just down the street.
The Palms has a host of very highly touted bars and clubs; their lineup includes Moon, Playboy Club, Rain, and Ghost Bar, all of which are very popular for tourists and locals alike. For those that are unfamiliar with Vegas nightlife, most of the higher-end bars and clubs on the Strip require a dress code of — at bare minimum — no jeans with tears, dress shirt, and dress shoes. They also commonly require a cover charge of $10-30 and can oftentimes require a very long wait in line, if not something extra for the doorman should you or your group opt not to get bottle service. Bottle service, on the other hand, allows guests to skip the line completely and receive a bottle of alcohol, usually for at least a couple hundred dollars.
Moon is one of the busier clubs on the Strip and on the weekends, it is usually packed with a younger crowd looking to dance. It features a beautiful view of the Strip and a stunning retractable roof that doubles as a video screen when closed. While Moon isn't cheap, it's a pretty fun place to go if you're looking to meet people who are dressed up and looking to meet some nice, successful poker players.
Ghost Bar is another good choice for those seeking a bit more relaxed atmosphere, although they also typically have a small dance floor and music going. They also feature a great view of the strip from atop the Palms that is definitely worth checking out from their outdoor deck, and it is usually one of the few spots in Vegas that is not packed wall-to-wall with people, though never empty either.
Rain is probably the most well-established and hyped of the night spots that the Palms operates. While the line is almost always very long, it is considered to be one of the nicer and more exclusive clubs that Las Vegas has to offer. Rain features multiple floors which are available to different levels of VIPs, depending on how much you want to spend. Cabanas, waterbooths, and skyboxes are all fun options if you shell out some extra dough; otherwise, they have a nice dance floor on their bottom level that is usually very busy.
To satiate the sick gambler in you, the Palms also has a fairly new club, the Playboy Club, which is more of a lounge-type atmosphere that features table games and dealers dressed in bunny suits. The Playboy Club isn't really as popular yet as some of the other Palms spots, but it's a good option for those who do not really like the clubbing atmosphere and want to gamble while they hang out.
These are just a few of the many clubbing options available on the Strip. For those that are willing to venture a bit further out, Tao at Venetian and Tryst at the Wynn are also two highly regarded night spots and two of my personal favorites. Clubbing and upscale bars are definitely not for the cheap, but Vegas boasts the best clubs in the nation filled with people trying to look their best, and are worth experiencing at least once.