WSOP-C Caesars Las Vegas, Day 2: Cunningham, Lee, Bonomo Chase Fineman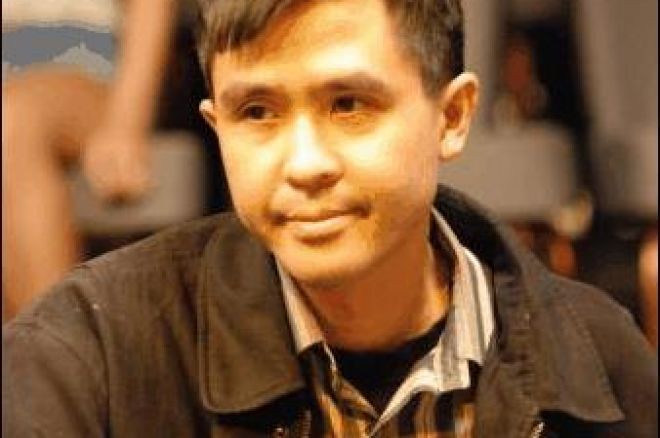 54 players returned to Caesars Palace in Las Vegas yesterday for their shot at the final table of the World Series of Poker Circuit Main Event. While many poker superstars went to the rail on Day 1, there was still plenty of star power in the field on Day 2, including Allen Cunningham, Bill Edler, Sabyl Cohen and Justin Bonomo. Max Reele took the chip lead into Day 2, but it would be Ben Fineman who finished the day sitting atop the highest mountain of chips, with more than double the chip stack of his nearest opponent.
Alan Smurfit was the first to fall on Day 2, getting the last of his chips in preflop with pocket jacks against the
of Doug Lee. The Q-2-8 flop left Smurfit drawing thin, and the board ran out 5-6 to seal his fate. He was quickly followed to the rail by short stacks Alex Kravchenko and Scott Eskenazi, and then Theo Tran headed to the rail after doubling up with A-K against A-Q in one hand, but running A-K into pocket aces on the very next hand.
The rapid-fire eliminations early in the day led to a fast approach to the money bubble, and hand-for-hand play went quickly as David Levi was the bubble boy. Facing a re-raise from Clint Roberts, Levi shoved his stack in the middle with
. Roberts made the call with
, and was rewarded with a flop of
. The turn and river brought running sixes to give Roberts a full house and send Levi to the rail. Sabyl Cohen was one of the post-bubble bustouts, moving all in on a flop of
against Adam Geyer. Geyer called with
and his top pair / top kicker held up against Cohen's
when no help came for her straight draws. Other notable money finishes on Day 2 included Peter "Nordberg" Feldman (33rd), Alan "BodogAri" Engel (27th), Mark Newhouse (22nd) and Day 1 chip leader Max Reele (26th).
Justin Bonomo made a strong showing on Day 2, taking out several opponents on his way to a final-table appearance. In one early hand, Bonomo took out Kelly Kim when his
outflopped Kim's
on a board of
. Later, Bonomo knocked out Nenad Medic and Clint Roberts in the same hand when his pocket sixes held up against Medic's
and Roberts'
. The flop brought the
to make Bonomo's set, and running tens on the turn and river gave him a full house and sent Medic and Roberts to the rail in 16th and 17th ($12,082).
Matt Giannetti fell in 15th place ($16,102) when he lost a coin flip to Doug Lee with
to Lee's
. All the money went in preflop, and Giannetti held the lead on the
flop, but the
the turn put Lee in the driver's seat. The
river was no help to Giannetti, and he departed. Nikolay Evdakov rode his short stack all the was to a deep cash before he busted in 14th place ($16,102). Evdakov held the short stack going into Day 2, and made it all the way to the final two tables before his
ran into Ralph Perry's pocket nines. Perry flopped a set and Evdakov couldn't make fill a straight draw, and he headed to the cashier's cage.
Jimmy Tran became one of Bonomo's last victims on Day 2 when he rain
into Bonomo's
. Nothing unexpected happened, and Tran busted in 13th ($16,102). Lee Rubin called off all his chips preflop with
against Blair Hinkle's
, and was eliminated in 12th ($19,322) when the board ran out
. Thomas Hover sent Jason Riesenberg to the rail in 11th place ($19,322) when his pocket sixes outran Riesenberg's
on a board of
. Hover held the
for the flush, and Riesenberg barely missed the final table. Than Nguyen became the final-table bubble boy when he ran
into Kelly Samson's pocket queens to bust in 10th place ($19,322).
Ben Fineman quietly took over the chip lead late on Day 2 from mid-session leader Motoyuki "Moto" Mabuchi and never let go, making his way to the final table with more than double the chips of his nearest competitor. The final-table lineup left some landmines for Fineman, though, with tough competitors including Justin Bonomo, Doug Lee and Allen Cunningham still in the hunt. The chip counts and seating assignments looked like this as Day 2 drew to a close:
Seat 1: Motoyuki "Moto" Mabuchi - 142,000
Seat 2: Kelly Samson - 385,000
Seat 3: Ben Fineman - 828,000
Seat 4: Ralph Perry - 319,000
Seat 5: Thomas Hover - 407,000
Seat 6: Blair Hinkle - 382,000
Seat 7: Justin Bonomo - 272,000
Seat 8: Allen Cunningham - 296,000
Seat 9: Doug Lee - 324,000