World Series of Poker Daily Summary for June 3rd, 2008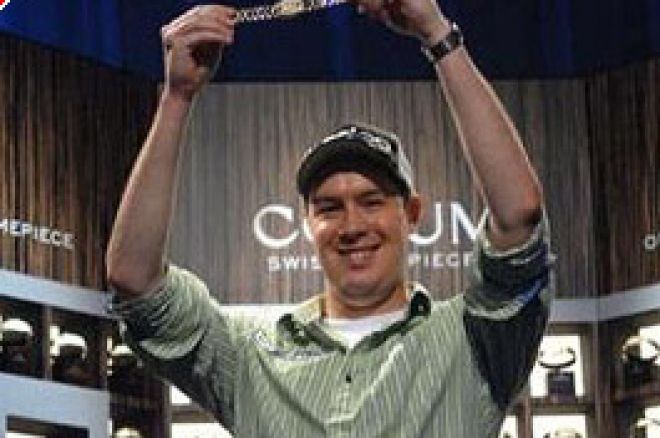 Tuesday's action at the World Series of Poker was highlighted by the awarding of the Series' second bracelet, to Grant Hinkle in Event #2, $1,500 No-Limit Hold'em. Hinkle held a sizable lead when three-handed play began, over James Akenhead and Chris Ferguson, then saw Akenhead claim most of third-place finisher Ferguson's chips and make a serious run at the bracelet.
Hinkle rebuilt a lead, however, and finished off his win in an unlikey manner, being caught in a stone-cold bluff with 10-4 against Akenhead's A-K, then watching the board deliver quad tens as the crowd erupted. Hinkle's victory was worth $831,662, while Akenhead collected $520,219 as the runner-up and "Jesus" Ferguson's elimination-defying run to third was worth $388,287.
Two more events played down to final tables which will be decided on Wednesday. A powerful lineup will be on hand for the final of Event #4, $5,000 Mixed Hold'em, the format which mixes equal parts of fixed-limit and no-limit play. The leader here is Los Angeles player David "Chino" Rheem, who heads into the final with 25% more chips than his nearest competitor but will have to navigate a ferocious lineup to win; the next five spots are held, in order, by David Williams, Justin Bonomo, Erick Lindgren, Howard Lederer and Roland de Wolfe. $374,505 – and, of course, the bracelet – awaits the winner.
Also concluding on Wednesday will be Event #3, $1,500 Pot-Limit Hold'em, which saw Day 1 chip leader Robert Workman crash out early in the action while other names moed to the front. When the dust settled, Joe Tehan and Jacobo Fernandez held down the top two spots, where they, Al Barbieri, David Singer and five others will fight for a victory worth $214,131.
Another pair of events kicked off on Tuesday. The noon start went to Event #5, the entertaining $1,000 No-Limit Hold'em w/ Rebuys event, which saw the usual rebuy madness during the early levels. 766 players turned out, and 2,258 re-buys later the prize pool reached an impressive $2,894,094, with $636,736 going to the winner on Thursday night. The inside track beginning today's play belongs to Phil Ivey, who moved into the lead late on Day 1 and returns today with 175,500 on chips. Amit Makhija, who final-tabled Event #1, finished the day in second.
Tuesday's second new event was $1,500 Omaha Hi/Low (8 or better) in the fixed-limit version. An initial field of 833 players was trimmed to 205 after eight hours of play, with the tightly packed leaderboard paced by James van Alstyne and Richard Ashby. This one will play all the way down to a final table today, after a 3pm resumption of play.
Wednesday will be the first day in this year's series that six separate events run in a single today. The day's early starter is Event #7, $2,000 No-Limit Hold'em, which is expected to fill much of the Amazon Room during the earliest part of the day. At 5pm, Event #8, the $10,000 World Championship Mixed Games event, which combines eight different poker formats into a complex challenge of overall poker skill, gets underway. Many of the biggest names in poker will be on hand for this one.