2008 WSOP, Event #1 $10,000 PLHE Day 2: Andy Bloch Leads Final Table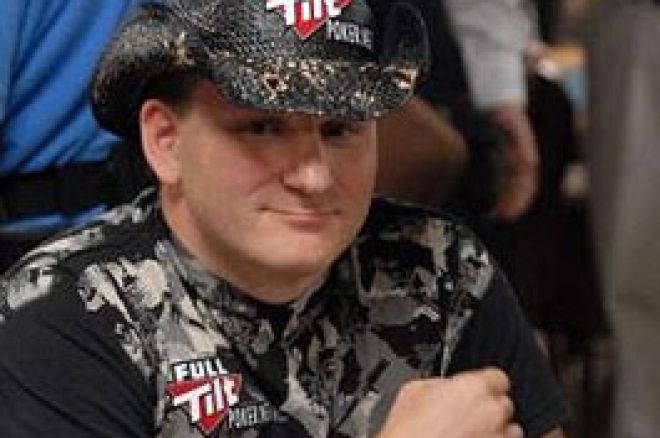 Day 2 of the $10,000 World Championship Pot-Limit Hold'em tourney (Event #1) at the 2008 World Series of Poker featured some of poker's biggest names, including Kathy Liebert, Chris "Jesus" Ferguson, Dustin "NeverWin" Woolf, Mike Sexton and Andy Bloch. It took a marathon Day 2 to thin the field down to the nine final-table competitors, but at the end of the day it was Full Tilt Pro Andy Bloch at the head of a star-studded final table.
The action on Day 2 started off fast, with a dozen or so players eliminated in the first levels of the day. Among the early eliminations were Beth Shak, David Benyamine, Hasan Habib, Anna Wroblewski and Jennifer Harman. Just a few hands after doubling though Joe Patrick with pocket aces over pocket tens, Benyamine got all his chips into the middle again in a hand with Patrick and David Benefield, who had both players covered. All the money went in preflop, and Benefield held
to Benyamine's
and Patrick's
. The flop hit both Benefield and Benyamine when it came down
, and Benefield picked up a flush draw on the
turn. The
on the river gave Benefield the flush and sent both Benyamine and Patrick to the rail.
With 36 spots cashing in the event, the money bubble approached quickly on Day 2. The pro-heavy field was more aggressive than normal near the bubble, and that led to several big eliminations near the money bubble. Tuan Le, Humberto Brenes and Lyle Berman all busted near the bubble, as deeper-stacked players such as Phil Laak ramped up their aggression. Laak raised almost every hand during hand-for-hand play and increased his chip stack dramatically during the bubble period.
Finally, after nearly 90 minutes of hand-for-hand action, James Gorman caught a bad turn card to send him home in 37th place and burst the money bubble. Gorman and Nikolay Evdakov saw a flop of
, and Gorman moved all in over the top of Evdakov's flop bet. Evdakov called with
, well behind Gorman's two pair with
. The
turn gave Evdakov a better two pair and left Gorman looking for help to stay alive. The
river was no help, and Gorman was the first bubble boy of the 2008 WSOP.
With the bubble burst, the standard spate of eliminations ensued, tempered only slightly by the pot-limit format. Kazuki Ikeuchi, Tommy Vinas, Marco Johnson and David Bach all busted within a few minutes of the bubble bursting and picked up $23,162 for their work. Phil Laak cracked Chuck Pacheco's queens to send him home in 31st place ($23,162), then Mark Newhouse lost a coin flip to Mike Sexton when his jacks didn't hold up against Sexton's
. Sexton hit a queen on the flop and another on the river to send Newhouse to the rail in 30th place ($23,162).
The field quickly thinned to three tables, then fewer as Jerri Thomas busted in 27th ($26,470). Thomas moved all in preflop with
, finding one caller in Amit Makhija with
. Makhija hit the flop of
, and Thomas never caught up as the turn and river came down
. Makhija moved near the top of the leader board after eliminating Thomas.
22 players returned from the dinner break, but Dustin Woolf probably got heartburn from his after-dinner beat at the hands of Phil Laak. Laak raised preflop with
, then made the call when Woolf moved all in with pocket tens. Laak picked up a queen on the Q-2-2-A-J board, and Woolf was eliminated in 22nd ($26,470). A slightly chagrined Laak said "I pulled him out of the restaurant because he thought it was an hour and a half break, only to bust him." Anthony Licastro and Rolf Slotboom also busted shortly after the dinner break.
Day 1 chip leader Eli Elezra went to the rail in 19th ($26,470) when he and internet superstar Mike Sowers tangled in a big pot. Elezra raised preflop from the big blind and Sowers called to see a flop of
. Elezra fired at the pot and Sowers raised enough to put him all in. Elezra made the call with
for top pair, top kicker, and Sowers tabled
for top pair with an inside straight draw. The
on the turn made Sowers' straight, and when the
came on the river Elezra was eliminated.
With Elezra's elimination, the remaining 18 players settled into the final two tables, with seating assignments that looked like this:
Table 5:
Seat 1: Chris Bell
Seat 2: Mike Sowers
Seat 3: Mike Sexton
Seat 4: Andy Bloch
Seat 5: Andreas Krause
Seat 6: David Benefield
Seat 7: Kathy Liebert
Seat 8: Alexander Kostritsyn
Seat 9: Ryan Young
Table 13:
Seat 1: Patrik Antonius
Seat 2: John Kabbaj
Seat 3: Nikolay Evdakov
Seat 4: Nenad Medic
Seat 5: Amit Makhija
Seat 6: Justin Newton
Seat 7: Phil Laak
Seat 8: Michael Pesek
Seat 9: Chris Gildone
Andy Bloch wasted no time in making his run towards the final table, busting Alexander Kostritsyn in 17th ($33,088) shortly after the redraw for seats. Kostritsyn moved the last of his chips in preflop with 9-7 and Bloch called with A-Q. The board ran out
, and Kostritsyn was eliminated.
The field dwindled slowly as the hour grew late, with over five hours passing between the redraw for two tables and the elimination of Ryan Young in 11th place ($49,632), which set the final table of ten players. Young raised preflop with pocket jacks, and Kathy Liebert called to see a flop of
. Young moved all in with middle set, and Liebert quickly called with
for the nut flush. No help on the turn or river for Young, and he was busted.
The final ten players redrew for seats as play continued until only nine remained for the official final table.
Seat 1: Mike Sowers
Seat 2: John Kabbaj
Seat 3: Chris Bell
Seat 4: Amit Makhija
Seat 5: Patrik Antonius
Seat 6: Andy Bloch
Seat 7: Mike Sexton
Seat 8: Phil Laak
Seat 9: Nenad Medic
Seat 10: Kathy Liebert
Andy Bloch continued his dominance of the remaining field as the players condensed around one table, taking a big pot off Mike Sowers with pocket nines in one particular hand. Bloch raised preflop from early position, and Sowers and Patrik Antonius both called. Sowers fired a bet at the
board, and Bloch called as Antonius folded. Both players checked the
turn, and checked again when the
hit the river. Sowers mucked to Bloch's nines as Phil Laak remarked, "That's why he's got a bajillion-million chips. He's got telepathic, x-ray vision." Bloch moved up over the two-million chip mark as the end of Day 2 neared.
After nearly 15 hours of play, John Kabbaj was eliminated in 10th place ($49,632) to set the final table. Kabbaj moved all in over the top of Nenad Medic's preflop raise with pocket sevens to Medic's Q-J. Medic called to see a flop of K-10-2, and Kabbaj was ahead, but needed to dodge a lot of outs to stay alive. The ten on the turn was irrelevant, but the nine on the river gave Medic a king-high straight to send Kabbaj to the rail and set the final table.
The final-table chip stacks and seat assignments looked like this as the weary players headed off to bed after a long Day 2.
Seat 1: Mike Sowers 675,000
Seat 2: Chris Bell 455,000
Seat 3: Amit Makhija 525,000
Seat 4: Patrik Antonius 230,000
Seat 5: Andy Bloch 2,115,000
Seat 6: Mike Sexton 1,130,000
Seat 7: Phil Laak 425,000
Seat 8: Nenad Medic 1,200,000
Seat 9: Kathy Liebert 285,000
Andy Bloch finished Day 2 with a significant chip lead, but with a final table that includes Phil Laak, Kathy Liebert, Patrik Antonius, Chris Bell and Mike Sexton, anything can happen when play resumes at 3pm. Join PokerNews for all the updates as the quest for the first bracelet of the 2008 WSOP continues!