2008 WSOP Event #11, $5,000 No-Limit Hold'em Shootout Round 1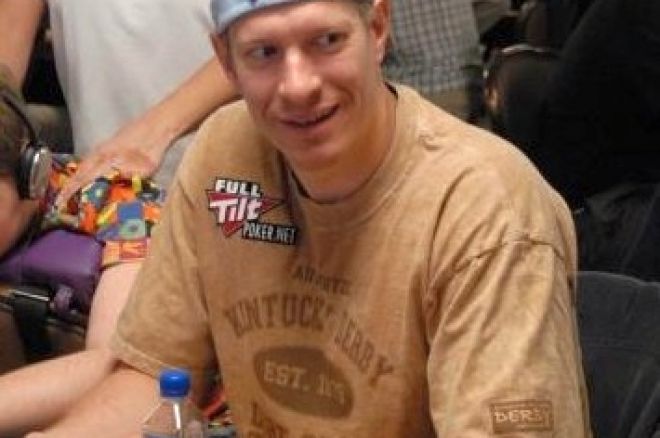 Event #11 was a new one for in this year's WSOP, the $5,000 No-Limit Hold'em Shootout. Essentially, this is a group of sit-and-go's with the winner of each of Round 1's 36 tables moving on to Saturday's Round 2. With a $5,000 buy-in, this event was expected to draw a number of recognizable figures, and it did not disappoint; everywhere you turned was another big name — there were the three famous Phil's (Hellmuth, Ivey and Laak), along with Chris Ferguson, Daniel Negreanu, Scott Fischman, Jonathan Little, Patrik Antonius, Barry Greenstein, Mike Matusow, Tony G, Marco Traniello, Mark Seif, Erik Seidel, John Juanda – and dozens more. The tourney started at half past noon in the Amazon Room with blinds of 100/200 and 360 entrants starting with 10,000 in chips apiece.
Evelyn Ng struck early, sending one of the first players to the rail, just after cards were in the air. A number of well-known pros were also victims of early knockouts, including Little, Justin Bonomo, John Phan, David Ulliott, Dewey Tomko, Ferguson and Ivey. David Benyamine joined them after coming up against a monster hand. With a board showing
, Joe Sebok checked from early position and Benyamine went all in with his remaining 5,200 chips. Benyamine showed 5-4 for the straight, but Sebok showed
for quads and, before the river fell, Benyamine was gone.
Two hours into play some tables had lost players quickly, including one table down to just three, while all ten players remained on Table 30, including Vanessa Selbst, Erik Seidel, and Victor Ramdin. All ten were also still present at Table 28, with its intimidatingly packed line-up including Mike Matusow, Eugene Todd, Humberto Brenes, Chad Brown, and Max Pescatori. Wherever you looked, each table was more imposing than the next and you had to wonder which sight was scarier, the table hosting Andy Black, David Pham, and Shane Schleger or being at the same table as Alex Kravchenko, David Benyamine and Joe Sebok.
There was some levity – to go along with the tension — in a hand pitting the Poker Brat, Phil Hellmuth, against Toto Leonidas. With a board reading 8-A-J-2-4, Leonidas led out for 2,000. " Jack-four, right, Toto?" asked Hellmuth. "I lay down ace-king," he said, mucking his cards.
John Juanda then piped up. "You didn't have ace-king," he said. "You would stand up, knock your chair over, and say 'Look what I can fold, baby!'" That elicited much laughter from the table, Hellmuth included.
Well into play, the tournament staff announced that the player winning his or her table would receive $16,920 and that the next pay jump would not be until the final table. Just two hours into play, Ryan "sleepy_hippo" Thurlow was guaranteed at least some prize money when he won his table with pocket twos over his opponent's A-J and he will be back tomorrow for Round 2. It took an hour before we had our next table winner when John Monnette's pockets sevens held up against Jeff Norman's suited A-Q.
Shortly after Gavin Smith joked, in reaction to his opponent's huge chip stack, "looks like we're pretty even," he was knocked out and his opponent, Andrey Zaichenko, advanced to the next round. At another table, Lacey Dalton was similarly out-chipped by his opponent as he had 9,000 to Tom Roupe's 91,000. Dalton made the call on the next hand from the small blind/button without seeing his cards. Roupe, noticing Dalton hadn't looked at his cards, raised, and eventually the two got it all in preflop. It turned out Dalton had a hand – pocket nines; but so did Roupe – Big Slick. It was a race Dalton lost when the board rivered a two pair that counterfeited his under pair and Roupe moved on to the semi-final tables.
It took Alex Jacob almost two hours to beat Todd Barlow in heads-up play and move on to the next round. At about the same time, Adam "Roothlus" Levy had his J-J holds up versus his opponent's 7-7 and he too moved on to Round 2. Ariel Schneller spiked a diamond on the river to give himself a winning flush and a ticket to tomorrow's play; while elsewhere Burt Boutin saw his A-J win the race against Bill Jennings' pocket tens for his berth in the semis. Others finding luck on their path to the next round included Michael Gracz, who flopped a straight flush draw but was behind Alex Katz's two pair until he hit the straight on the river.
In fairly rapid succession, Leo Wolpert, Greg Mueller, Rickard Krish and Remy Biechel all moved on to the next round. John Murphy advanced when his
made the nut flush on the turn, over Sergey Rybachenko's
. Others coming back for tomorrow include Mike Gracz, Burt Boutin, Tony G, Mats Gavatin, Evan McNiff, Isaac Haxton, Jacobo Fernandez and Eric Froehlich. Joe Sebok made it to Day 2 when, already boasting a 4-to-1 chip advantage, he called the all-in of Quinn Do on the flop with middle pair and it held up when Do failed to pair either of his overcards.
Nearly twelve hours after Round One began, and after a fairly length standoff, the final spot in the semi-finals was won by Gregg Turk when his pocket kings held up against Matt Sterling's ace. Round Two will commence tomorrow with blinds of 1,000/2,000 and each of the players starts with 100,000 in chips. The players will compete at one of six tables of six-handed play and each table will play down to a single winner who will then compete on Sunday's six-handed final table. Each of tomorrow's winners will be guaranteed at least $38,070 (sixth-place prize money) and will vie for the top prize of $477,900 along with the priceless WSOP bracelet.
Here is the lineup for Saturday's Round 2:
TABLE 1
Seat # Player:
1 Evan McNiff
2 John Murphy
3 Eugene Katchalov
4 Thomas Roupe
5 Joe Sebok
6 William Palmer
TABLE 2
Seat # Player:
1 Mats Gavatin
2 Pier Ruscalla
3 Christopher Howard
4 Leo Wolpert
5 Maciek Gracz
6 Jacobo Fernandez
TABLE 3
Seat # Player:
1 Isaac Haxton
2 Greg Mueller
3 Burt Boutin
4 Adam Levy
5 Paul Roper
6 Ryan Thurlow
TABLE 4
Seat # Player:
1 Tony G
2 Robert Firestone
3 Sirous Jamshidi
4 Elton Beebe
5 Alex Jacob
6 John Monnette
TABLE 5
Seat # Player:
1 John Juanda
2 Eric Froehlich
3 Andrey Zaichenko
4 Gabriel Costner
5 Timothy West
6 Erik Seidel
TABLE 6
Seat # Player:
1 Andre Remy
2 Gregg Turk
3 William Blanda
4 Phil Tom
5 Richard Kirsch
6 Ariel Schneller
Pokernews.com will provide live reporting on tomorrow's event beginning at 2:00 pm PDT.