2008 WSOP Event #11, $5,000 No-Limit Hold'em Shootout: Philip Tom Triumphs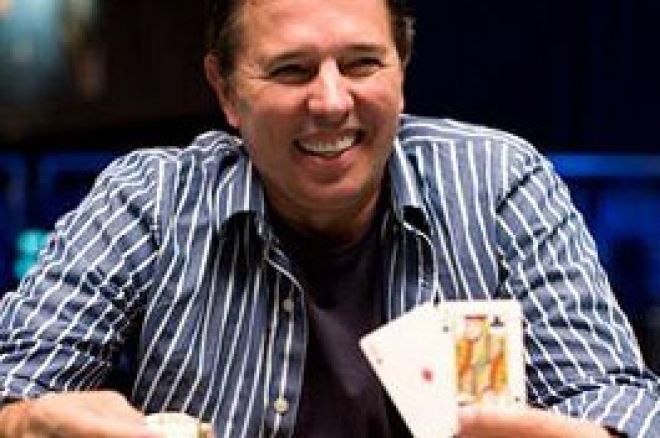 Philip Tom had never finished higher in a major event than 22nd and his highest WSOP finish to date was 30th (at last week's $5,000 Limit/No-Limit Hold'em event). But Tom broke through in a big way on Sunday, winning the 2008 WSOP $5,000 No-Limit Hold'em Shootout, by beating three consecutive tables over three days. This win earned the Las Vegas resident the top prize of $477,900 and his first WSOP bracelet.
All players started the day with the same chip stack, 1,000,000 deep. The seating assignments as the final six sat down looked like this:
Seat 1: Greg Mueller (Vancouver, British Columbia, Canada)
Seat 2: Thomas Roupe (Houston, Texas)
Seat 3: Philip Tom (Las Vegas, Nevada)
Seat 4: Leo Wolpert (Fairfax, Virginia)
Seat 5: Timothy West (Los Angeles, California)
Seat 6: Sirous Jamshidi (Philadelphia, Pennsylvania)
Greg Mueller started the final table aggressively, taking the first two hands and eight of the first twenty hands played, and went out to an early, if small, chip advantage. Timothy West, by contrast, was involved in few pots, winning only one small pot, and saw his chip stack ground down early, only to be saved by a timely double-up through Mueller when West's
paired a K on the flop, besting Mueller's pocket nines.
By the two-hour mark, Greg Mueller had amassed a sizable chip lead with over 2.2 million, having won or split about a third of the first 60 hands. But none of the other players looked like they were going anywhere. The play was cautious and there were few contested pots. Big raises resulted in folds and rivers were a rare sight.
It took a total of 104 hands, spread out over three and a half hours, before we had our first elimination of the day – Thomas Roupe, taking home $38,070 for his sixth place finish. Roupe could never get anything going and was consistently down the whole day. After having fought back to nearly even for the day, Roupe went all in against Mueller on a flop of
only to find his pocket eights dominated by Mueller's pocket nines. With no help on the turn or river, Roupe was severely crippled, down to just 40,000. Leo Wolpert finished Roupe off when they went heads up preflop for the rest of Roupe's chips, Roupe holding
to Wolpert's
. The board ran out
, and Thomas Roupe ran out of chips.
Just twenty minutes later, another player who had spent most of the day in the bottom half of the chip count was dispatched. Timothy West, who has already cashed in this year's WSOP, in the $1,000 No-Limit Hold'em event, had climbed back to his starting chip stack in a hand against Timothy Roupe when his pocket eights held up against Roupe's pocket sevens. But, after dropping down to under a million, West found himself all in for his tournament life against Wolpert and well behind – pocket nines to Wolpert's pocket kings. There was no miracle on the board, and West left with $63,450 for his fifth-place finish.
While getting to the first elimination took some time, we had our third player knocked out only a few hands after West left. Sirous Jamshidi had been trading pots with Mueller in the early go of it and was hovering at just above average in chips for most of the day. But Jamshidi had seen his chips decrease to a third of his starting stack after getting his pocket aces cracked by Tom's pocket kings. Turnabout was not fair play, however, when the two went up against each other again, underpair against overpair, for the rest of Jamshidi's chips.
Phil Tom raised to 125,000 from the button, and Jamshidi reraised all in for 325,000 from the big blind. Tom quickly called and it was clear why when he revealed
. Jamshidi was holding
and he was going to need a bit of karmic payback to stay alive. The flop came
, but that failed to increase Jamshidi's outs as Tom held a higher diamond. The turn was the
and the river the
and Jamshidi was out in fourth place, with a $118,440 payday. With his departure, the table was down to three, and only 300,000 separated third from first.
Down to three-handed play, Philip Tom went on a tear, winning six hands in a row. By the dinner break, he was in the lead with 3,165,000 to Mueller's 1,999,000 and Wolpert's 845,000.
Leo Wolpert, with eight prior cashes to his name, including two in this year's WSOP, started making a move after the dinner break, taking three of four pots in rapid succession. But his stack took a heavy blow when he put over $400,000 into the pot on a board of J-4-Q-8-2 holding the J-3 when his opponent had Q-10. Five hands later, Wolpert moved all in on the small blind and was called by Mueller. Neither had a monster, but Wolpert was one pip ahead, K-3 to Wolpert's K-2. The flop came Q-A-8 and the turn a 5, making a split pot likely. But Mueller rivered a 2 for a pair and Wolpert exited with a $187,812 payday.
Going into heads up play, Greg "FBT" Mueller was down to Phillip Tom by about a million in chips. Only four hands in, Tom delivered a crippling blow to Mueller's stack from which Mueller was unable to recover. Tom limped in and Mueller raised to 225,000. Tom called. The flop was
. Mueller checked and Tom bet 225,000. Mueller made a big check-raise to 650,000, but Tom went all in over the top and induced a huge laydown from Mueller. The tournament was over thirteen hands later.
In the last hand, Mueller had limped from the small blind/button, and Phil Tom checked his option. The flop came
and both checked. The turn was the
. Tom bet 150,000, and Mueller raised it to 350,000. Tom tanked for about a minute, then reraised enough to put Mueller all in. Mueller quickly called and turned over
for top pair. Tom turned over
for top pair/top kicker. The turn was the
, and Mueller needed an eight or his day was done. The river was the
, and Phil "The Chairman" Tom won his first WSOP bracelet. For his second-place finish, Greg Mueller takes home $298,638.
Congratulations to Philip Tom on his first WSOP victory!