2008 WSOP Event #13, $2,500 No-Limit Hold'em Day 2: Bell Heads Final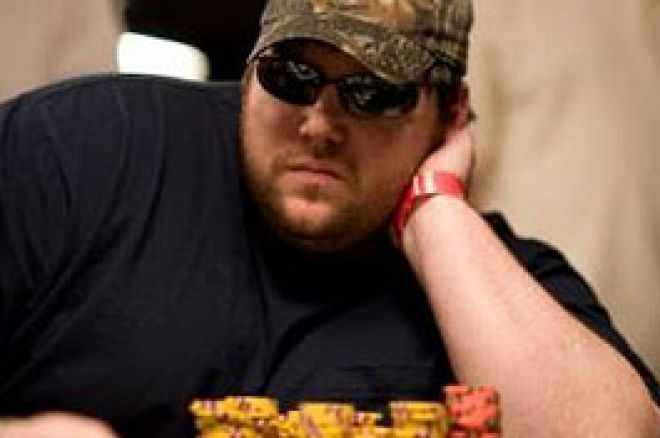 Day 2 of WSOP Event #13, $2,500 No-Limit Hold'em, saw 137 players vying for nine seats at Monday's final table, where the eventual winner will capture the top prize of $666,777. Among those returning for Day 2 were chip leaders Eli Elezra and Theo Tran, as well as Lee Watkinson, Vanessa Selbst, Chris Ferguson, Liz Lieu, Aaron Been, Kenna James, and last year's winner of this event, Francois Safieddine. It took until the wee hours, but the final table was set.
The seating assignments and chip stacks going into the final are as follows:
Seat 1: Brent Hanks (Las Vegas, Nevada) 755,000
Seat 2: Steve Merrifield (Fairmont, West Virginia) 1,109,000
Seat 3: Shawn Buchanan (Abbotsford, British Columbia, Canada) 1,133,000
Seat 4: Duncan Bell (Vancouver, British Columbia, Canada) 1,966,000
Seat 5: Jason Sanders (Simi Valley, California) 1,099,000
Seat 6: Nathan Doudney (Bend , Oregon) 113,000
Seat 7: Brent Ditzik (Phoenix, Arizona) 384,000
Seat 8: Nicolas Levi (London, United Kingdom) 233,000
Seat 9: Ariel Soffer (Hollywood , Florida) 191,000
The first order of business in Sunday's action was getting into the money, as only the top 99 were guaranteed a payday. One of the biggest surprises in the early going was that overnight chip leader Eli Elezra would not be cashing in. With a board reading
, Dean Bui checked and Elezra bet 30,000. Bui check-raised to 71,000 and Elezra moved all in, only to find that his pocket aces had been out-flopped by Bui's pocket queens. Other early eliminations included John Phan, Pedro 'Pete' Rios, Marco Johnson, and Chris Ferguson. The 100th-place finisher was Robert Fox and that was one place shy of the money, as his pocket kings were bested when the
flop hit his opponent's A-Q dead on and the next two cards were blanks.
Shortly after the bubble burst there was a flurry of eliminations, Chris Ferguson, Lee Watkinson and Matt Sterling all headed out the door, and a spate of bad luck hit some well-known players. In two successive hands, two players went from dominating to dominated and were sent to the rail. And, coincidentally, both unlucky players had the initials CG. First, Craig Gray had his pocket queens bested by Billy Ragatz' pocket eights, thanks to a flopped eight for the set. Then Chau Giang had his tournament ended when his pocket jacks failed to hold up against Pascal Baumgartner's pocket sixes, also losing against a flopped set.
Theo Tran, who had been running hot at the beginning of the day, lost a big share of his stack in just two hands. First, Craig Gray had moved all in from the small blind and Tran called in the big with
, dominating Gray's
. Tran's hand held up until the river, when Gray spiked the
to stay alive and double up, while Tran slipped to 220,000. The next hand saw Tran raise preflop from middle position to 8,500. Both the button and the big blind called the raise and the flop came
. Everyone checked around to the button, who moved all-in for 23,600. Everyone else folded and Theo made the call. Theo turned over
while his opponent showed
. Theo was unable to improve and was down to 135,000 after the hand. Just before midnight, Theo Tran was heading out the door, his quest to make his third final table of the 2008 World Series coming to an end. Tran shoved the last of his chips from the small blind holding
. Brent Hanks called in the big blind and was behind with
but he connected on the 10-8-Q flop, and though Tran picked up a gutshot straight draw on the turn he didn't improve on the river and was sent to the cage to collect $17,350 for his 25th-place finish.
Two players made it deep into Day 2, helped when they each cracked their opponent's kings. Liz Lieu caught an ace on the flop to make top pair and take away a big pot from her opponent. A little while later, Vanessa Selbst also foiled pocket kings when her A-9 made a wheel thanks to a 2-3-4-5-Q board. But Lieu was out when a K-K-Q flop hit Pete de Best's Q-J and Lieu was unable to improve on her pocket sevens, taking $14,137 for her 28th-place finish. Selbst also walked away with $14,137 for her 34th-place finish.
Early into Monday morning, the field was winnowed down to two tables of nine players each — one table's worth of players to go before the final table would be set. Shawn Buchanan was leading the field with over 600,000 in chips and there was a cluster of players hovering just below him with above-average chip stacks. But it was the shorter-stacked players who made the first moves. In a battle of the blinds, Jason Mercier raised, Joel Casper moved all in, and Mercier called with
, only to find that Casper hadn't been making a move — he had woken up with
in the big blind. Mercier's hand didn't improve and he fell to 300,000, while Casper doubled to 290,000. Ariel Soffer similarly doubled up after moving the last of his chips in with A-K against Michael Kamran's pocket nines and being rewarded with not one but two aces courtesy of the turn and river.
For the most part, play moved at a snail's pace as no one seemed to want to make a mistake that would keep them out of the final table, but the rising blinds and antes would soon force some to take a chance. Two players feeling the pressure made their moves, leading to two back-to-back eliminations – Michael Kamran, whose pocket fives were third best in a three-way hand, left with $22,170, and John Roveto, whose pocket tens lost the race against Brent Ditzik's A-Q, left at the next prize level, $30,203. Joel Casper and Jason Mercier were the next two out, and each earned the same prize money as Roveto. There were three more eliminations due before play would end for the day.
Yuri Shapiro was knocked out when his A-9 was no match for Brent Hanks' pocket threes, especially after a three landed on the flop. Shapiro took home $38,235 as did Napoleon Ta, eliminated by Nicolas Levi on the river which paired Levi's queen giving him a better pair than Ta's flopped tens, and after 4am, the final table burst when Duncan Bell and Adam Katz both made two pair on the turn when the board read
. Unfortunately for Katz, his K-Q trailed Bell's
, and the blank
river concluded the session.
Bell's knockout helped him build his large chip lead going into the final table, where one of the nine players will walk away with the top prize, the WSOP bracelet, and the knowledge that they bested 1,389 other players along the way.
Pokernews.com will provide live reporting on the final table beginning at 2:00 pm PDT.