2008 WSOP Event #13, $2,500 No-Limit Hold'em Day 3: 'Pumper' Bell Finds Gold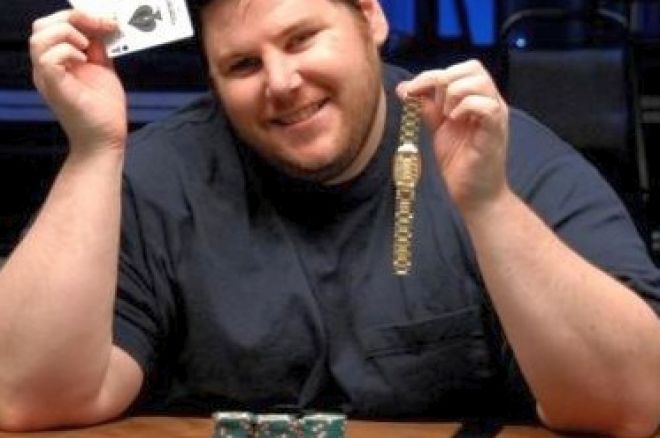 Duncan "Pumper" Bell started the day with a massive chip lead and by the end he was still on top, winning the $2,500 No-Limit Hold'em Event #13 in only 73 hands spread out over just three and a half hours. The win gives Bell his first WSOP bracelet and a big payday of $666,777. In only his second time in the money at a WSOP event, Bell bested a field of 1,397 players and overcame his own late dip to come back and take it all.
The seating assignments and chip stacks going into the final were as follows:
Seat 1: Brent Hanks (Las Vegas, Nevada) 755,000
Seat 2: Steve Merrifield (Fairmont, West Virginia) 1,109,000
Seat 3: Shawn Buchanan (Abbotsford, British Columbia, Canada) 1,133,000
Seat 4: Duncan Bell (Vancouver, British Columbia, Canada) 1,966,000
Seat 5: Jason Sanders (Simi Valley, California) 1,099,000
Seat 6: Nathan Doudney (Bend , Oregon) 113,000
Seat 7: Brent Ditzik (Phoenix, Arizona) 384,000
Seat 8: Nicolas Levi (London, United Kingdom) 233,000
Seat 9: Ariel Soffer (Hollywood , Florida) 191,000
This final table got off to a fast start, and never slowed down. It was Brent "Bhanks11" Hanks who drew first blood, taking almost half a million off of Jason Sanders in the first hand. The very next hand brought our first elimination. Nicolas Levi, a French poker pro living in London, moved all in for his last 227,000 and Steve Merrifield made the call. Levi turned over pocket sevens to Merrifield's A-10. The
on the flop gave Merrifield the lead, and when the board ran out
Merrifield took the pot and Nicolas Levi was eliminated in ninth place, taking home $59,442.
Just two hands later another player was sent packing. Bell raised to 90,000 and Brent Ditzik announced he was all in. Bell made the call and turned over
to Ditzik's
. The flop was a brutal one for Ditzik:
, the door card giving him top pair but the jack giving Bell a set. The
on the turn ended the hand and eliminated Ditzik, who, in his first major cash, received $83,540 for his eighth-place finish. Bell bounced the next player as well. Bell had raised to 110,000 and Ariel Soffer moved all in for his last 74,000. Bell called and showed
to Soffer's
. The
flop gave Bell a straight draw and he hit it when the
came on the turn. Soffer who, like Ditzik, had no prior cashes, earned $107,638 for seventh place.
No sooner did Bell dispatch of Soffer, then there was another elimination in his sights. Bell raised to 100,000 and Jason Sanders called for the last of his chips. Bell's
was pitted against Sanders'
. The
gave Sanders hope that Bell's pair would be counterfeited, until the
hit on the turn giving Bell a boat. Sanders was out as our sixth-place finisher, taking home $139,769. With this elimination, there were four out in the first 16 hands.
Hand 28 saw the end of another player's tournament run, when Brent Hanks moved all in and Steve Merrifield called. Hanks'
was dominated by Merrifield's
. When the board ran out
Hanks, a Bluff magazine blog contributor, finished in fifth place with by far his biggest cash, $178,327.
Shawn Buchanan came into the final day second in chips, but left in fourth place. In his last hand, Steve Merrifield had raised to 100,000 and Buchanan moved all in. It was a typical race situation with Merrifield holding pocket nines to the suited A-K of Buchanan. Buchanan failed to connect on the board, and Merrifield actually improved from a pair to a straight after the board ran out 7-8-6-2-5. Buchanan was out in fourth place, $218,491 the richer.
Steve Merrifield was responsible for the next elimination as well. He had raised on the button to 105,000 and Nathan Doudney moved all in. Merrifield called with
to Doudney's
. The flop came
, giving Merrifield top pair to Doudney's middle pair. The
turned, and Doudney moved ahead with two pair, but the
spiked on the river, giving Merrifield a better two pair and the rest of Doudney's chips. Doudney, who has four prior cashes in major events, including one in this year's WSOP, went out in third place, with his biggest payday to date, $260,261.
It looked for awhile as if Bell was not going to go wire-to-wire for the win, having ceded the chip lead to Steve Merrifield. In hand 62, Bell raised to 175,000 and Merrifield called. The flop came
; Merrifield bet 270,000 and Bell called. The turn was the
; Merrifield bet 475,000 and Bell again called. The river was the
. Merrifield pushed in one million in chips and Bell made the call. Merrifield showed the
for the pair on the river and Bell mucked. Merrifield raked in a huge pot and took a commanding – nearly 5-to-1 – chip lead over Bell.
But salvation came Bell's way five hands later. Merrifield raised to 175,000 and Bell called. The flop came
and Bell bet 200,000. Merrifield called and the turn was the
. Bell bet 525,000 and Merrifield asked how much Bell had left. He thought it over a bit before announcing all in. Bell made the call and showed
for top pair and Merrifield showed
. The
hit on the river and Bell had a timely, and much-needed, double-up.
In the next six hands, Bell had chipped away at Merrififeld's lead until he pulled ahead. On the last hand, Merrifield raised to 155,000 and Bell called. The flop came
. Bell led out with 150,000 and Merrifield raised to 500,000. Bell pushed all in and Merrifield made the call, only to find that his pocket tens were crushed by Bell's pocket rockets. The turn was the
. Surrounded by his large and rather rowdy group of friends, Bell couldn't bear to watch as the final card was shown, but when the dealer turned over the
he shook hands with Merrifield and circled back to the table to pose for photographs.
As our runner-up Merrifield wins $428,949, while Duncan "Pumper" Bell wins $666,697 – and the gold WSOP bracelet. Congratulations to Duncan Bell on his first WSOP win!