2008 WSOP Event #14, $10,000 Stud Championship Final: Brooks and Students Win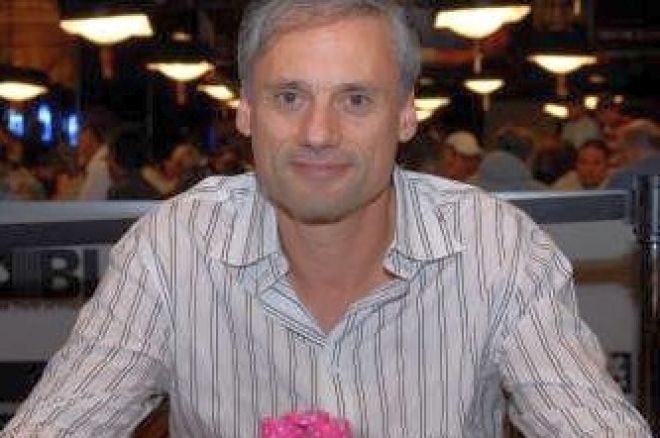 When the $10,000 Stud Championship event began with 158 players, it looked like a "Who's Who" of professional poker. But Pennsylvania native Eric Brooks, a relative unknown, would walk away with the bracelet and $415,856. Brooks will donate his entire winnings to the Decision Education Foundation, whose mission is to teach the science of decision making to students in grades K-12.
When poker's popularity exploded, the "Cinderella" phenomenon became a well-known fixture of major NLHE events. For years, people watched for an indication that poker's growth would have a positive spillover effect on poker's other legacy games. For those that anxiously waited for poker's rising tide to lift all boats, Brooks' win, along with Anthony Rivera's victory a few days earlier in the $10,000 Mixed Event, will be interpreted as another optimistic sign.
But positive sign or not, Brooks' path to the bracelet was hard fought as he started the final table as one of the shorter stacks against formidable opposition. The starting final table chip counts follow:
David Oppenheim 508,000
Alexander Kostritsyn 495,000
Fu Wong 429,000
Minh Ly 424,000
Jim Paluszek 413,000
Eric Brooks 359,000
Erik Seidel 273,000
Vassilios Lazarou 259,000
David Oppenheim lead into the final table, but was crippled early. What started out as an interesting three-way hand quickly changed to serious two-way action when Oppenheim's check-raise on fifth street was answered by Alexander Kostritsyn's reraise. Oppenheim had A-Q-5-6 showing but Kostritsyn would take the fortune-reversing pot with jacks over queens for the boat.
Oppenheim battled back and, in fact, eliminated the first player of the final table. Vassilios Lazarou entered the final table as the short stack and committed the last of his chips on third street. He couldn't have been happy to discover he was up against Oppenheim's rolled-up deuces. A hand never materialized for Lazarou and he was eliminated in eighth place for $48,269. But Oppenheim's reprieve was short-lived and his wild final table ride came to an end, soon after. In a hand where Kostritsyn showed trip fives, made on seventh street, Oppenheim tapped the table and left in seventh place for $59,408.
Jim Paluszek then lost a huge hand to Fu Wong's ace-high flush. Kostritsyn would take the rest of Paluszek;s stack with tens up. Paluszek was eliminated in sixth place for $74,260. Erik Seidel and Kostritsyn also had a series of skirmishes, with Seidel getting the worst of it. This was not the first time that Seidel and Kostritsyn tangled at a final table. In fact both players spent the entire 2008 Aussie Millions final table together. At the end of that contest, Kostritsyn would prevail. However, Seidel's fifth-place elimination here put to bed any hopes of a heads-up rematch. Seidel was all in on third street with fives in the hole, facing Ly's split aces. By seventh street, nothing had changed. Siedel received $92,825 for fifth.
Keeping up with Minh Ly's chip count at any time during this contest must have been a daunting task. Ly played a lot of hands, overcoming each defeat with spectacular double-ups. Ly's rollercoaster ride finally came to an end when his wired eights faced off against Kostritsyn's wired nines. Ly didn't improve while Kostritsyn eventually constructed a straight. Minh Ly finished in fourth place for $118,816.
Alexander Kostritsyn was this event's Day One chip leader and he played a strong tournament from start to finish. Unfortunately for Kostritsyn, his finish was to be in third place, just shy of the bracelet. All the money was in on fifth street with Kostritsyn holding (K-4) 4-K-3 to Brooks' (A-8) 7-A-7. Kostritsyn failed to improve and took home $163,372 for his third-place performance.
Going into heads-up play, Fu Wong had Brooks at a slight disadvantage; 1,815,000 to 1,345,000. Wong pushed the advantage, taking the first few pots of the early action. But Brooks was going to get back all those chips and more.
In a final-table pivoting point, Kostritsyn couldn't believe that Wong had called a hand all the way to seventh street just holding a pair of aces. Wong took that hand, besting Kostritsyn's jacks. In heads-up play it was Wong's turn to be surprised when Brooks called him all the way to seventh street, armed only with a pair of kings. The hand would give Brooks a 2-to-1 chip lead – a lead he would never surrender.
On the final hand all the money went in on fourth street. And so began the dramatic final hand:
Brooks: (
)
– leading pair of fives
Wong: (
)
Brooks: (
)
– leading aces up
Wong: (
)
Brooks: (
)
Wong: (
)
– leading trip fours
Brooks: (
)
– winning flush
Wong: (
)
Fu Wong was eliminated in second place, collecting $259,910, while Brooks, and his students, will now enjoy the fruits of his win.