2008 WSOP Event #15 $1,000 Ladies NLHE Day 1: Mitchell Leads Pack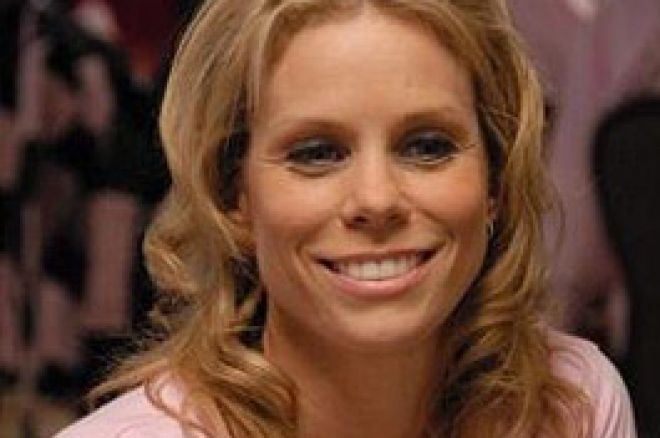 The Ladies Event field of 1,190 players powered through the money bubble on Day 1, leaving only 61 players in contention for the bracelet and its accompanying $244,702 first-place money. While the frenetic pace of this event claimed victims at an alarming rate, some women seemed to power effortlessly through the day. Along with our chip leaders, Kathy Leibert, Evelyn Ng, Van Nguyen, Nancy Todd Tyner, Maria "Maridu" Maynrick and PokerNews' own Amanda Leatherman all remain.
Top Ten Chip Leaders:
Shavonne Mitchell 94,000
Alice Talbot 92,700
Roslyn Quarto 86,100
Olga Varkonyi 83,800
Christine Priday 82,900
Lisa Ahumada 74,100
Hoa Nguyen 71,800
Nancy Ricks 68,700
Tina Dubowy 67,900
Sue Porter 66,200
PokerStars Nordic blogger Lina Olofsson was eliminated in the early going when she had the misfortune to first run an A-K into pocket aces and ultimately run the same hand into pocket kings. Later in the day, Shirley Williams went home much the same way when her A-K failed to improve against an opponent's pocket aces.
So far, 2005 Ladies Champion Jennifer Tilly has had trouble finding any traction at the 2008 WSOP. This event continued her early elimination trend when she took her chances on a flush and gutshot draw and failed to connect. 2006 Ladies Champion Mary Jones also lost her bid for a bracelet repeat. In her final hand, she took pocket fives up against A-Q, only to see the board deliver a Broadway straight to her opponent.
Katja Thater was a final tablist in the 2007 Ladies event, but was ousted early from this year's content. Thater didn't have much time to reflect as she hightailed it over to Day Two of the $10,000 Championship Stud event. Thater wasn't the only 2007 Ladies final tablist to double-dip this event. Vanessa Selbst was two-tabling, running back and forth between this event and the $2,500 NLHE. Selbst would cash in the $2,500, finishing in 34th place. But Selbst's "build or bust" strategy in the Ladies event went bust before the field reached the money.
Clonie Gowen would go out in a big-blind defense gone wrong. CGowen called Heather Escuin's raise to 600, but Gowen would call for all her chips on the turn with a board showing 7-6-5-3. Escuin had pocket fours for the straight while Gowen was holding 7-3 for two pair. The river changed nothing and Gowen headed for the rail.
Anna Wroblewski and Vanessa Rousso were tangling at the same table for much of the day. Holding pocket sixes, Rousso finally eliminated her tablemate when she boated on a board of K-6-3-K-7. But Rousso's victory was short-lived as she busted soon after when her A-9 couldn't overcome Pam Shoemaker's pocket kings.
The bubble burst with a little more than two hours left of play. While our bubble girl remains anonymous, it appears that Annie Lepage was the beneficiary, finishing just inside the money in 99th place.
There's plenty of action yet to come. Check back with the PokerNews Reporting Team for Day 2.