2008 WSOP Event #15 $1,000 Ladies World Championship: Gromenkova Wins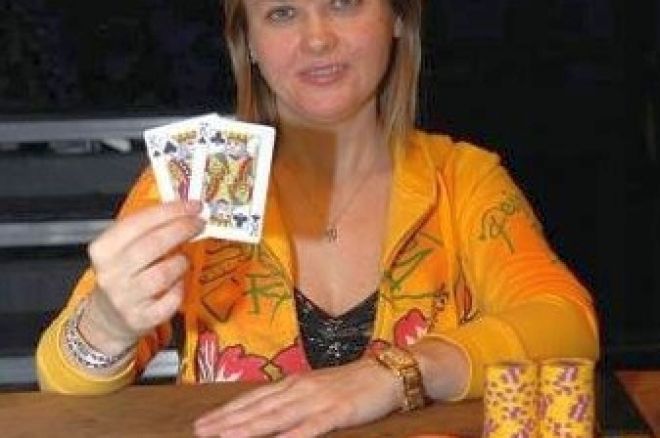 Svetlana Gromenkova won the bracelet, a Corum watch, and $244,702 in the $1,000 Ladies World Championship, wearing the same pair of sunglasses Anthony Rivera wore for his bracelet-winning performance in the $10,000 Mixed event days earlier. Lucky shades or not, Gromenkova played a relentless tournament, topping the leaderboard for most of Day Two and the final table. And it was déjà vu all over again for Anh Le, 2006 second-place finisher behind Jennifer Tilly, taking the second spot once again for $144,567.
The players started the final table action with the following chip counts:
Seat 4: Svetlana Gromenkova (New York , New York) 553,000
Seat 7: Christine Priday (Denver, Colorado) 448,000
Seat 1: Patty Till (Avon, Indiana) 312,000
Seat 6: Debbie Mitchell (Miramar, Florida) 224,000
Seat 5: Sue Porter (Houston, Texas) 211,000
Seat 8: Yesenia Garcia (Modesto, California) 210,000
Seat 9: Anh Le (San Jose, California) 191,000
Seat 3: Marla Crumpler (Fort Lauderdale, Florida) 163,000
Seat 2: Roslyn Quarto (Edison, New Jersey) 73,000
Within the first hour of play the two shortest stacks, Roz Quarto and Marla Crumpler, were able to hit key double-ups. It wasn't until the 26th hand of play that the first elimination occurred. Sue Porter called for all her money on the turn with the board reading A-K-5-7. Porter had A-7 for two pair, only to discover Roz Quarto had A-K for a better two pair. Sue Porter was eliminated in ninth place, taking home $20,034.
Eight hands later, Yesenia Garcia pushed all in with
and got a call from Marla Crumpler with
. The flop of
gave Crumpler a pair of jacks, but Garcia had picked up both a flush and open-ended stratight draw. By the end of the hand, neither completed and Carcia was out in eight place for 28,155.
After Garcia's elimination, the pace of the tournament took a decidedly tight turn. In the next 50 hands, few made it past a flop. But on hand #84, Roz Quarto and Chris Priday found one they both liked. It was a classic race with Quarto's pocket queens facing Priday's A-K. An ace fell on the flop, and it never got better for Quarto. Roslyn Quarto finished in seventh place for $36,277. At that point, Priday picked up the chip lead:
Chris Priday — 574,000
Svetlana Gromenkova — 500,000
Anh Le — 425,000
Debbie Mitchell — 411,000
Patty Till — 380,000
Marla Crumpler — 146,000
Gromenkova wrested the chip lead back on hand #111, when her J-8 went up against an all-in Debbie Mitchell with A-9. Two jacks fell on the flop and Mitchell was drawing dead on the turn; Mitchell finished in sixth place for $47,106. Marla Crumpler was able to hold on to her short stack until hand #134. She got the rest of her chips in with pocket kings, only to see the flop deliver an ace to pair Anh Le's A-9. Crumpler finished in fifth place for $60,101.
Priday would pull ahead once again, doubling in a big hand when her A-Q took down Anh Le's A-10. Priday's lead was short-lived, however, and she lost the majority of her stack back to Gromenkova. Holding the Q-10, Priday moved all-in on a Q-7-3 flop, only to realize she was up against Gromenkova's pocket aces. Six hands later, Priday would be eliminated when her A-7 failed against Anh Le's A-J. Priday finished in fourth place for $73,637. The final three players' chip counts at that point:
Svetlana Gromenkova 1,132,000
Anh Le 902,000
Patty Till 345,000
Patty Till was up against two monster stacks and pushed everything she had, holding K-6. Gromenkova called with pocket nines and hit a set on the flop. While Till had outs, they were few and never materialized and she finished in third for $87,715.
When heads-up play began, Gromenkova had the chip advantage, 1,477,000 to 890,000, In the early going, Gromenkova continued to widen the advantage until Le caught a key double-up. Le pushed in with A-5 and Gromenkova called witn A-K. A five fell on the board, temporarily reversing the player's fortunes. But Gromenkova was relentless, pressuring, and taking, the majority of the hands to follow. Gromenkova had regained the chip lead by the time hand #151 played out.
It was Gromenkova's pocket kings vs. Le's A-6, and Gromenkova never trailed in the hand. While an ace fell on the river, it was the set-delivering king on the turn that had already sealed the win for Gromenkova.