2008 WSOP Event #18 $5,000 No-Limit 2-7 Draw w/ Rebuys: Matusow Tops Lisandro for Win
John Hartness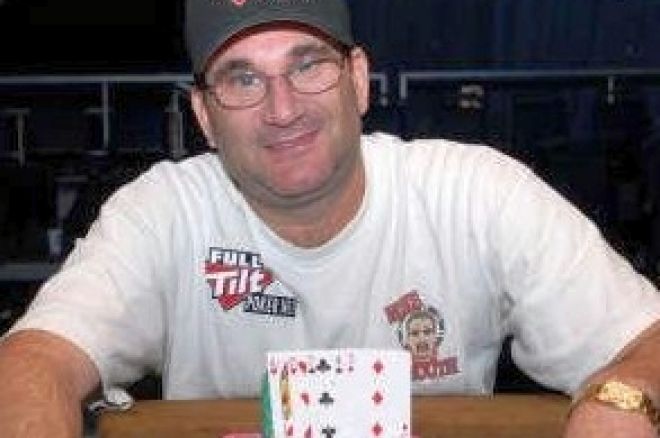 Every seat at the final table of Event #18, $5,000 No-Limit 2-7 Draw w/ Rebuys held a star. The seven final-table players held eight World Series of Poker bracelets between them, along with innumerable cashes, several WPT championships and millions in lifetime winnings. After a 12-hour final table, Mike "The Mouth" Matusow outlasted the fearsome lineup to claim his third WSOP bracelet and the $537,862 first prize. The chip stacks and seating assignments looked like this to begin the final table:
Seat 1: Jeffrey Lisandro (Salerno, Italy) 461,000
Seat 2: Mike Matusow (Las Vegas, Nevada) 520,000
Seat 3: Tom Schneider (Scottsdale, Arizona) 162,000
Seat 4: Erick Lindgren (Las Vegas, Nevada) 1,104,000
Seat 5: Barry Greenstein (Rancho Palos Verdes, California) 541,000
Seat 6: Tony 'G' Guoga (Melbourne, Australia) 394,000
Seat 7: David Benyamine (Las Vegas, Nevada) 410,000
David Benyamine's quest for his first bracelet ended early, as he busted in seventh place ($58,990). In his final hand, he came over the top of Erick Lindgren's pre-draw raise after Tony G called. Lindgren called Benyamine's all-in raise, and Tony G folded. Benyamine stood pat with J-8-7-4-2, while Lindgren drew one card with his 8-2-4-5. Lindgren drew a 7 to make an 8-low and send Benyamine to the rail, where he promptly headed over to his seat for Event #22, $3,000 H.O.R.S.E.
Tony G was next to fall when he was outdrawn by Erick Lindgren to bust in sixth place ($78,075). Tony G moved all in over the top of Lindgren's raise, and Lindgren called. Both men drew one card, and Tony G was looking good with 8-5-3-2 to Lindgren's 9-8-6-4. Lindgren drew a 5 to make 9-8-6-5-4, while Tony G picked up a deuce to make a pair and head to the rail.
2007 WSOP Player of the Year Tom Schneider finished fifth ($104,101) after busting in a three-way pot with Mike Matusow and Jeff Lisandro. Schneider stood pat as Lisandro and Matusow each drew one card. Matusow led out into the side pot, and Lisandro flashed a pair of eights before folding. Matusow tabled 9-5-4-3-2, and Schneider mucked his hand as he headed to the cashier's cage.
Erick Lindgren earned his first bracelet at the 2008 WSOP, but his quest for a second bracelet fell short as he was eliminated in fourth place ($156,151). In Lindgren's final hand, Jeff Lisandro raised from the button, and Mike Matusow called. Lindgren moved all in over the top, and Lisandro folded. Matusow went into the tank for a moment before finally calling to draw two cards. Lindgren drew one with 7-6-3-2. Matusow needed a lot of help on the draw as he tabled 8-7-4. He got his help in the form of a 6-2 for his draw and another 2 came for Lindgren. Lindgren's pair of deuces was no good to Matusow's 8-7-6-4-2 low, and he was eliminated.
Barry Greenstein missed his shot at a third career bracelet when he busted in third place ($225,552). Greenstein moved all in before the draw, and only Jeff Lisandro called. Each player drew one card, and Greenstein tabled 9-7-6-2 to Lisandro's 10-8-5-4. Greenstein needed any unpaired card lower than a 10 to double up, but the 7 on the draw left Lisandro's A-low good enough to send the Robin Hood of poker to the rail.
After needling each other throughout the entire final table, it was only fitting that Mike Matusow and Jeff Lisandro were the last two players standing. Matusow went aggressive early, doubling through Lisandro on the very first hand of heads-up play, then went on a tear where it seemed like he could not lose a hand. Lisandro held on for over an hour before finally succumbing to the power of The Mouth and busting in second place ($347,004).
Matusow open-shoved all in from the button on the final hand. Lisandro called and drew one card. Matusow thought for a long moment about whether to stand pat or break his hand before finally deciding to stand pat with Q-8-7-4-3. Lisandro tabled 9-6-5-3, and drew a queen to make a Q-9. Matusow's Q-8 was good as he took down the event and his third WSOP bracelet.
Mike Matusow's last WSOP bracelet came in 2002, and he has had a long road back to the winner's circle, which he reached tonight to claim $537,862 in Event #18, $5,000 No-Limit 2-7 Draw w/ Rebuys.