2008 WSOP Event #19 $1,500 PLO Day 2: Selbst Widens Lead into Final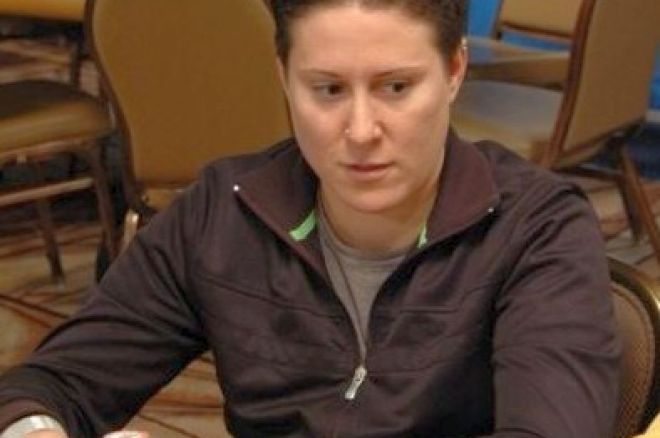 Vanessa Selbst started Day 2 in Event #19, Pot-Limit Omaha, with a 2-to-1 chip advantage over her closest competitor. By the time Day 2 ended, Selbst had widened the gap and will start the final table with almost 50% of the chips in play.
Day Two play picked up the frenetic play that has defined this event since they shouted "shuffle up and deal." The field had made it into the money on Day One and 46 players began Day Two in search of a final table. Their goal was met when Selbst cracked Tony Phillips' A-A-x-x when her second pair hit on the river. Phillip's 10th-place finish set up the following final table.
Seat 1: Jamie Pickering (QCD , Australia) — 329,000
Seat 2: Eugene Todd (Brooklyn, New York) — 127,000
Seat 3: Mel Randolph (Waikiki, Hawaii) — 117,000
Seat 4: Jamie Robbins (San Diego, California) — 70,000
Seat 5: Vanessa Selbst (Brooklyn, New York) — 1,047,000
Seat 6: Stanley Statkiewicz Jr (Itasca, Illinois) — 318,000
Seat 7: Ken Lairson (Oklahoma City, Oklahoma) — 16,900
Seat 8: Craig Natte (Hudsonville, Michigan) — 108,000
Seat 9: Thom Schultz (Littleton, Colorado) — 144,000
The money bubble had safely burst on Day 2, so all of the 46 second-day players were assured a payday. Allyn Jaffrey Shulman started the day short-stacked and ended the day early, claiming a 41st-place finish. Paul "X-22" Magriel would also be an early Day Two casualty when he took his K-K-8-4 up against Eugene Todd's A-A-5-5. When a five spiked on the turn, Magriel was drawing to two outs, which the river failed to deliver. Magriel finished in 40th place.
The kings were also unlucky for Tony Cousineau. All in pre-flop, Cousineau's K-K-A-9 was in good shape against Calen McNeil's J-J-A-8 until the flop came. Two jacks came on the flop and Cousineau was facing almost insurmountable odds to overcome McNeil's quads. The odds and McNeil's quads won and Coisineau was eliminated in 38th place. Chau Giang was eliminated when he pushed in on a flop of K-8-8, holding A-K-Q-10 for two pair. Unfortunately for Giang, Jamie Robbins was holding 9-8-7-6 for trips. Things never improved for Giang and he ended his day in 34th place.
It was Nam Le and Jamie Pickering who both had pocket aces in one hand. Unfortunately for Le, his were suited in the wrong color. Three hearts hit the board and Pickering's flush eliminated Le in 28th place. Max Pescatori started with one of the lowest chip stacks, made even smaller by his late arrival on Day Two. But Pescatori had painstakingly survived and even looked to triple up on a hand. Greg Cox had both players covered when Pescatori and Craig Natte went all in on a flop of
. Pescatori was in great shape having flopped top set.
Pescatori:
Natte:
Cox:
"No! Don't ruin my World Series!" cried Pescatori, when the
fell, giving Natte outs to a flush. The river was indeed ruinous for Pescatori when the
fell, eliminating him in 26th place.
Randy Holland was eliminated in 22nd place. Holland flopped a straight, but Calen McNeil's flush draw completed on the river. Vanessa Selbst would end Rob Hollink's day in 15th place. All the money went in on the flop of
. Hollink had an overpair and a flush draw with his
while Selbst had the bigger overpair with
. The turn was an
. The river was a painful
, delivering a set to Hollink but the winning straight to Selbst.
Selbst continued her eliminating ways when she took out Chris Bjorin. All the money went in on the turn where Selbst had made a straight to Bjorin's two pair. The river missed Bjorin and he finished in 12th place. Calen McNeil's run ended in 11th place, at the hands of Tony Phillips' flush. And then, of course, Selbst collected all those chips for herelf when she sent Phillips home just short of the final table.
Will anyone be able to overtake Selbst's commanding lead? Check back with the PokerNews 'Live Reporting' team at 2pm today for all the final-table action.