2008 WSOP Event #2, $1,500 NLHE: Grant Hinkle Wins Marathon Event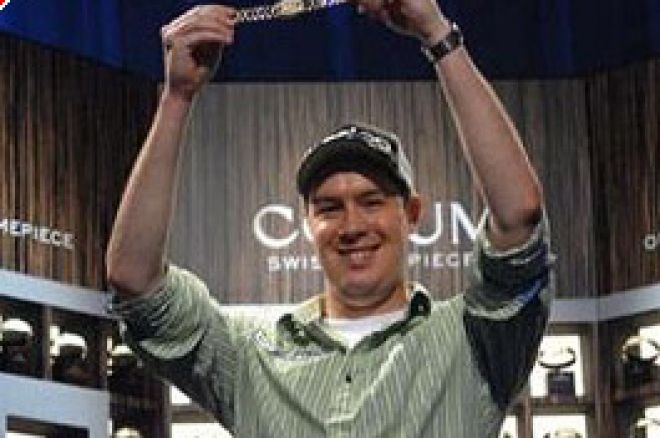 Grant Hinkle penned his name into the poker history books by winning Event #2, the largest WSOP preliminary event in history. The field began with 3,929 starters, all vying for the win, the bracelet and $831,462 in first-place money. While it is always a long road to the bracelet, this was especially true for Event #2 which may, also, go down as the longest preliminary event in history. Originally scheduled to play down to the final table on Day 2, play was suspended after almost 16 hours, with the field still standing at 18 players. After the third day of play began, it would take the players an additional six hours before they would reach their final table of nine. And it would take one of the most unusual final hands in WSOP play to determine the winner.
Our final day of play began with the following players:
Table 14:
Seat 1: Minh Nguyen (Lake Elsinore, CA) 600,000
Seat 2: Elia Ahmadian (Chantilly, VA) 171,000
Seat 3: Theo Tran (Las Vegas, NV) 1,199,000
Seat 4: David Bach (Athens, GA) 168,000
Seat 5: James Akenhead (London, UK) 1,039,000
Seat 6: Eric Hicks (San Francisco, CA) 703,000
Seat 7: Perry Friedman (Las Vegas, NV) 653,000
Seat 8: Joe Rutledge (Pasadena, TX) 486,000
Seat 9: Ferguson (Pacific Palisades, CA) 444,000
Table 15:
Seat 1: Josh Engerdahl (Abbotsford, BC) 930,000
Seat 2: Melvin Jones (Chicago, IL) 660,000
Seat 3: Mike Ngo (New Orleans, LA) 544,000
Seat 4: Grant Hinkle (Kansas City, KS) 281,000
Seat 5: Matthew Kearney 1,024,000
Seat 6: Jeff Wiedenhoeft (Whitewater, WI) 482,000
Seat 7: Brandon Blake (Palmer, AK) 514,000
Seat 8: Aaron Coulthard (Waterloo, ON) 1,327,000
Seat 9: Frank Sinopoli (Hollywood, CA) 165,000
The first elimination of the day came quickly and painfully when Brandon Blake had the misfortune of flopping a set of fives to Grant Hinkle's flopped set of sixes. Blake finished in 17th place for $30,569. Frank Sinopoli started the day as the short stack. From the big blind, Sinopoli took his chances on a flop of
, holding the
. Small blind Aaron Coulthard had the edge with
and held on when no additional club came. Sinopoli finished in 16th place with $30,569.
The next elimination featured a three-way pot, two all-ins, an action flop, a heart-stopping turn, and a killer river. All the money went in pre-flop with Aaron Coulthard the only one left with chips. It was Coulthard's
to Mathew Kearney's
and Jeff Wiedenhoeft's
. The board came
. Wiedenhoeft's rivered boat gave him the hand, while Coulthard's turned Broadway straight captured a side pot. Mathew Kearney went home in 15th place with $41,295. Eric Hicks finished in 14th for $41,295 when his K-8 couldn't overcome Weidenhoeft's A-9. And Josh Engerdahl lost a face off with his A-J against Melvin Jones' A-Q for a 13th place finish and $41,295,
Pre-flop betting escalated until Minh Nguyen was all in with A-Q, only to discover he was up against James Akenhead's pocket queens. The board brought no help to Nguyen and he was our 12th-place finisher with $52,021. Perry Friedman might have assumed that Theo Tran was bluffing with his cutoff raise, but Tran immediately called Friedman's reraise all-in. Tran flipped over pocket kings and Friedman showed Q-J. A jack came on the flop, keeping Friedman's hopes alive, but the rest of the board failed to cooperate. Perry Friedman finished in 11th with $52,021.
With ten players left, play predictably slowed down as no one wanted to become final table bubble boy. Jeff Wiedenhoeft eventually had to settle for $52,021 and 10th place, apparently after misreading his hand, a potential toll of the long days and hours of play.
Joe Rutledge pushed all in from middle position and Chris Ferguson finally called from the big blind. Rutledge's pocket sixes had the edge on Ferguson's A-9. But an ace hit the board, sending Rutledge home in ninth place with $83,127. David Bach pushed all-in on a turn with a double gutshot straight and Theo Tran called with a middle pair. Bach was unable to fill and was the eighth-place finisher with $117,987.
Short-stacked, Melvin Jones pushed all in from middle position with Q-T, only to bump into Theo Tran's pocket aces. A queen flopped, but no additional help sent Jones home in seventh place with $158,211. Aaron Coulthard was railed in sixth place when his K-J couldn't find the few outs he needed to beat James Akenhead's A-K. Coulthard took home $211,841. Mike Ngo's A-K was in good shape against Grant Hinkle's A-J until a jack fell on the river. Ngo finished in fifth place for $268,154.
In a heavily bet hand, Theo Tran called Grant Hinkle's final bet on the river. With the board reading A-4-K-A-8, Tran had to fell confident flipping over A-Q for trips. But Hinkle turned over A-4 for the boat, sending Tran home in fourth place with $327,148. It might make for an interesting study to determine exactly how many times Chris "Jesus" Ferguson was all in during the course of this tournament; it may have been over a dozen. But Ferguson's run finally came to an end when he pushed all in on the button with K-T, and was forced to face off against James Akenhead's small blind A-T. The flop delivered an ace and a gutshot Broadway draw for Ferguson, but Akenhead retained the lead and Ferguson finished in third place of $388,287.
When heads-up play began Grant Hinkle had the chip advantage over James Akenhead, 7,595,000 to 4,235,000. But it would be more than two hours, in this already marathon competition, before Hinkle would claim the bracelet. In the first hour, Hinkle chipped away at Akenhead and it looked liked the end was near. But Akenhead won a big pot when Hinkle called his large river bet on a board of Q-J-9-7-J. Akenhead's J-8 took the pot with trips while Hinkle flashed top pair. At this point Hinkle had 6,500,000 chips to Akenhead's 5,200,000. A half hour later, Hinkle returned the favor, taking down a big hand with trip jacks, leaving Akenhead to muck and tip his hat to the victor. But Akenhead would again narrow the gap and the battle continued on.
Maybe it's fitting that the largest preliminary event, and potentially the longest preliminary event, should also have one of the more unusual final hands in preliminary event history: Grant Hinkle had the button and raised to 350,000. Akenhead reraised to 1.2 million. Hinkle moved all in and Akenhead quickly called. Hinkle exposed
, apparently caught in a stone cold bluff. Akenhead turned over
.
The crowed erupted on the
flop, delivering Hinkle's boat. But the noise was deafening when the case
fell on the turn, sealing Hinkle's triumph.
Grant Hinkle won $831,462 and the bracelet with quad tens. James Akenhead finished in second place for $520,219.