2008 WSOP Event #20 $2,000 LHE Day 2: Negreanu to Seek Fourth Bracelet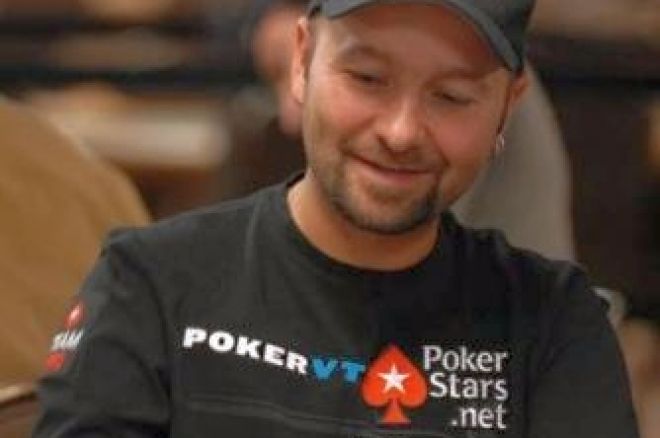 Day 2 of the $2,000 Limit Hold'em event started with 125 players at fourteen tables and by the end of the day, we were down to the nine who would come back to compete at Thursday's final table. Here are the final table's players and chip counts:
Seat 1: David Baker (Katy, Texas) — 409,000
Seat 2: Jeremy Kottler (Cleveland , Ohio) — 47,000
Seat 3: Hien Tran (Sacramento, California) — 58,000
Seat 4: Ugur Marangoz (Las Vegas, Nevada) — 402,000
Seat 5: Fu Wong (Chandler, Arizona) — 67,000
Seat 6: Greg Wohletz (Henderson, Nevada) — 301,000
Seat 7: Daniel Negreanu (Las Vegas, Nevada) — 308,000
Seat 8: Derek Lerner (Montreal, Quebec, Canada) — 133,000
Seat 9: Richard Li (Toronto, Ontario, Canada) — 195,000
Starting Wednesday with the chip lead was Daniel Makowsky, with almost 50,000 in chips, followed closely by Eric Buchman with over 46,500 in chips. A number of notable players also made it to Day 2 including Daniel Negreanu, who started fourth, JC Tran, Tad Jurgens, Amnon Filippi, Phil Hellmuth, Kevin Song, Alex Kravchenko, Shannon Shorr, Thor Hansen and Brett Jungblut. Table 47 was a particularly intimidating table hosting Negreanu, Tran, Shorr, Lee Nelson, Michael Schneider and An Tran.
John "The Razor" Phan was on a small stack and decided to test his luck with Q-6 against Gregory Alston. Unfortunately for Phan, Alston had A-J and the board ran out K-2-5-10-7 missing both of them and sending Phan out the door. At about the same time, JC Tran was eliminated when his A-9 ran up against Matthew Woodward's A-J and no nine appeared for Tran on the board. Others exiting early included Maya (Antonius) Gellar, Justin Pechie, Greg Debora, Richard Sparks, An Tran, Kevin Song, Vivek Rajkumar and Kenny Shelton, coincidentally knocked out by Kenny Shei.
Daniel Negreanu was up and down all day, starting the day near the top of the pack, then taking a hit early when he unsuccessfully took A-J against Babak Razi holding pocket jacks. No help came on the board and he was down near the bottom in chips. But soon after, Negreanu got the best of Derek Lerner when he cracked Lerner's pocket aces catching two pair, nines and sevens, on the river. Negreanu was back up to 40,000. He increased his stack even further at the expense of Marc Lewis. On a flop of
, Negreanu bet in the small blind and Lewis called. Negreanu bet and Lewis called the
turn and the
river and Negreanu showed
for the winning trips.
Still hanging on five hours into the day was Phil Hellmuth. In the small blind, Hellmuth had limped in and Henson checked behind him. The flop was
and Henson checked. Hellmuth bet and Henson check-raised. Hellmuth three-bet and Henson folded. "When all else fails," Hellmuth said while mucking his hand, "limp in with aces." Aces were good enough for Hellmuth in a hand against Ray Henson as well. But there were no aces for Hellmuth went he went up against Tom McCormick as they neared the bubble. The board read A-K-4-7-6 and McCormick's K-J took down the pot and Hellmuth was down to just 3,000. Hellmuth made one last gasp just before the money bubble, nearly tripling up to 8,500 courtesy of Joseph DiMartino and Ylon Schwartz, but fell just shy of the money busting out the next hand.
At least Hellmuth wasn't the official bubble boy; that distinction went to ESPN sportscaster Mike Patrick who nursed a very short stack to 46th place. As the final 45 learned they were in the money, and headed off for dinner, Daniel Negreanu had amassed over 100,000 in chips to move near the front. When play resumed, there was an initial flurry of eliminations including Brett Jungblut (44th), Eric Buchman (43rd) and Jimmy Shultz, who had won the $1,500 Limit Hold'em event last week, out in 42nd. Jeremy Kottler was responsible for two eliminations first taking out Mike Schneider (33rd) with pocket kings, over Schneider's flopped pair of jacks, then winning the race against Dominik Kulicki (28th) when his pair of sevens dodged Kulicki's A-10 over cards.
Matt Matros flopped trip aces and called all in against Daniel Makowsky only to discover Makowsky had trip aces as well – with a better kicker, jack versus eight – and Matros was out in 27th place. When it got down to two tables, there were new names atop the leader board, Hien Tran, brother of JC Tran, Richard Li and Ugur Marangoz, each with over 200,000 in chips. The two Daniels who had been chip leaders at various times during the day took a different trajectory. Makowsky was up to 205,000, good for fourth, while Negreanu had a spell of bad luck that brought his stack down to just 36,000. But just as fast as he was knocked down, Negreanu was back up to 117,000. After a short break, Negreanu increased his stack further when, raising in late position, he was called all in by Noelle Quevido who tabled K-2 to Negreanu's K-J. When the board ran out 6-J-9-10-10, Quevido was out and Negreanu was up to 198,000.
Down to ten-handed play, Negreanu took a big hit to his stack in two hands. With a board showing
, David Baker checked and after Negreanu bet there was a check-raise, a reraise, and a call. The river was
and Baker's A-J took the pot over Negreanu's J-Q. In the next hand, Ugur Marangoz, Negreanu and Richard Li all saw the flop of 9-K-3. There was a bet by Negreanu and a check-raise by Marangoz. Li folded, Negreanu called. There was betting on the
on the turn and the
on the river. Marangoz turned over a pair of nines for a boat and Negreanu was down to 90,000. Then, like Lazarus, he rose once again, his 10-7 catching two pair against David Lerner on the K-Q-7-9-10 board. "My favorite hand," Negreanu said with a laugh, and he was back up to 190,000.
Though he started the day in the chip lead, it was Daniel Makowsky who was the last person eliminated before the final table, leaving with $12,230. Makowsky went all in preflop versus Derek Lerner. Makowsky had
versus Lerner's
. The board ran out
and the river finished off Makowsky in 10th. And with that, almost fifteen hours after Day 2 began, the final nine players were determined. They will be back on Thursday where the first person knocked out will net $18,782 and the winner will take home $204,874 along with the gold bracelet.
Join the live reporting team at PokerNews.com for full coverage of this final table, beginning at 3 p.m. Pacific Time.