2008 WSOP Event #23, $2,000 No-Limit Hold'em Day 1: Dirksen Leads, Greenstein in Top Ten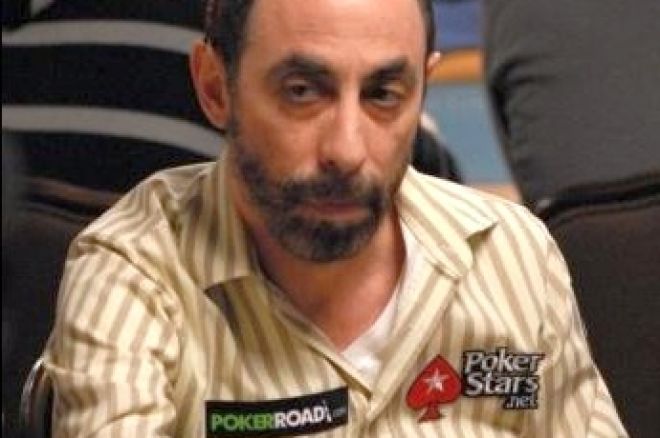 A starting field of 1,344 was narrowed to 134 after Day 1 play at the $2,000 No-Limit Hold'em event. Last year's winner of this event was Ben Ponzio, who outlasted a field of 1,619 to earn his first WSOP bracelet and $599,109 in prize money. 99 places will pay out this year and the winner will receive $507,563. The top ten end of the day chip counts were:
Dustin Dirksen 170,200
Andrew Jeffreys 164,500
Glen Bean 118,400
David Chicotsky 104,000
Matthew Ehrlich 103,400
Nick Niergarth 89,900
Patrick Stemper 86,200
Russell Carson 84,900
Barry Greenstein 82,100
Yves Grenon 78,900
With its relatively large field, this event included many of poker's biggest names including T.J. Cloutier, Chris "Jesus" Ferguson, Corey Zeidman, Shane Schleger, Mimi Tran, David Benyamine, Andy Black, Mark Seif, John Juanda, Clonie Gowen and Victor Ramdin, in addition to two players famous in other realms, rockers Scott Ian, from Anthrax, and Sully Erna, from Godsmack. Unfortunately for that illustrious group, however, none of them has a ticket to Day 2.
Andy Black had his day cut short by the demon runner-runner. Dane Lomas had raised preflop and both the button and Black called, Black from the blind. The three saw a
flop. Black checked, Lomas bet, the button raised and Black called all in. After Lomas folded, the two remaining flipped over their cards and Black was well ahead,
to his opponent's
. Black's trips were still good on the
turn, but his opponent had outs and one of them — the
— fell on the river, sending Black out for an early exit.
Men Nguyen and Barry Greenstein went mano-a-mano in a very odd hand. Before the flop, Greenstein had raised, Nguyen reraised and Greenstein called. The flop came
, Nguyen bet and Greenstein raised all in. Nguyen called instantly. What monster cards had resulted in so much preflop action? Greenstein showed
and Nguyen had
. Nguyen failed to hit his straight draw as the turn and river showed 9-3 and Greenstein scooped a large pot with a pair of fours.
Roy Winston could not have liked seeing that his A-Q was all in against his opponent's K-K, but thanks to an A-10-2-J-4 board, he was able to double through to 29,000. Elsewhere, T.J. Cloutier had his day cut short when he went all in with sixes against an opponent's nines and there was no helpful flop for him. Indeed, a nine on the turn made any chance of a suckout moot, and Cloutier was done for the day.
Phil Hellmuth was in fine form in the early hours, entertaining his table and winning pots. In one hand, Hellmuth had called his opponent's preflop raise of 4,800 and they both saw a
flop. After his opponent led out with 8,000, Hellmuth quickly moved all in for 13,200. After his opponent failed to snap-call, Hellmuth seemed to relax.
"I've been setting this up all day," claimed Hellmuth. "I just need to dodge two more cards." As his opponent stood and contemplated his next move, Hellmuth continued. "Please don't be drawing live," begged Hellmuth. Looking out at the audience crowded around, he added, "This is one for you people at home."
His opponent eventually folded. Hellmuth flipped over the
and exclaimed, "I have a set, what, it's Hellmuth, what do you expect?"
Scotty Nguyen made it almost to the end of Day 1. He went all in on the river with top pair and a missed royal flush
on the
board. His opponent considered what to do as a crowd gather around the table with Nguyen shouting, encouraging the call. "Come on, baby! I'm sick of this! Come on, knock me out!" Unfortunately for Nguyen, the gentleman made the call, showing
for two pair. After high-fiving someone on the rail and handing his opponent a large plastic peanut, Nguyen made his exit.
Of the 134 remaining, only 99 will be in the money. While Day 1 saw the departure of many well-known players, there are still a number of notables still in the hunt for the cash and the bracelet including Barry Greenstein and Hellmuth, plus Bill Gazes, Jared Hamby and many others.
Day 2 will resume at 2:00 pm Pacific Time. Visit PokerNews.com for live reporting of this and all the other WSOP events.