2008 WSOP Event #23, $2,000 No-Limit Hold'em: A Pair of Hinkle Bracelets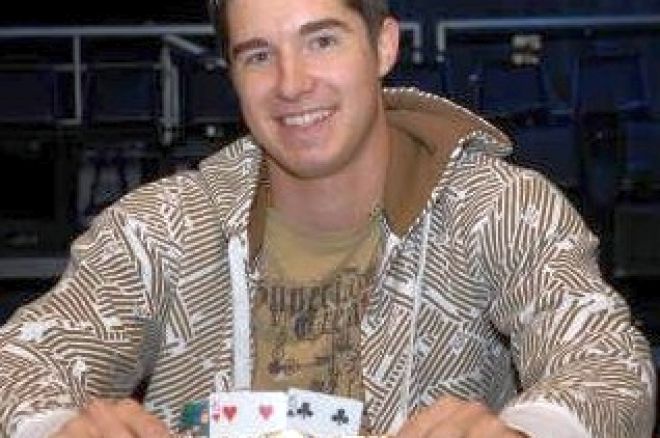 In a commanding performance, Blair Hinkle – second in chips when the day began – was responsible for sending six of the other eight finalists home through a mixture of luck, timing and aggression. His runaway victory, in which he dispatched every player from seventh to second place, gave Hinkle his first WSOP bracelet and the $507,563 prize money. It was his first WSOP bracelet, but not the first for clan Hinkle, following the win by his brother Grant in Event #2 $1,500 No-Limit Hold'em nearly two weeks ago. The Hinkles become the first pair of siblings ever to win bracelets in a single year, and only the second pair of sibling bracelet-winners overall, along with Puggy (3) and J.C. (1) Pearson.
The final table started with the following players and chip counts:
Seat 1: Andrew Jeffreys (Melbourne, Australia) — 1,051,000
Seat 2: Blair Hinkle (Kansas City, Missouri) — 1,030,000
Seat 3: Dominik Kulicki (Amsterdam, Netherlands) — 241,000
Seat 4: Daniel O'Brien (Las Vegas, Nevada) — 456,000
Seat 5: Mark Brockington (Edmonton, Alberta) — 552,000
Seat 6: Chris Bjorin (London, United Kingdom) — 247,000
Seat 7: Dustin Dirksen (Iowa City, Iowa) — 867,000
Seat 8: David Steicke (Hong Kong) — 611,000
Seat 9: Stephane Tayar (Saint Mande, France) — 323,000
The first elimination of the final table came on Hand 5. David Steicke raised it to 60,000 and Stephane Tayar pushed all in. Jeffreys folded and Steicke made the call for more than half his chips. They were heads up with Tayar holding
and Steicke sitting on
. The flop came
giving Tayar a slim hope of runner-runner for a straight in addition to the overcard, but the turn came
and the river was the
and Stephane Tayar was out in ninth place for $45,252.
In addition to those pocket queens, Steicke was to get pocket kings and pocket aces in Hands 7 and 14 respectively. Then, in Hand 20, after it had been raised by Chris Bjorin in the cut off, Steicke reraised in the small blind and Andrew Jeffreys moved all in from the big blind for 646,000. Bjorin folded, but Steicke called. Jeffreys had moved in with
and could not have believed what he saw when Steicke tabled his cards –
– pocket aces again for Steicke. The flop all but sealed Jeffreys' fate coming
and any chance for a backdoor flush ended with the
on the turn. Jeffreys, the overnight chip leaders, was on his way out the door in eighth place with $63,598.
The very next hand brought the third elimination of the final. Blair Hinkle raised to 60,000 from the button and Dominik Kulicki moved all in. Hinkle called and they showed their hands, A-J for Hinkle, Q-Q for Kulicki. Kulicki barely had time to enjoy his lead as the flop came a brutal A-A-10. The turn was a five and Kulicki was searching for a miracle queen. The river was a king – paint, but the wrong kind, and Kulicki was finished in seventh place, taking home $81,944.
Two-time WSOP bracelet winner Chris Bjorin had started the day as second lowest in chips and had yet to improve, so with blinds increasing and the table dwindling, he made his move when he saw paint. Hinkle, who had already raised, called Bjorin's all in. Hinkle showed
to Bjorin's
. The board ran out
and Bjorin had to settle for sixth place and a $106,404 payday.
Dustin Dirksen was the chip leader after day one and had stayed near the top throughout Day 2, but his tournament life ended after he went all in against the unstoppable Blair Hinkle. Dirksen had lost over 400,000 in an earlier hand to Hinkle and was running low on chips. He had shoved all in under the gun and, so as to isolate Dirksen, Hinkle announced that he was all in as well. They went heads up, Dirksen tabling [Ac}
and Hinkle showing
. The flop was a ray of light for Dirksen with
, but the light went out with the turn – the
. A meaningless six on the river and Dirksen was out in fifth place with $135,757.
Thanks to a number of dominating pocket pairs, David Steicke seemed to be sailing towards a heads-up battle for the bracelet. But after losing many of his chips to Mark Brockington just a few hands earlier, Steicke was looking for an opportunity to make a move. When his three opponents were already in, Hinkle having raised under the gun to 100,000 and O'Brien and Brockington calling, Steicke made it a family pot by calling in the big blind. They all saw the flop –
. Brockington checked to Steicke who pushed all in. Behind him, Hinkle announced all in as well and the two went heads up. Hinkle had hit two pair on the flop with
and Steicke had gone all in on just a ten high flush draw with
. The
turn and
river sent Steicke to the rail in fourth place with $166,333.
Going into three-handed play, Blair Hinkle had more than twice the chips in play. He gave some back in a hand against Brockington when he went in with fives against queens, but decided to risk most of his chips on another small pocket pair. Preflop, Daniel O'Brien reraised all in for 1.2 million from the small blind. After Brockington got out of the way, Hinkle thought for a bit before calling. He couldn't have liked what he saw – O'Brien had pocket eights which dominated his pocket sixes. His fans gathered at the rail chanting "Six!" and the flop delivered – 6-5-A. The turn and the river missed O'Brien and he was out in third, taking home $198,132.
Hinkle never lost a hand in heads-up play against Mark Brockington. In their eighth and final hand, Hinkle raised the button to 155,000 and Brockington made it 510,000 to go. Hinkle thought for a moment before pushing all in. Brockington called and the two went to the races, Brockington's Big Slick against Hinkle's pair of sixes. On the flop, Hinkle saw lightning strike a second time as he again hit a set of sixes, courtesy of a 6-A-2 flop. The turn was an eight, and Brockington was drawing dead and on his way out in second place, with $326,552.
Blair Hinkle won $507,563 first prize and his first WSOP bracelet, just two weeks after his brother Grant had won his first bracelet, etching the Hinkle name into WSOP history.