2008 WSOP Event #26 $1,500 Razz Day 2 – Viox, Greenstein Head Final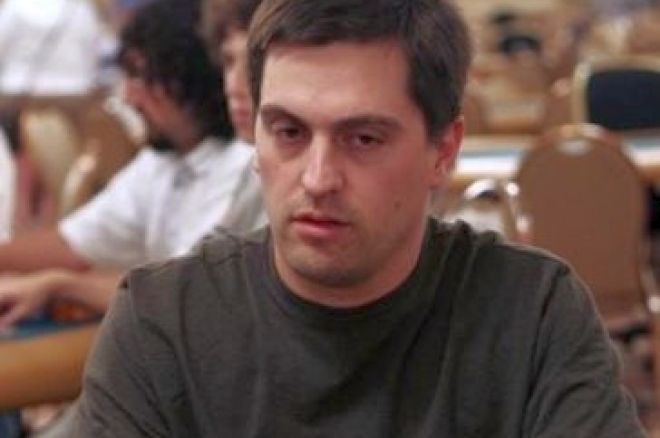 104 players returned to the felt for Day 2 of Event #26, $1,500 Razz, including Day 1 chip leader Barry Greenstein, Shawn Sheikhan, Jon "Pearljammer" Turner, Dewey Tomko and Cyndy Violette. At the end of the day, only eight remained, with Chris Viox leading the pack and Greenstein nipping at his heels in second place.
Razz is a variant of seven-card stud where the lowest hand wins. Aces always play low, and the wheel (5-4-3-2-A) is the best possible hand. With so many streets of betting, razz pots can get huge, leading to a fast-paced Day 2. Early eliminations included Brett Jungblut, Lacey Jones, Violette, Vanessa Rousso and Tomko.
It didn't take long for more than half the remaining field to be eliminated and bubble play to commence. After a few minutes of hand-for-hand action, Dale Pinchot went to the rail courtesy of Barry Greenstein. After the bubble burst, a rush of players headed to the exit, including Allie Prescott, and PokerNews' own Jon Schwartz and Dave "F-Train" Behr.
As the night grew late and the stacks grew short in relation to the betting limits, more and more players were all in with bets on third and fourth streets. That was the case with David Levi, who found himself all in on fourth with A-4 showing against the Q-4 of Brandon Leeds. By seventh street, however, Leeds caught up to make a 7-6-5-4-3 to bust Levi's 8-7-6-5-4 and send Levi to the rail in 14th ($10,203).
2007 WSOP Player of the Year Tom Schneider logged his fifth cash of the 2008 Series with a 12th-place finish ($10,203). Schneider ran into the nuts when he got all his chips in the middle against Archie "The Greek" Karas, who showed his 5-4-3-2-A for the wheel. With four cashes prior to this event, Schneider has begun making his case for back-to-back Player of the Year titles.
Frank Kassela was the final-table bubble boy when his J-9-7-6-3 could not hold up against Chris Viox's 9-8-7-6-5. That hand secured Viox's chip lead going into the final table, as he leads the field of eight in their quest for the Event #25 bracelet and $157,619 winner's prize. The final-table lineup will look like this:
Seat 1: Chris Viox (Glen Carbon, Illinois) — 359,500
Seat 2: Joseph Michael (Austin , Texas) — 155,000
Seat 3: Archie Karas (Las Vegas, Nevada) — 113,000
Seat 4: Brandon Leeds (Phoenix, Nevada) — 206,500
Seat 5: Chris Klodnicki (Voorhees, New Jersey) — 105,000
Seat 6: Mike Wattel (Phoenix, Arizona) — 74,000
Seat 7: Mark Tenner (Henderson , Nevada) — 108,500
Seat 8: Barry Greenstein (Rancho Palo Verde, California) — 243,000
Join PokerNews at 3PM PDT for all the live updates from the final table!