2008 WSOP Event #26, $1,500 Razz: Greenstein Collects Third WSOP Bracelet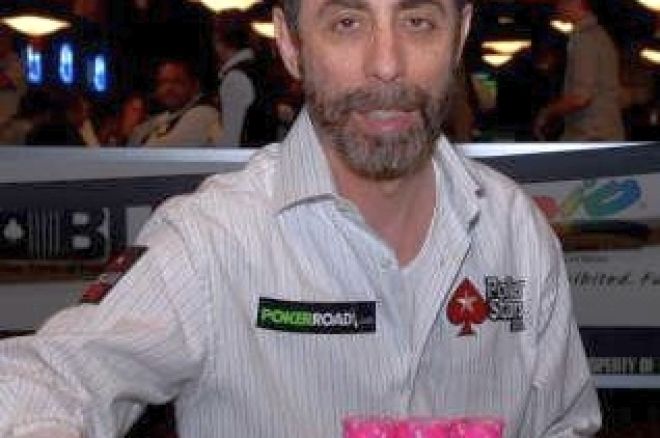 Barry Greenstein finished Day 1 of Event #26 atop the leader board, and finished Day 2 in second place. After a grueling final table that saw patience outweigh aggression in the limit lowball format, Greenstein took the lead for good when play went three-handed, and never gave it back on the way to his third World Series of Poker bracelet and $157,619 in prize money.
The chip stacks and seating assignments looked like this as the final table kicked off:
Seat 1: Chris Viox (Glen Carbon, Illinois) — 359,500
Seat 2: Joseph Michael (Austin, Texas) — 155,000
Seat 3: Archie Karas (Las Vegas, Nevada) — 113,000
Seat 4: Brandon Leeds (Phoenix, Arizona) — 206,500
Seat 5: Chris Klodnicki (Voorhees, New Jersey) — 105,000
Seat 6: Mike Wattel (Phoenix, Arizona) — 74,000
Seat 7: Mark Tenner (Henderson, Nevada) — 108,500
Seat 8: Barry Greenstein (Rancho Palo Verde, California) — 243,000
The short stacks wasted no time getting their chips in the middle, and the field was quickly narrowed to six. Mike Wattel was the first to fall, heading to the rail in eighth place ($16,386) when he came out on the short end of a three-way pot with Greenstein and Chris Viox. Viox made the wheel (5-4-3-2-A) on seventh street to scoop the pot and send Wattel to the rail in eighth.
Archie "The Greek" Karas went out firing, raising Barry Greenstein's bring-in, only to face a reraise from Brandon Leeds. Action folded around to Karas, who called all in. Karas made an 8-low, but it was not good enough to beat Leeds' 6-5-4-2-A, and "The Greek" was eliminated in seventh place ($19,478).
After a brief lull in the action, Joseph Michael kicked off another flurry of eliminations, as the field thinned from six to three in a matter of minutes. With a seven in the door for each of them, Chris Viox and Joseph Michael got into a raising war on third street that ended up with all the chips in the middle. Viox showed [A-5]-7 to Michael's [6-4]-7, and when all the cards were dealt, Viox made an 8-7-6-4-A to Michael's 9-7-6-4-3, and Michael was the sixth-place finisher ($25,661).
Brandon Leeds was the next to fall to Viox when his 8-6-4-3-A couldn't hold up to Viox's 6-5-4-2-A. Leeds picked up $33,081 for his fifth-place finish. Chris Klodnicki send Mark Tenner home in fourth place ($43,284) when his 7-6-4-3-2 beat Tenner's J-7-6-2-A. Tenner got all his chips in on fifth street, but was drawing live until seventh street, when he bricked out on the last card.
After Tenner's elimination, the remaining three players settled in for a long three-handed session, which saw lots of chip movement but no eliminations for the next four hours. Barry Greenstein took the chip lead early in three-handed play and never relinquished it on his way to the bracelet, but it took several more hours before he could put away his remaining opponents.
Finally, Day 2 leader Viox got all his chips in the middle against Chris Klodnicki on fifth street with [7-4]-6-K-2. Klodnicki called with [9-4]-2-Q-3, and Viox caught an ace on sixth street to make his 7-low. Klodnicki caught a five on sixth to improve his draw, and then an ace on seventh street to make his wheel (A-2-3-4-5) and send Viox to the rail in third place ($58,743).
Barry Greenstein had more than a 2:1 chip lead going into heads-up play, but it still took nearly two hours for him to defeat the tenacious Chris Klodnicki. After a back-and-forth heads-up battle, Klodnicki raised all in on third street with a trey in the door. Greenstein, with an ace showing, made the call. Klodnicki's final board read [A-K]-3-K-8-6-[3] for a K-low, while Greenstein made [4-9]-A-J-4-9-[7] for a J-low. Greenstein's J-low was good enough to bust Klodnicki in second place ($97,389) and pick up his first bracelet of the 2008 World Series of Poker and the $157,619 first prize.