2008 WSOP Event #27, $1,500 No-Limit Hold'em: Lunkin Wins Bracelet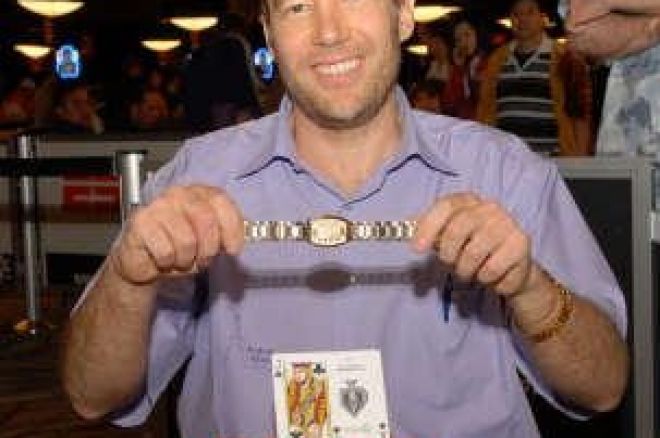 Vitaly Lunkin had only one prior cash in the WSOP, an 829th-place finish in the 2006 Main Event. He can now add to that a first-place finish in a 2008 $1,500 No-Limit Hold'em event. A Russian pro who has cashed in ten previous European tournaments, Lunkin had led the field at the end of Day 2 here and took that momentum to the end. Despite suffering unlikely setbacks twice in huge pots, Lunkin ended up outlasting the packed field, taking the gold bracelet and the $628,417 top prize.
The final day started out as a continuation of Day 2, with eight players due to be eliminated before reaching the magic number. It took four hours, but places 17 though 10 were fixed and the final table was set. Out in tenth place, the final-table bubble, was Tony Gargano, who pushed with two live cards Q-2 and not much more up against Vitaly Lunkin's suited A-J. Lunkin picked up an ace on the flop and Gargano was out just before the final table, taking home $36,567.
Going into the final table, these were the seat assignments and chip counts of the final ten:
Seat 1: Philip Yeh - 1,360,000
Seat 2: Robert Brown - 310,000
Seat 3: Tony Gargano - 285,000
Seat 4: Vitaly Lunkin - 1,030,000
Seat 5: Trevor Donaldson - 265,000
Seat 6: Barry Schultz - 1,340,000
Seat 7: Kenneth Terrell - 650,000
Seat 8: Richard Alm - 500,000
Seat 9: Bobby Firestone - 920,000
Seat 10: Brett Kimes - 1,500,000
Philip Yeh went into ten-handed play as one of the larger stacks, but a costly encounter with Kenneth Terrell — pocket queens against aces — paved the way to his early exit. Just a few hands later, Yeh moved all in for 405,000 and Vitaly Lunkin called him from the cutoff. Again Yeh was dominated,
versus
. The flop put him even deeper in the hole as it came
and he was down to runner-runner nines or his tournament life was over. The turn and the river came
instead. Yeh was out in ninth place, with $57,990.
Robert Brown was severely short-stacked and when he saw paint he decided it was time to push in his remaining 250,000 chips, this after Trevor Donaldson had already raised the pot. Donaldson called and showed
, dominating Brown's
. The board blanked
and Brown was out, collecting $84,954 for his eighth-place finish.
Barry Schultz had raised to 150,000 and action folded around to Bobby Firestone. Firestone shoved for over a million chips and Schultz called all in. Schultz had the better of it preflop, showing
to Firestone's
. Firestone did not like what he saw. "The first time I've made a move all day, and I get called," he said, dejectedly. Firestone missed the flop which came all hearts,
. The Tournament Director laid out Firestone's outs, "Bobby will need one of the remaining aces, running straight cards, or running hearts for a chop." And that's just what happened, as the turn came the
giving Firestone the lead. Schultz now needed the
to win or any heart for the chop. But the
fell on the river and Schultz was eliminated in seventh place, with $112,657.
Richard Alm had about a half dozen supporters near the table who became boisterous during a hand with Brett Kimes which resulted in a double-up for Alm and a warning to the group from the Tournament Director about being disruptive. But not long after the dinner break, Alm and his supporters were heading out the door. In his last hand, action had folded around to Alm and he moved all in for 660,000. Bobby Firestone called saying, "I'm going to gamble." Firestone turned over
and Alm showed two overcards,
. When the board ran out
, Alm was on his way out in sixth place, taking with him $149,594 and some disappointed friends.
Down to around 800,000, Trevor Donaldson came over the top of Brett Kimes, reraising all in from the button. He couldn't have like what happened next — Bobby Firestone pushed in for over two million from the big blind. Kimes quickly exited and the two remaining players revealed their hands. Donaldson was behind, A-K to Firestone's K-K. To make matters worse, Kimes offered that he'd just folded an ace. The dealer spread out the flop 3-10-9. Two more streets, two more blanks – a four and a six, and Donaldson was done, out in fifth place and collecting $190,225.
After doubling up earlier courtesy of Philip Yeh, Kenneth Terrell spent the rest of the match in the bottom half of the standings. His final loss came at the hands of Vitaly Lunkin. After Lunkin had raised the button, Terrell moved all in with
. Lunkin quickly called, showing
. The flop was no help but when the turn came, the board looked interesting
– Terrell could now win with a ten as well as an ace. But the river was a
and Terrell finished in fourth place with $232,702.
Going into three-handed play, Vitaly Lunkin and Bobby Firestone were almost tied, and Brett Kimes had fewer than half the chips of either of the other two. Then in one hand, Firestone's chances for a bracelet faded. He and Kimes had gone all in, Firestone's pocket threes against Kimes' A-10, and Kimes hit the ace on the flop to give him over 4 million chips.
Firestone never recovered. In his last hand, he and Lunkin limped to see a
flop. Lunkin checked, Firestone bet, Lunkin came back over the top all in and Firestone called. Firestone showed 10-3 for top pair, Lunkin had J-8 for the open-ended straight draw. A five on the turn gave Lunkin even more outs and the seven on the river completed the straight. Firestone was finished in third place, taking home $277,026.
Heads up, Kimes had Lunkin outchipped, 4.7 million to 3.5 million, but after their first hand, Lunkin had taken the chip lead when he took a million off of Kimes' stack. A half hour later, Lunkin thought he had the match won when the chips went in after a
flop; he turned over the
for the nut straight to Kimes' middle pair
; but two more diamonds peeled off to produce an unlikely chop, the second time such a hand unfolded.
But Lunkin was not to be denied. The end came when he raised preflop and they saw a flop of J-2-4. Both players checked and the turn was an eight. Lunkin led out with a million and Kimes quickly came over the top all in. Lunkin called instantly. "Do you have a jack?" asked Kimes. Lunkin nodded yes, turning over A-J. Kimes was drawing thin with 10-8. The river as a meaningless K, and Kimes was out in second place, having moved up from 14th when the day began to a nice payday of $387,837.
Vitaly Lunkin won his first WSOP bracelet and $628,417 for his impressive performance.