2008 WSOP Event #27, $1,500 No-Limit Hold'em, Day 2: Lunkin and Terrell Lead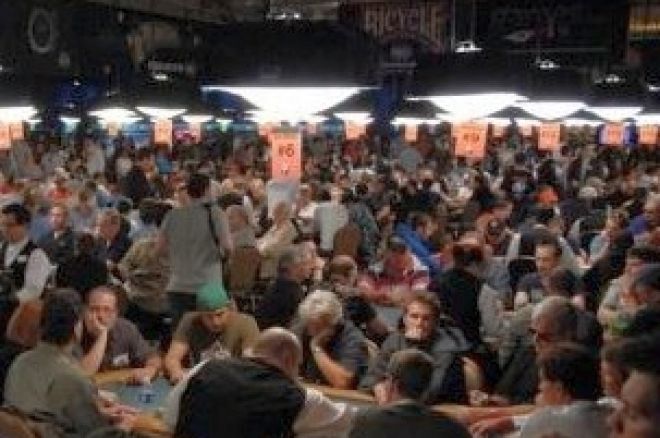 Russian pro Vitaly Lunkin and American Kenneth Terrell lead the pack going into the finals, but they still have a long way to go if they want to capture their first WSOP bracelet. When cards are in the air on Monday, they'll be facing 15 other players still in the hunt for the gold.
All 224 players going into Day 2 were in the money; now their goal was to make it to the final nine. But by the end of the day, that goal still had not been achieved. Eliminations came quickly in the early going — in under an hour, over a third of the players had left the tables for the payout line and all-ins were so frequent the tournament director accelerated the color-up of chips. So it was surprising that after twelve hours, play had to be stopped before the field was down to the final table. Going into Day 3, these are the seat assignments, home towns and chip counts of our final 17:
(Table 14)
Seat 2: Trevor Donaldson (Phoenix, Arizona) — 470,000
Seat 3: Vitaly Lunkin (Moscow, Russia) — 912,000
Seat 4: Frank Simpson (Novi, Michigan) — 199,000
Seat 5: Deb Blair (Tucson , Arizona) — 310,000
Seat 6: Philip Yeh (Stenungsund, Sweden) — 819,000
Seat 7: Carl Jerome (Ellston, Iowa) — 495,000
Seat 8: Barry Schultz (Cordova, Tennessee) — 858,000
Seat 9: Richard Alm (Los Angeles , California) — 322,000
(Table 15)
Seat 1: Jordan Smith (College Station , Texas) — 789,000
Seat 2: Bashar Ramahi (Edmonton, Alabama) — 204,000
Seat 3: Jeffrey Brown (Hollywood, Florida) — 337,000
Seat 4: Tony Gargano (Sterling Heights, Michigan) — 284,000
Seat 5: Deric Fitzgerald (Huntington Beach, California) — 175,000
Seat 6: Brett Kimes (San Antonio, Texas) — 208,000
Seat 7: Bobby Firestone (Santa Barbara, California) — 544,000
Seat 8: Kenneth Terrell (Lawrenceville, Georgia) — 888,000
Seat 9: Robert Brown (Roseville, California) — 300,000
Bernard Lee had gone into the day as the chip leader with 166,400 but quickly ran into trouble. With the board reading 3-K-7-Q, Lee came over the top of his opponent's bet to put him all in. Lee turned over K-J for top pair, but his opponent had A-K for top pair, top kicker. No jack on the river meant Lee had lost almost a third of his chips. Lee's day never improved and he ended up out in 75th place with $6,279.
Greg "FBT" Mueller battled back from a low of 10,000 up to 50,000 following a string of won pots, including one where his K-7 bested his opponent's K-10 when the board gave him a straight with the 7. But the comeback was short-lived. Back down to his last 10,000, Mueller was in the big blind and called all in for his last 10,000. Heads up to the flop, it was a race, Mueller's
against his opponent's
. It wasn't even close. The board ran out
, giving his opponent quad nines and eliminating Mueller in 67th place, with $7,387.
Richard Alm became the chip leader in the early evening, raking in a monster pot after getting all his chips in preflop. Alm was not looking good when he and his opponent turned over their cards, his pocket tens trailing badly the pocket kings of his opponent. But a ten on the flop gave Alm a set and the lead in the hand, and his opponent never improved. The hand brought Alm's chip stack to 320,000 which was, coincidentally, about where he ended up the day, about the middle of the pack.
This was one of those hands that was bound to get someone in trouble – flopped two pair against flopped set. After a series of bets and raises, Kyle Wilson and Tong Gargano saw all their money go in on after the dealer flipped over 4-A-2. Wilson tabled A-4 and Gargano showed 2-2. The turn and flop ran out 8-5 and Gargano had propelled to the top of the leader board. However, he ended the day on a downswing, in 13th place going into the final day.
Gargano's stack had taken a hit near the end of the day at the hands of the only remaining female player in the group, Deb Blair. With a flop of
Gargano led out from the big blind for 45,000 and Blair reraised all in for 194,000. Gargano showed
and was ahead of Blair's
. But Blair found lightning in a bottle with runner-runner hearts and she made the backdoor flush. Blair ended the day in 11th place.
End-of-the-day chip leader Vitaly Lunkin owed much of his stack to Brian Olsson, who tangled twice with Lunkin late in the day and got the worst of it both times. In the first hand, Lunkin had moved all in with K-10 only to be looked up by Olsson with the dominating K-Q. The J-2-A flop gave Lunkin a glimmer of hope that materialized when a king came on the river to give him the straight. In the next hand it was Olsson who was all in, holding A-Q to the pocket tens of Lunkin. No luck for Olsson on the 3-K-5-3-5 board meant Olsson was out and Lunkin had a formidable stack.
Ken "Drama Llama" Terrell made a late surge to end the day second in chips at the expense of 18th-place finisher Jason Duffy. After Duffy had raised from the cutoff to 60,000, the tabled folded to Terrell in the big blind who pushed all in. Duffy considered for some time before calling. It was a classic race situation, Terrell's
versus Duffy's
and a dream flop for Terrell with
. With a
falling on the turn, Duffy was dead to a nine, and a
on the river sent Duffy out the door with $21,792 and propelled Terrell to second in chips.
Join the "Live Reporting" team at PokerNews.com for live coverage of the final day beginning at 2pm Pacific Time.