2008 WSOP Event #28 $5,000 Pot-Limit Omaha w/ Rebuys, Day 2: Galfond Pulls Ahead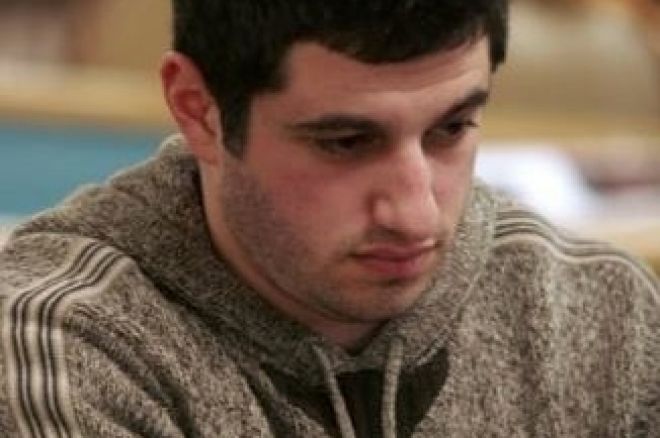 Event #28's Day Two would be a long affair, lasting until almost 5:00 am. But the last exciting half hour of play more than rewarded loyal spectators. Daniel Negreanu had the lead on the remaining field with what was to be minutes left to play. After investing $85,000 in his buy-in and rebuys, Negreanu was rejoicing that his pending final-table appearance was going to finally get him unstuck for this event. Only moments after Negreanu's remarks, Phil Galfond would double up at Negreanu's expense and take the lead into the final table.
With ten players remaining, and one to lose before the final table was set, there were three former WSOP Main Event champions still in contention; Phil Hellmuth, Chris Ferguson, and Johnny Chan were all still in the bracelet hunt. Chan may have been rooting for Hellmuth's elimination as a bracelet win here for Chan would be his 11th and tie him with Hellmuth for WSOP career bracelet wins. But it was Ferguson that eventually finished in tenth place, leaving Chan and Hellmuth to work out their bracelet differences at the final table. The star-studded final table lineup follows:
Seat 1: John Juanda 694,000
Seat 2: Phil Hellmuth 119,000
Seat 3: David Benyamine 1,041,000
Seat 4: Kirill Gerasimov 558,000
Seat 5: Phil Galfond 1,393,000
Seat 6: Daniel Negreanu 460,000
Seat 7: Brian Rast 1,176,000
Seat 8: Adam Hourani 300,000
Seat 9: Johnny Chan 624,000
The Day 2 field had a lot of ground to cover before the players saw a payday. Starting with 54 remaining players, the money wouldn't kick in until 18th place. Sam Simon, co-creator of The Simpsons, was an early elimination, as were Joe Hachem, Josh Arieh, Rob Hollink, Freddy Deeb, and Thomas Walhlroos.
Emmanuel Sebag eliminated Tom "durrrr" Dwan when Sebag's flopped bottom set held against Dwan's top two pair. And while Erik Seidel's two pair were good against Adam Hourani's single pair on the flop, the river gave Hourani a higher two pair to eliminate Seidel. And Tony G had to like his chances against David Benyamine. All the money went in on the flop with Tony G's A-A-x-x with the edge over Benyamine's K-K-x-x, but when the board ran out, Benyamine had picked up a runner-runner flush to end Tony G's day.
But along with the hard work, there was a fair amount of banter among the well-acquainted crowd.
You're playing well," said Phil Hellmuth to his tablemate Johnny Chan.
Sitting at an adjacent table, Daniel Negreanu piped in with a laugh. "Now you KNOW you're playing well. Phil Hellmuth said you were!"
"This is a ten-bracelet-and-above conversation, son. You don't qualify yet," admonished Hellmuth.
"Good thing you said 'yet.' See me in ten years. Even six years!" replied Negreanu.
Unfortunatley for Birinder Nijran, his work failed to see a payday when his A-A-x-x was cracked by Phil Galfond, putting Nijran out on the bubble. Eli Elezra was the first to be paid, finishing in 18th place when his flush draw failed to materialize. Johnny Chan's baby hand of 7-6-5-4 overcame Ted Lawson's A-A-x-x monster when the board ran out J-6-3-2-4, giving Chan the straight and Lawson a 17th-place finish.
Daniel Negreanu ended David Williams' day. All the money went in on the turn when Williams made top two pair, but Negreanu was ahead, having flopped a set. Williams couldn't catch up and was eliminated in 16th place. Emmanuel Sebag started the day as chip leader, but had to settle for 15th place. Sebag's Q-10-9-6 faced off against Galfond's A-K-J-7. Galfond made sevens and deuces while Sebag couldn't connect on the 7-2-2-3-4 board.
Phil Galfond would also unseat Nikolay Evdakov. All the money went in pre-flop. Evdakov's A-A-x-x hit a set on the flop of A-J-T, but Galfond's K-Q-x-x- made a Broadway straight. The board refused to pair and Evdakov finished in 14th place. It was Jamie Pickering's turn to bust with pocket aces when Alexander Kostritsyn caught two pair, sending Pickering home in 13th place. And keeping the trend alive, Evan Sofer's pocket aces resulted in his 12th-place elimination.
Alexander Kostritsyn got it all in on the flop with middle pair and a straight draw, but the board kept Kirill Gerasimov ahead with top pair. Kostritsyn finished in 11th place. And in the wee hours of the morning, Chris Ferguson put himself all in pre-flop with A-K-Q-10 and was called by Brian Rast with A-Q-J-10. Ferguson was ahead through the turn, with the board reading K-9-8-4, but a ten on the river gave Rast a Broadway straight and gave Ferguson a 10th-place finish.
If Phil Hellmuth is going to win his 12th bracelet, he has more work to do in this event. Hellmuth will enter the final table as the short stack with only 119,000. Also, Chan's quest for #11 may also be a bit of an uphill climb as Chan starts with only the fifth-largest stack.
Check in with PokerNews' 'Live Reporting' team for all the final-table action.