2008 WSOP Event #28 $5,000 Pot-Limit Omaha w/ Rebuys: OMG Phil Galfond Wins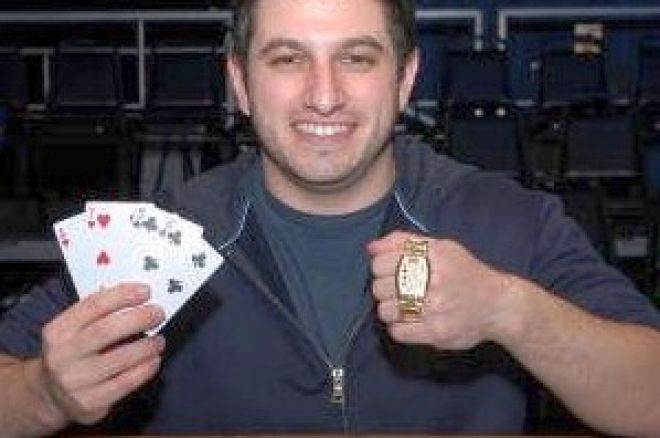 We've already seen some great final tables at the WSOP this year, but it would be hard to come up with one better than the group assembled for the $5,000 Pot-Limit Omaha w/ Rebuys event. At the very end of Day 2, Phil "OMGClayAiken" Galfond doubled through Daniel Negreanu to take the lead into a star-studded final table. Galfond held the lead throughout most of the final table's amazing play, and ultimately secured the bracelet and $817,781.
Galfond had to contend with his tablemates' poker experience and skill, embodied by the 28 bracelets they held among them. But he also had to realize that every player at the table had something at stake, far beyond the money waiting at the end. Johnny Chan had a chance for his 11th bracelet to pull even with Phil Hellmuth. And Hellmuth relished the opportunity to pull one more bracelet-winning performance ahead of Chan and Doyle Brunson.
Daniel Negreanu had won the WSOP $2,000 Limit Hold'em event less than a week earlier and was gunning for his second bracelet from this year's series. David Benyamine and Kirill Gerasimov have played their fair share of WSOP final tables, but neither had walked away with the gold. While John Juanda has had an enviable track record throughout his career, it had been five years since Juanda added a WSOP bracelet to his collection. And for Brian "tsarrast" Rast and Adam "the_houdini" Hourani, a bracelet represented additional street cred above and beyond the names they had already made for themselves online.
Final Table Seating and Starting Chip Counts:
Seat 1: John Juanda (Las Vegas, Nevada) — 694,800
Seat 2: Phil Hellmuth (Palo Alto, California) — 119,000
Seat 3: David Benyamine (Las Vegas, Nevada) — 1,041,000
Seat 4: Kirill Gerasimov (Moscow, Russia) — 558,000
Seat 5: Phil Galfond (Madison, Wisconsin) — 1,393,000
Seat 6: Daniel Negreanu (Las Vegas, Nevada) — 460,000
Seat 7: Brian Rast (Las Vegas, Nevada) — 1,176,000
Seat 8: Adam Hourani (East Lansing, Michigan) — 300,000
Seat 9: Johnny Chan (Las Vegas, Nevada) — 624,000
Phil Hellmuth had the steepest uphill climb for the bracelet, entering the final table as the decided short stack. But Hellmuth got a little breathing room in one of the first hands of the event when he doubled through David Benyamine. A few hands later, Johnny Chan would get a big leg up on the day when his
doubled through Brian Rast's
when the
board gave Chan trip deuces.
Hellmuth and Rast mixed it up in a hand where Phil ultimately folded on Rast's flop bet, but then proceeded to critique Rast's play as only Hellmuth can do. Rast almost got his revenge on the very next hand when he got Hellmuth all in with the worst of it. Rast had
to Hellmuth's
. Hellmuth recognized his disadvantage and stood up, put on his jacket, and shook Rast's hand before the
. Hellmuth took off his jacket and sat down when the
fell on the turn. The
on the river kept Hellmuth in his chair.
Losing two big hands with pocket aces, first against Chan and then against Hellmuth, took its toll on Rast's stack, if not his psyche. Rast would once again get his money in with the best of it, only to see the last of his chips get outdrawn. All the money went in on the
flop. Rast had
for top pair, a flush draw and a gutshot draw. Johnny Chan had
for the nut flush draw. The turn was a harmless
, but the
on the river gave Chan the higher pair. Rast received $84,863 for his ninth-place finish.
Next, Phil Hellmuth got all his money in preflop, only to discover that he had run into pocket aces once again. Hellmuth's A-K-10-4 got no help from the board and David Benyamine's A-A-K-4 took the hand. Hellmuth's run for his 12th bracelet terminated in eighth place for $100,292. Daniel Negreanu had been crippled on an earlier hand, doubling up pocket aces-wielding Adam Hourani. Negreanu would get the rest of his stack in against Phil Galfond's pocket aces. Negreanu had an uphill battle, holding
to Galfond's
, but the
flop further diminished his chances. The
turn brought renewed hope and outs, but the
river failed to pair the board. Negreanu finished in seventh place for $123,437.
Immediately after Negreanu's elimination, John Juanda would be foiled in his bid for yet another bracelet. All the chips went in on the
. Johnny Chan had the lead with
and top two pair, Juanda had top pair and the open-ended straight flush draw with
. None of Juanda's many outs made it to the board and he was eliminated in sixth place for $154,296. With five players remaining, the chip counts stood at:
Phil "OMGClayAiken" Galfond — 2,300,000
Johnny Chan — 2,125,000
David Benyamine — 750,000
Kirill Gerasimov — 745,000
Adam Hourani — 455,000
Within striking distance of becoming the chip leader, it all went suddenly wrong for Johnny Chan. Chan flopped the nut straight against David Benyamine's middle set. All the money went in after Benyamine picked up the nut flush draw on the turn. The river paired the board and Benyamine dragged the 1.5 million pot. Ten minutes later, Chan dropped to less than 350,000 chips when he had to abandon a hand after a river reraise by Phil Galfond.
Kirill Gerasimov was eliminated in fifth place by a pip. Gerasimov moved all in pre-flop and Phil Galfond called. Gerasimov's A-10-x-x got nudged out by Galfond's A-J-x-x when the board delivered three sixes. Gerasimov's 5th place finish was worth $192,870. Johnny Chan got all his chips in on a flop against both Galfond and Benyamine. When it was all said and done Benyamine's two pair outflanked Chan's two pair and Chan's bracelet bid ended in fourth place for $246,874.
At the beginning of three-handed play, the chip counts were as follows:
Phil Galfond — 3,116,000
David Benyamine — 2,155,000
Adam Hourani — 1,035,000
The shorter-stacked Hourani was able to bridge the gap before the dinner break, taking chips from both Galfond and Benyamine to pull into a virtual tie for second place. Just after the dinner break, Hourani pulled solidly into second in a hand where his two pair beat Benyamine's smaller two pair on the river. Hourani and Benyamine tangled again, with Benyamine calling all his chips on a Q-J-9 flop. Benyamine had A-A-10-4, but Hourani had flopped top set with A-Q-Q-10. The best Benyamine could hope for was a chop with a Broadway straight, but the best was not to come. David Benyamine finished in third place for $316,307.
At the beginning of heads-up play, Galfond had a 3-to-2 chip advantage over Hourani. Galfond slowly widened the gap, grinding away at Hourani for the better part of the first hour. Galfond then took a sizable pot after flopping top set, to take Hourani down to 535,000 chips. Galfond tried to finish him off, having flopped a middle pair and a gutshot straight draw, but managed only to double Hourani up. They battled on for an hour more, but Hourani was never able to get much traction.
Galfond bet enough on the A-Q-8 flop to put Hourani all in. Hourani had the best of it with his A-K-J-10 to Galfond's A-7-6-5, but a six on the turn gave Galfond a second pair. The river didn't allow Hourani to catch up. Adam Hourani finished in second place for $493,748.
When asked afterwards whether he felt intimidated amid so many high-profile pros, Phil Galfond replied with a mix of humility and confidence. "I felt blessed to be here, but I didn't feel outmatched. I wasn't afraid. I just wanted to play my best game."