2008 WSOP Event #3, $1,500 PLHE, Day 1: Robert Workman in Front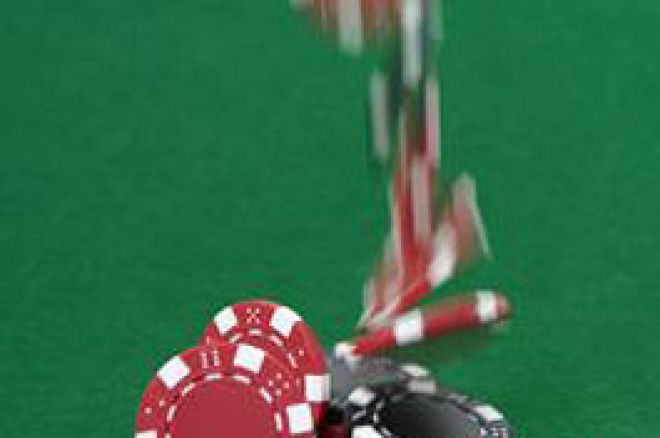 Event #3 of the WSOP, the $1,500 buy-in Pot Limit Hold'em, got underway in the cavernous Amazon Room with a field of 657 players at 70 tables and by day's end racked up a total field of 714, fewer than last year's field of 781, but still a strong showing. Defending champion Mike Spegal was in attendance, as were an array of well-known pros with an abundance of gold jewelry to their names, including multi-WSOP bracelet winners Men Nguyen, Erik Seidel, David Sklansky, Mickey Appleman, Phil Ivey, Dewey Tomko, Layne Flack, "Miami" John Cernuto, Tom Schneider and Scott Clements.
Reigning champ Spegal got off to a good start when his pocket queens bested his opponent's pocket aces thanks to a queen on the flop. In the aftermath, 2004 WSOP Main Event champ Greg "Fossilman" Raymer quipped, "So that's how you win this tournament." A number of other well-known pros were not so lucky and were sent to the rail early. 2006 U.S. Poker Champ Alex Jacob, Andy Bloch, Mark Seif, Michael Mizrachi, Victor Ramdin, Kristy Gazes and Lee Watkinson all made early exits.
Dutch Boyd went out when he called the all-in on the river of Canadian poker pro Kristen Jonkman, only to see his opponent turn over the winning nut flush. Jonkman won not only the pot, but one of Boyd's signature bandanas. Not quite as lucky was Jennifer Tilly, who had her day cut short when, all in with J-K on a seemingly advantageous J-J-4 flop, she was dismayed to see a jubilant Nicholas Cannon flip over pocket fours for the flopped full house. With no king or jack on the river, Tilly busted out, exiting stage left.
Having a more up and down day was JC Tran. By the early evening, Tran limped from the cutoff and then called the button's raise to 1,200. He checked the
flop, and when the button bet 3,000 he moved in for around 7,000 total. The button called, showing pocket aces for a set. Tran had the flush with a
. The river came up blank, and JC had transformed his stack into 22,400. But after the very next hand, Tran was back down to 5,500 when his K-Q was no match for his opponent's A-K.
By the dinner break, due to the furious pace of play, only 162 players were left. David Singer was the chip leader with 45,000 and Nicholas Cannon and Dennis Wamsley were close on his heels. Singer owed his large stack in large part to Jan von Halle, who mistimed a move against Singer and ended up all in on the turn of a
board holding
against Singer's unbeatable set of eights.
Dennis Wamsley's similarly ample chip stack was helped greatly when he limped into a multi-way pot just before the break, only to flop a straight with
on an
board. A perfect storm brewed as his two opponents had a piece of the pot, too, one player holding
and another
. All three players pushed their chips in on the flop, only for Wamsley to take it down when the turn and the river didn't improve his opponents' full house draws.
After the dinner break, Clonie Gowen was unable to rebuild her short stack and made a quick exit when her
was no match for her opponent's
. JC Tran finally ended his rollercoaster ride of a day shortly after knocking out two short-stacked players in the same hand, when at the next level of play he was quietly sent to the rail.
Meanwhile, Kristen Jonkman, perhaps due to her lucky Dutch Boyd bandana, survived a preflop all in with
against her opponent's
when she hit the king on the flop. The next two cards were blanks, doubling up her woefully short stack to around 7,000. A few hands later Jonkman found more luck when an opponent bet 2,500 and then called Kristen's 6,400 all-in bet — the opponent's
outmatched by Jonkman's
which held up all the way to the river of the
board and kept Jonkman in as the last woman standing. But, not long afterwards, Jonkman was knocked out – taking home no money, but a genuine Boyd bandana.
Making his own move as the evening wore on was David Singer, having already cashed in an earlier event today. Holding the monster
, Singer raised it up from late position and an early-position limper called. The flop came
, giving Singer middle pair with a gutshot straight draw, and he bet out 4,500; the early-position limp-caller called. The turn was the
and again Singer bet out, this time 5,000, and his opponent called. The river was the
and this time Singer checked his trips, allowing his opponent to put himself in for 6,000. Singer called, and the now-busted opponent turned over
for a pair of sixes and his own missed straight draw.
As midnight approached two things drew nearer — the end of play for Day 1, and the money bubble. As the last round of the night began there were five spots to go before the money and it was expected that the rapid rate of play would slow down. But, five spots quickly became four when, all in preflop, Scott Seiver's pocket fours unexpectedly toppled his opponent's pocket queens when the board came out an unlikely A-7-6-3-5 to give him the straight. Steven Shanks and 2008 WSOP Grand Tunica Circuit winner Bart Tichelman came deliciously close to the money, but went home with just the memory of a long day at the WSOP. It took an hour, but with the railing of Karl Westheimer, the last player before the bubble was sent packing. A half hour later, play was halted for the night, with Robert Workman and Philip Yeh leading the way.
The top ten chip leaders as play ended for the night were:
Robert Workman 146,800
Philip Yeh 143,000
David Singer 123,600
Bobby Law 85,500
Scott Seiver 71,200
Jacobo Fernandez 69,100
Ryan Fair 67,700
Al Barbieri 63,500
Justin Young 63,200
Russell Harriman 61,800
The remaining players will compete tomorrow to set the final table, chasing the top prize of $214,131 and that coveted bracelet. Follow all the action live courtesy of the PokerNews.com live reporting team.