2008 WSOP Event #3, Day 2, $1,500 PLHE: Tehan, Fernandez Head Final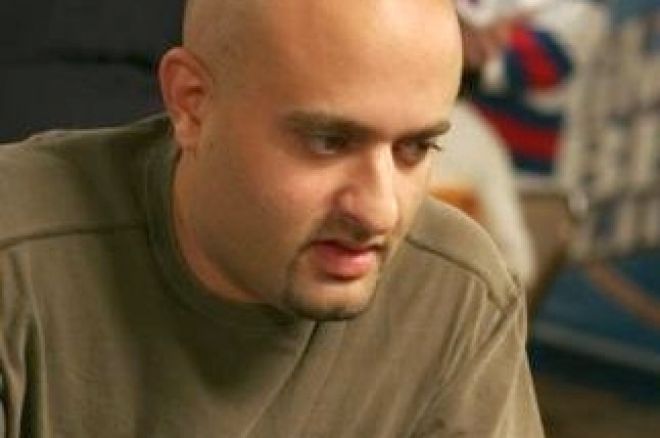 Day 2 of 2008 WSOP Event #3, $1,500 Pot-Limit Hold'em, started with 63 players, all of whom started play already in the money. They played down to the final nine today as they continued their hunt for the bracelet and the $241,131 that went with it. Robert Workman started with the largest chip stack, 146,800, followed closely by Philip Yeh at 143,000 and David Singer at 123,600.
Level 11 started with blinds of 800/1600 and the field was immediately cut down as the rapid pace of play from yesterday continued. Ronnie Hofman was the first to be eliminated, when he stuck his short stack all in from the small blind with
and fell victim to Jacobo Fernandez's
, which hit top pair on the flop. Three more eliminations, George Bronstein, George Lusby and Lawrence Barbetta, followed in short succession.
Dave Singer added to his substantial stack of chips by ending the run of William Davis. Singer raised the pot preflop from late position, only for Davis to push all in from the button. Virtually pot-committed, Singer made the call with the less-than-impressive
against Davis'
. But a king on the flop, and no help for Davis on the turn or river, sent Davis home early.
But the shocking early elimination of the day was former chip leader, Robert Workman. After getting roughed up in some earlier hands, the fatal blow was delivered by David Levi, his A-Q offsuit spiking an ace on a 3-A-6-7-2 board to send Workman, and his pocket cowboys, moseying off into the sunset.
Eugene Todd went out on a hand he'll likely be wondering about for some time. Todd and Al Barbieri saw a
flop, and Todd had to have been happy to see that he had spiked a set with his pocket nines. He bet 16,000 and Barbieri called. The turn was the seemingly innocuous
– Todd put his tournament life on the line for 20,000. Barbieri called and flipped over
. But, the river brought the
giving Barbieri the nut flush and Todd a one-way ticket home… and no doubt a headache.
Poker Pro Tom McEvoy had a Mark Twain moment earlier in the day as he was able to report that news of his early demise (via an errant ID card in the elimination box) was greatly exaggerated. An hour later, though, McEvoy did indeed check out of this event, when his A-K against his opponent's A-J hit a pile of bad luck when a jack hit on the flop.
With 15 players left at two tables, Scott Seiver jumped out to a big lead, his 385,000 stack overwhelming the next biggest stack, Joe Tehan's 214,000. David Singer had been the chip leader with 240,000, but hit a dry spell that slashed it to 115,000. But he was soon met on the way down by Seiver, who lost a chunk of those chips to Joe Tehan. Seiver had raised the pot from the button only to have Tehan, in the big blind, re-pot him. Seiver went all in and was called only to find his pocket sixes sorely behind Tehan's queens. The board was a bust for Seiver and Tehan had a nice double-up at his expense.
Erick Shanks went out in 15th place when his A-9 was dominated by Scott Seiver's A-K. Five minutes later Zachary King knocked out Philip Yeh when his pocket sevens proved no match for King's aces.
The beginning of the end came for former chip leader Seiver when he went all in on a coin flip of tens versus the A-K of Fernandez and lost when a king came on the flop. On his next hand, Seiver's
was all in and outmatched against Russell Harriman's
and blanks on the board sent Seiver home.
Doug Carli and Brandon Schaefer followed Seiver out of the competition in rapid succession. Carli's demise started with a late position raise to 21,000, leaving himself just 3,500 behind, which was immediately called behind him, by Jacobo Fernandez. After the flop of 6-3-9, two clubs, Carli shoved the rest in and Fernandez called. Though Carli dominated with A-J over Fernandez' A-8, an eight spiked on the turn and the river came up a blank, knocking Carli to the rail. Fernandez next turned his attention to Schaefer. Hitting top pair on a flop, Fernandez put Schaefer all in and runner-runner blanks ended Schaefer's day and brought the field down to ten. At the break, Fernandez and Tehan were neck and neck for the chip lead and David Singer was sitting on the short stack.
Shortly after the break, Al Barbieri raised to 28,000 in early position; Ryan Fair made it 70,000 from the hijack seat and Barbieri called. The flop came down Q-Q-10 and Barbieri shoved for his last 40,000. Ryan Fair, on an almost-identical 39,000 or so, called all in. Barbieri turned over A-Q and Fair showed jacks. The six on the turn and three on the river sent Fair packing and stopped action for today. The final nine will reconvene tomorrow at 2pm for the final table.
Chip counts heading to the final table:
Joe Tehan — 458,000
Jacobo Fernandez — 428,000
Robert Lipkin — 305,000
Al Barbieri — 271,000
Russell Harriman — 206,000
Gregory Alston — 179,000
Zachary King — 139,000
David Singer — 83,000
Glen Bean — 75,000
As always, for live reporting of this event, following the Live Reporting Team here at PokerNews.com.