2008 WSOP Event #3, $1,500 PLHE Final: David Singer Captures Gold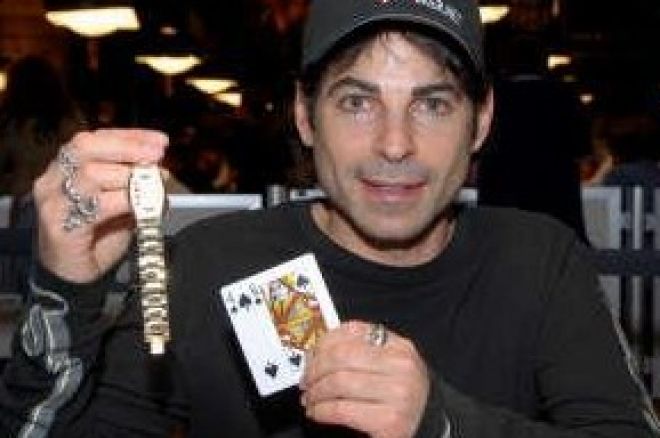 David Singer has had an impressive poker career with a number of WSOP and WPT second-places finishes, the $25,000 Heads-Up World Championship, and a ninth-place finish in the WSOP Main Event in 2003. But until today there was one bit of poker success that eluded him – a WSOP bracelet. In the early hours of Thursday, after having started the previous day's final table with the second lowest chip stack, Singer earned that bracelet, besting Jacobo Fernandez in the third event of the 2008 WSOP, the $1,500 Pot Limit Hold'em tournament.
The all-American final nine took their seats at 2:00 PM local time with Joe Tehan the chip leader and Jacobo Fernandez close behind. This is how the final table looked:
Seat 1: Russ Harriman (Clarkston, Michigan) 206,000
Seat 2: Joe Tehan (Utica, New York) 458,000
Seat 3: Jacobo Fernandez (Hollywood, Florida) 428,000
Seat 4: Zachary 'Carter' King (Marietta, Georgia) 139,000
Seat 5: Al Barbieri (Philadelphia, Pennsylvania) 271,000
Seat 6: Gregory Alston (Danville, California) 179,000
Seat 7: Glen Bean (Biggs, California) 75,000
Seat 8: David Singer (Las Vegas, Nevada) 83,000
Seat 9: Robert Lipkin (Buffalo Grove, Illinois) 305,000
The short stack, Glen Bean, was the first one out. Calling all in from the big blind for a total of 21,000 after a preflop raise of 24,000 from Zachary King, Bean seemed surprisingly confident when he revealed a
to King's superior
, claiming, "I'm going to win this one." At first, it looked like he had some psychic ability when after the turn the
board put him ahead with two pair, but then the river delivered an
, and what looked like sixth sense turned out to be wishful thinking and he exited with $19,464.
With Al Barbieri down to fewer than five blinds, he decided to go all in under the gun with
. He was quickly called by David Singer who turned up the
. The flop put Barbieri even further behind when Singer hit an ace and the board ran out a blank for Barbieri. He took home $26,764 for his eighth-place finish.
Zachary King managed to hold on briefly with a doubleup when his mediocre
bested Ferrnandez' even weaker
and the
board gave him the winning pair. Still, even with the double-up, he was down to only 84,000, just seven times the big blind, and posting the small blind next hand brought him further down to just 78,000. A couple of hands later, it was folded around to King and he made it 42,000. Greg Alston re-raised, and King had no choice but to call all in. Then he saw the bad news as Alston flipped over
, massively crushing King's
. He had a fleeting moment of hope as two diamonds hit on the flop, but no runner-runner diamonds appeared, and King exited in seventh for $34,063.
By the third elimination, David Singer had moved from eighth when the day began to second in chips behind Fernandez. Joe Tehan had a different trajectory. Short-stacked, he found himself all in preflop with
against Singer's
. The flop came
and Tehan shook his head as if already accepting his fate. The
turn and
river were no help and Tehan had to settle for a $43,796 payday.
After dwindling to just 85,000 or so, Russ Harriman looked down to find
. After a raise from Greg Alston, Harriman re-raised all in and must have been pleased to see that he was ahead of Alston's
. His pleasure was fleeting, though, as the board came
followed by
to end his run.
Robert Lipkin became the fourth-place finisher after pushing over the top of Singer's button raise from the small blind with
and being quickly looked up by Singer's commanding
. "He's going to need either a lot of sevens, a lot of fives, or a lot of diamonds if he's going to survive this one," observed an astute tournament director. However, the board was an unhelpful
and just that fast Lipkin was out, cashing $67,640.
Gregory Alston was greatly out-chipped by Fernandez and Singer and decided the time was right to make a move when he found pocket jacks in the hole. He looked good against Fernandez' pocket eights, until an eight spiked on the turn. With no jack to save him on the river Alston took third, and $82,725, leaving the event heads up.
Going into heads-up play, Fernandez had 1,245,000 to Singer's 935,000. They tussled for a bit before deciding to take a 90-minute dinner break when their two stacks were almost identical, Fernandez at 1,190,000 and Singer with 1,150,000. When they came back, Singer's stack started taking a bit of a hit. Four hours after the start of heads-up play, Fernandez held a solid chip lead, having slowly eroded Singer's stack. When it looked like Singer was down and on his way out, though, he fought his way back.
On the second-to-last hand, Fernandez min-raised to 80,000 from the button, Singer slowly re-raised another 160,000 on top, Fernandez quickly came over the top, all in, and Singer made the call. Singer tabled
and Fernandez showed
. Fernandez stood, but Singer remained seated and outwardly calm. The
flop brought a slight smile to Singer's face, giving him top two pair and Fernandez drawing very thin. With the
on the turn, the Tournament Director announced, "David's going to double up…" and with the river
he did, giving him a massive chip lead with 1.7 million chips.
On the very next hand, it was over. With the board reading
, Singer's bet of 40,000 was raised to 180,000, only for Singer to raise to 480,000 total, putting Fernandez all in for his remaining chips. Fernandez sat back in his chair and counted out his chips and made the call, almost reluctantly pushing his stack across the line. Singer quickly showed
for the turned straight while Fernandez tabled
for the two pair. There were a couple of scattered calls from the rail for a seven, but the dealer instead flipped the
onto the felt to give Singer the title, the $214,131 top prize money, and that previously elusive gold bracelet. Jacobo Fernandez' strong showing was worth $136,643. Congratulations to David Singer on his first WSOP bracelet.