2008 WSOP Event #30, $10,000 Limit Hold'em World Championship Day 2: Katz, Hollink Head Final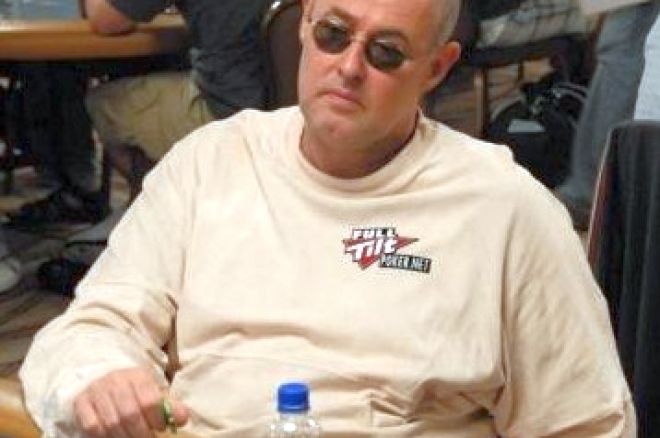 Aaron Katz, who at times plays in the legendary "Big Game," is the only player going into the final table of the $10,000 limit world championship Event #30 with over a million in chips. But that doesn't mean he will have a walk in the park. The final table is packed with talent and should provide its share of fireworks. Start of Day 2 chip leader J.C. Tran has also made the final, along with WSOP Main Event finalist Andy Block and Dutch powerhouse Rob Hollink. The winner of this illustrious group will win $496,931 and the bracelet along with the title, as this year's WSOP Limit Hold'em World Champion.
The seating assignments, hometowns, and chips stacks for Tuesday's final nine are:
Seat 1: Andy Bloch (Las Vegas, Nevada) — 370,000
Seat 2: Rob Hollink (Groningen, Netherlands) — 893,000
Seat 3: Tommy Hang (Seattle, Washington) — 578,000
Seat 4: Cy Jassinowsky (Johannesburg, South Africa) — 231,000
Seat 5: Jerrod Ankenman (Avon, Connecticut) — 441,000
Seat 6: Chris Vitch (San Diego, California) — 201,000
Seat 7: Brock Parker (Silver Spring, Maryland) — 166,000
Seat 8: J.C. Tran (Sacramento, California) — 247,000
Seat 9: Aaron Katz (Seattle, Washington) — 1,232,000
Day 2 began with 97 players, fewer than half the starting field, and would play down to the final nine. Along the way 70 players finished out of the money, including Huck Seed, Howard Lederer, Todd Brunson, John Hennigan, Erick Lindgren and Greg Mueller. A surprising elimination, just short of cashing, was Day 1 fourth-place finisher Justin Bonomo.
Sometimes it's good to be lucky, but for J.C. Tran, sometimes it's good to be oblivious. J.C. Tran was involved in a three-way hand which had been bet and called down all the way to the turn. When the fourth spade spiked on the river, Tran called an all-in bet and took down the hand with a set of sevens since his opponent had no spade. When some at the table asked Tran why he wasn't worried about the fourth spade he said, it was easy – he didn't realize the river had made a four-flush!
It's a distinction no one wants, and in Event #30, it fell to Tim Kasparoff – bubble boy. Kasparoff had gone all in after Tommy Hang had called from middle position and the two went heads up. This was a classic race situation with Kasparoff holding the under pair, eights, to the overcards of Hang, A-10. The ten on the turn put Hang squarely ahead and left Kasparoff dead to an eight. Sadly for him, no eight on the river meant no cash, and Kasparoff was out in 28th place. Alex Kravchenko was the immediate beneficiary, able to say he cashed in this event, if only in 27th place, for $20,492.
In one of many battles of the heavyweights, a short-stacked Dewey Tomko went all in against Hoyt Corkins. Corkins tabled
while Tomko showed the powerhouse
. The flop was decisive,
, but Tomko had a glimmer of hope after an eight came on the turn. The seven on the river, though, sent Tomko to the rail in 23rd place.
Corkins' surge was short-lived as he went all in against Aaron Katz with
against Katz'
. Katz found a dream board of four diamonds to eliminate Corkins in 21st place. Todd Witteles was out soon after. His stack depleted at the hands of Michael Mizrachi, he went in against Chris Vitch for his remaining chips. After an A-J-8 flop, Vitch four-bet to put Witteles all in. Vitch was ahead with A-K to Witteles' J-6. Witteles never improved and departed in 19th place. Tompkins, Corkins and Witteles each took home $20,492.
Michael Mizrachi had more than his fair share of bad luck in back-to-back-to back hands. First, his flopped set was toppled by the turned straight of Jerrod Ankenman. Then his A-K went up against the pocket kings of Cy Jassinowsky and lost. In this final hand, he and Chris Vitch had three-bet before the Q-5-2 flop, then checked. When the four turned, Mizrachi check-raised and Vitch re-reraised. Mizrachi moved all in and was quickly called. Mizrachi knew he was in trouble, "You have a set of queens, right?" Vitch nodded, showing the ladies, and Mizrachi just shook his head as he turned over pocket fours for the lower set. No four on the river and he was out in 15th place with $30,738.
Eric Buchman started the day third in chips but was out just before the final table. After reraising Adam Katz preflop, Buchman got what he thought was a great flop –
– which gave him a set of tens. After a series of bets, raises, and reraises – and some brief confusion about the size of Katz' last bet – Katz announced he was betting blind on the turn to put Buchanan all in. Buchanan called and they turned over their hands, and Buchman saw that Katz was on the flush draw, which hit with the
. Buchanan needed the board to pair on the river, but it blanked and he was out in tenth place with $35,861.
Join PokerNews.com for live reporting of the final table, beginning at 3pm Pacific Time on Tuesday.