Event #30, $10,000 Limit Hold'em World Championship: Rob Hollink Victorious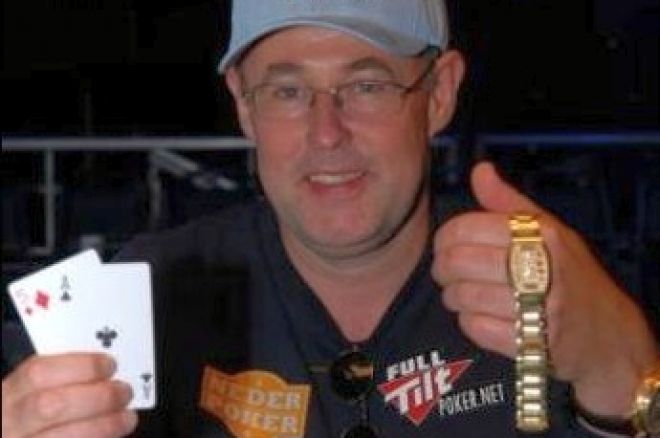 Before today, Dutch pro Rob Hollink had an admirable list of poker accomplishments — 18 prior WSOP cashes, two WPT cashes, first place in the European Poker Tour Grand Final in Monte Carlo and over $2 million in tournament winnings. Everything but a WSOP bracelet. After three days competing against some of the best in the world, Hollink came out on top, taking out four of his final-table opponents on his way to winning the $10,000 WSOP Limit Hold'em World Championship, $496,931 in prize money and the bracelet.
He had to beat some tough opponents to get to the end. The seating assignments, hometowns, and chips stacks of the final nine were:
Seat 1: Andy Bloch (Las Vegas, Nevada) — 370,000
Seat 2: Rob Hollink (Groningen, Netherlands) — 893,000
Seat 3: Tommy Hang (Seattle, Washington) — 578,000
Seat 4: Cy Jassinowsky (Johannesburg, South Africa) — 231,000
Seat 5: Jerrod Ankenman (Avon, Connecticut) — 441,000
Seat 6: Chris Vitch (San Diego, California) — 201,000
Seat 7: Brock Parker (Silver Spring, Maryland) — 166,000
Seat 8: J.C. Tran (Sacramento, California) — 247,000
Seat 9: Aaron Katz (Seattle, Washington) — 1,232,000
Chris Vitch, who yesterday had eliminated Michael Mizrachi on his way to making his first final table, had started the day eighth in chips. After losing two hands, against Hollink and Bloch, Vitch was down to his last 22,000. He moved all in and Aaron Katz called from the small blind with his
behind Vitch's
. The
flop changed nothing, and the
turn blanked as well. But Katz hit an
on the river and that was enough to knock Vitch out in ninth place, with $51,230 in winnings.
An early double-up through Jerrod Ankenman was about the only good news for Cy Jassinowsky at this final table. The South African pro, whose last appearance at a WSOP final table was in 2005, lost two pots to Brock Parker, including a big one in which his A-K was out-flopped by Parker's A-10. On the ropes, and with three players in the hand already, Cy went all in for his last 40,000. Bloch dropped out but Hollink and Hang went to the flop. Hollink checked the
flop and Hang bet. Hollink folded and Hang showed his pocket queens. Cy had
. The turn and river ran out
,
and Cy was eliminated in eighth place with $66,599.
Andy Bloch, the intellectually imposing MIT and Harvard Law grad, stretched his time at the final table thanks to two late double-ups. But he had put himself behind earlier in one hand against Katz and Tran where multiple reraises before the river cost him a good chunk of chips. Down to his last 50,000, Bloch raised all in and Hollink called. Neither hand was impressive, as Hollink showed
to Bloch's
, but Hollink's hand looked much better after he spiked an eight on the river of the
board to take the pot and eliminate Bloch in seventh place for $81,968.
Brock Parker had four prior WSOP cashes before this, but going into the final table, he knew he would be achieving his biggest payout to date. But starting as the shortest stack meant he had a lot of work to do to move up in the money. He stayed in mostly by playing a conservative game and letting others make a move before him. But, low on chips, he pushed all in preflop against Jerrod Ankenman. His
trailed Ankenman's
and when the board ran out
, Brock Parker was eliminated in sixth place with a $102,460 payday.
Unlike Parker, J.C. Tran had been aggressive throughout the day – sometimes it paid off, but other times, it backfired. Just after doubling up through Ankenman, he gave it all back when Ankenman rivered a straight. Tran was never able to get momentum and he saw his chips dwindle away. Tran went all in for the rest of his chips on a board that read
. The river was a
. Hollink showed the
, Tran mucked his cards and finished in fifth place for $128,075.
The chip leader going into the final table, Aaron Katz was not blessed with good luck, especially not against the eventual winner, Hollink. In one hand, Katz had flopped a straight only to lose after Hollink filled up on the river. Katz also had his pocket kings cracked when Hollink hit a set of queens in another hand. Katz lost most of his remaining chips in a hand against Tommy Hang who showed pocket tens on a hand that ran out
. Katz pushed the rest of his chips in on an Ankenman raise, preflop, and Rob Hollink went along for the ride. They checked down to the river, the board showing
, and Ankenman scooped with queen-high. Aaron Katz was eliminated in fourth place, with $158,813.
Tommy Hang nailed some timely double-ups to keep him going deep in the tournament, but, after two and a half hours of three-handed play – it was over in just two hands. In the first hand, Hang and Hollink saw a
flop which Hollink bet and Hang called. After the
fell on the turn, Hang called a check-raise from Hollink. Hollink bet out again on the
river and Hang called. When he saw Hollink's A-Q, he mucked his cards. Hang lost most of his chips that hand. Their next hand heads up, Hang re-reraised all in preflop. He showed
and Hollink tabled
. The
flop put Hang in the lead, but the
turn gave Hollink a better pair and Hang's tournament was over when the
fell on the river. Tommy Hang finished in third place, his seventh WSOP cash, for $194,674.
The heads-up battle between Hollink and Ankenman took less than an hour, and the two evenly split the hands. But it was Rob Hollink who ended up with all the chips. He had the chip lead going into heads-up play and was patient, waiting to capitalize on a nice run of cards when they came, hitting both a wheel and a baby flush in big hands to take a commanding chip lead. Finally, Ankenman, who had come in second in a $3,000 Limit Hold'em event at the 2006 WSOP, pushed with two live cards, calling Hollink's all-in reraise with
. Hollink showed
and his supporters started jumping up and down when the flop came
, giving him top two pair. But the
on the turn temporarily silenced them and, instead, brought out shouting from Ankenman's fans, "Six, six!" But it was not to be. The dealer turned a
giving the pot and the win to Hollink. Ankenman had his second runner-up finish in a WSOP limit event and $307,380 in prize money on this occasion.
Rob Hollink outlasted 217 of the top poker players in the world to win the title of 2008 WSOP Limit World Champion along with $496,931 in prize money.