2008 WSOP Event #31 $2,500 NLHE Six Handed: Minieri Wins Gold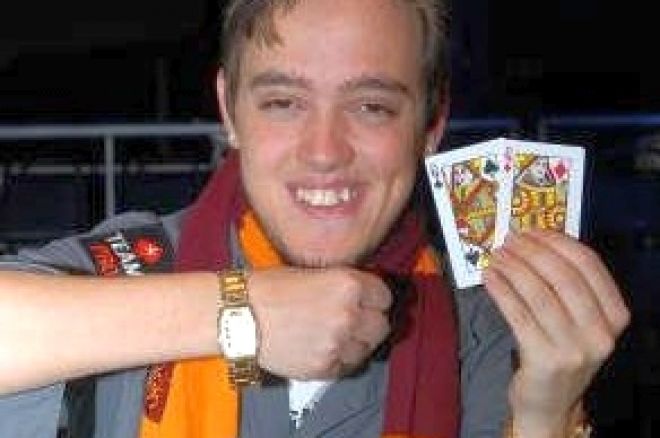 Dario Minieri dominated throughout most of Event 31, $2,500 NLHE Six-Handed, and finally secured his first WSOP bracelet and $528,418 for the win. 1,012 players started this fast-paced event and at the end of the first day Minieri was second in chips. Minieri continued to build his stack during Day 2 to gain the chip lead going into the final table. At one point during the event, Minieri and Max Pescatori sat at adjacent tables, and spent a good deal of the time between hands talking and laughing together. Minieri's win makes him the second Italian ever to win a WSOP bracelet – the first was Pescatori, who won his second bracelet just last week.
Although Minieri had cashed in the last two WSOP Main Events, this was his first WSOP final-table appearance. But he wasn't alone in that regard. Of the six players heading into the last day of play, only Kevin Song had previous WSOP final-table experience. Here are the final-table starting chip counts:
Seat 1: Kevin Song (Rowland Heights, California) — 1,173,000
Seat 2: Justin Filtz (Stevens Point, Wisconsin) — 891,000
Seat 3: Dario Minieri (Rome, Italy) — 1,721,000
Seat 4: Stuart Marshak (Chicago, Illinois) — 183,000
Seat 5: John O'Shea (Dublin, Ireland) — 589,000
Seat 6: Seth Fischer (Palm Harbor, Florida) — 508,000
Stuart Marshak entered the day as the short stack and didn't wait long before he found a hand to push in with. On the tenth hand, Marshak pushed all in from the small blind after Kevin Song opened and Justin Filtz and Minieri called. Filtz reraised to isolate and it was Marshak's Q-J against Filtz' pocket kings. The flop delivered a queen for Marshak but no additional help came with the subsequent board. Stuart Marshak finished in sixth place for $73,784.
The second departure came only nine hands later. Seth Fischer opened for 55,000 from early position and Kevin Song and John O'Shea, from the big blind, called. O'Shea check-raised on a flop of
and Fisher called. O'Shea had
for bottom pair and a gutshot to the wheel, while Fisher held
for top pair and the nut flush draw. The
on the turn only narrowed O'Shea's outs and the
ended his day. John O'Shea finished in fifth place for $98,923.
When it got down to four players, both the mood and strategy of the final table took a decided turn; play tightened up and the banter went quiet. For almost an hour the table played on with few flops and nary a river. But on the 50th hand, the silent blind stealing suddenly came to an end. Kevin Song opened for 75,000 on the button and Dario Minieri reraised to 155.000. Song reraised all in and Minieri eventually called; Song had K-J to Minieri's A-8. Song never improved, although the board did deliver an ace on the river for Minieri. Kevin Song finished in fourth place for $141,983.
With Song's elimination Minieri had extended his chip lead over his tablemates, but Justin Filtz would soon put a dent in Minieri's dominance. Filtz called from the small blind and Minieri bumped it up to 72,000 from the big blind. Filtz took his time, but made the call. Filtz check-raised all in on the
flop and Minieri insta-called. Filtz'
had the lead over Minieri's
. While Minieri's fans called for a jack, the turn and river came
and
to double up Filtz on the hand. Minieri, though, proceeded to take the next five hands.
Again the players returned to careful blind stealing until the 81st hand, when Seth Fischer reraised all in against a preflop raise by Minieri. Minieri immediately called flipping over A-K to Fischer's pocket jacks. The jacks held and Minieri's A-K doubled up yet another player – although Minieri still had the lead on his tablemates.
Dario Minieri — 2,683,000
Seth Fischer — 1,433,000
Justin Filtz — 949,000
Minieri was able to pick up the blinds and small pots to increase his margin, but again he would double up one of his opponents. All three players saw a
flop. Minieri opened for 105,000 and Filtz moved all in. Filtz had
for a flush and gutshot draw. He was drawing almost dead, however, on the flush draw when Minieri flipped over
. The
was one of Filtz' few outs and it came on the turn followed by the
to send the pot to Filtz.
Dario Minieri — 1,985,000
Justin Filtz — 1,675,000
Seth Fischer — 1,405,000
At this point, Fischer found his groove, and with it the chip lead, taking down sizable pots with aggressive postflop play. But Minieri would regain the lead when his pocket queens vanquished Fischer's unimproved A-J. Filtz and Fischer were back in a virtual tie for second, when they pushed their chips in the middle pre-flop on the 164th hand. Filtz' pocket aces had the decided edge over Fischer's A-K. But one king came on the flop and another on the turn. At the end of the hand, Fischer had Filtz covered by 10,000 chips and Justin Filtz finished in third place for $214,139.
Fischer now had a sizable chip lead going into heads-up but Minieri and was finally able to get the upper hand on the 191st hand of the final table. All in preflop, Dario Minieri put on his coat as he flipped over
and stared at Fischer's pocket kings. When the board came
, Minieri took off his coat and had the chip lead.
Seven hands later, all the chips were in the middle with Fischer's K-10 up against Minieri's pocket queens. Fischer couldn't improve and finished in second place for $330,519. Minieri, his survival courtesy of the unlikely runner-runner fours, had claimed the victory and his first bracelet.