2008 WSOP Event #32, $1,500 No-Limit Hold'em: Velador Dominates Final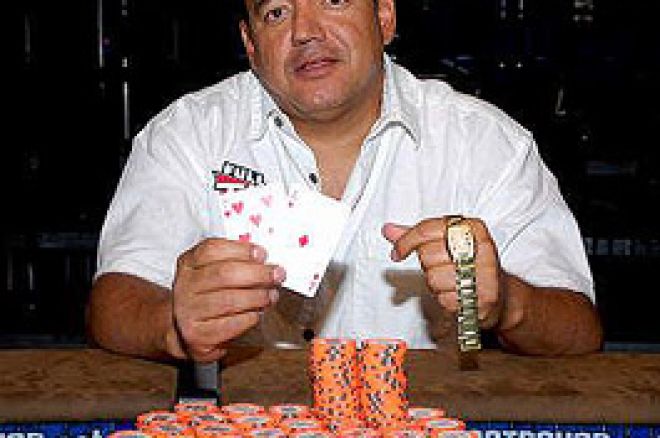 The final in Event #32, $1,500 No-Limit Hold'em, was Jose Luis Velador's from start to finish. He came into the final table with a dominant chip stack and his stack went only went up as the day wore on. At one point, down to five-handed play, Velador had over 65% of the chips at the table. The closest he came today to losing was when second-place finisher Anthony Signore closed the gap to nearly even during heads-up play. But Velador pushed ahead one final time to win his first WSOP bracelet and $573,374 in prize money.
Going into the final table, here were the seat assignments, hometowns and chip counts of the final nine:
Seat 1: Dean Bui (Seattle, Washington) – 211,000
Seat 2: Justin Hoffman (Alpharetta, Georgia) – 138,000
Seat 3: Jose Luis Velador (Lake Elsinore, California) – 1,898,000
Seat 4: Dany Georges (Burbank, California) – 1,082,000
Seat 5: Utsab Saha (Fremont, California) – 961,000
Seat 6: Jae Chung (Atlanta, Georgia) – 716,000
Seat 7: Shane Stacey (Hyde Park, Vermont) – 640,000
Seat 8: Osmin Dardon (West Covina, California) – 660,000
Seat 9: Anthony Signore (Boynton Beach, Florida) – 636,000
For Justin Hoffman, today was a day of many firsts – his first year playing at the WSOP, his first cash, his first final table. And, unfortunately, he was first out. On the 18th hand of the final table, Hoffman had shoved his remaining 179,000 in and Dean Bui called. Hoffman was behind, but not dominated, showing
to Bui's
. But the board missed both of them and Bui's king high took down the pot, eliminating Hoffman in ninth place, for $53,464.
Another first-timer, Utsab Saha, had started the day with a substantial chip stack, but decided to make a move with
. Unfortunately for Saha, he went up against the steamrolling chip leader Velador. Velador raised to 60,000 and Saha reraised to 120,000. Velador re-reraised for $250,000 more and Saha, after a brief trip in the tank, went all in. Velador called and they showed their cards, and Saha saw that his
was behind Velador's
. The flop was
and it gave Saha a few extra outs, but neither the
turn nor the
river helped him. Velador's supporters on the rail erupted as Saha exited in eighth place, with $77,051.
Dany Georges, a regular in the LA poker scene, was also at his first WSOP final table. He did not get off to a good start. Georges lost half his starting stack in a number of smaller hands and one big one where he doubled up Dean Bui to around $260,000. Down to under half a million, he shoved all in and was called by Bui. It was a coinflip, the
of Bui against Georges'
. The flop was
and Georges added a gutshot straight draw to his overcards. The turn helped neither player and Georges was looking for an ace, queen or jack to keep him alive. But the river blanked –
– so Bui took down the pot and Georges finished in seventh place, taking home $100,638.
Bui was not as lucky when it was his turn to go all in for his tournament life. He was heads up against Velador with a flop of
. Bui checked, Velador bet 90,000, and Bui called. They both checked the
on the turn. The river was the
, and that's when the action started. Bui bet 255,000, Velador went over the top, all in, and Bui called. Bui tabled pocket tens for a set, but Velador showed K-K for a better set and Bui left in sixth place, earning $132,088, his third WSOP cash of the year.
Shane Stacey had finished 15th in this tournament last year, and he had already surpassed that, when he found himself getting ground down by the blinds and antes. After the action had folded around to him in the small blind, he raised to 80,000 and was called by Osmin Dardon. They saw the flop —
. Stacey led out for 125,000 and Dardon went over the top all in. Stacey called and tabled
for top pair, top kicker. He was out in front of Dardon's
. The turn seemed innocuous – the
– but the river spiked the
, giving Dardon a ten-high straight and Stacey a fifth-place finish and $166,682.
After coming to the WSOP for four years, Jae Chung had made his first final table. Getting low on chips, he pushed in his last 280,000, hoping to triple up, after a raise by Dardon and a call by Velador before him. Chung got action as both called. His two opponents checked the
flop, the
turn and once more on the
river. Then they each turned over K-10 for kings up. They chopped as Chung mucked, heading out the door in fourth place with $204,422 for his first WSOP cash.
Osmin Dardon, in his second cash at this year's WSOP, played well, staying near the top of chip count, though never able to close the gap with Velador. But when he looked down and saw Big Slick, Dardon must have decided it was time to make his move. Velador had raised to 100,000 from the button; Dardon reraised, making it 300,000 to go. Signore got out of their way and Velador announced "All in." Dardon quickly called and showed
. Velador turned over
and Dardon was looking for help. The flop brought none, but with the turn the board read
and Dardon was looking for a non-heart ace, king or queen. But the river was the
and Dardon was out in third place, leaving with $243,734.
Heads up, Velador, an experienced tournament player from the LA area, had a commanding lead, over 5-to-1. But Signore, who had overcome a substantial chip deficit to make it to heads up, would not go down without a fight. Just four hands in, Signore shoved all in with A-9 against Velador's pocket sevens. The flop was three kings, giving Signore an additional out if the case king came. Instead, he spiked an ace on the turn to double up. Over the next thirteen hands, Signore put a good run together to move to a virtual tie with Velador. But Velador reclaimed the lead in a heavily-bet hand where the board ran out A-J-9-7-Q and, after Velador pushed all in, Signore gave it up.
Three hands in a row, Signore pushed all in and Velador folded. But after winning two small pots against Velador, this time when Signore moved all in, Velador called. Velador was ahead
to the
of Signore. The flop was
, giving Velador a commanding lead. The turn was the
and all Signore could hope for was a ten for a chop. But the river was a meaningless
and Signore was out in second place, with $366,387.
Jose Luis Velador had knocked out five opponents on his way to winning his first WSOP bracelet and the $573,374 prize money.