2008 WSOP Event #34 $1,500 PLO w/ Rebuys Day 2: Forrest, Flack Chase Kloeckner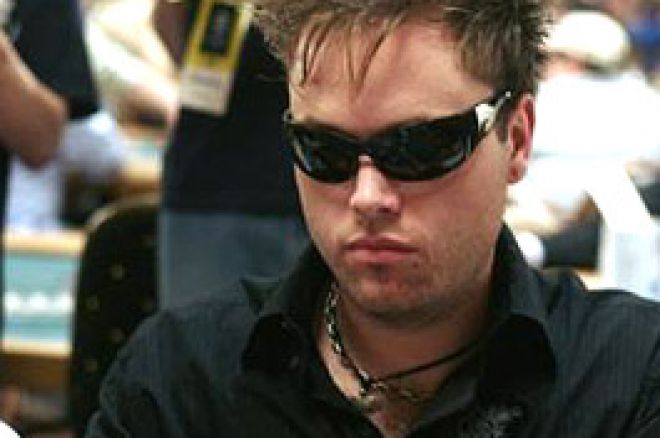 48 players returned for Day 2 of Event #34, $1,500 Pot-Limit Omaha w/ Rebuys at the Amazon Room on Wednesday. By the time play halted for the evening, only nine remained, with Kyle Kloeckner leading a field that includes some of the toughest players in the world. Ted Forrest finished the day just behind Kloeckner while Layne Flack rests just a bit farther back.
With 36 places paying, play started cautiously on Day 2 as the bubble neared. Jared Hamby was among the early bustouts as he got nothing going with his short stack and headed to the rail early in the day. Django Young was the bubble boy for the event, losing in a tough hand with Kloeckner. Kloeckner raised preflop, and Daniel Makowsky and Young both called to see the flop of
. Young led out at the flop, Kloeckner put in a stiff raise, and Makowsky got out of the way. Young called all in, and tabled
for top pair with the nut flush draw. Kloeckner was in rough shape with
, but the
on the turn gave him additional outs while making two pair for Young. The
on the river gave Kloeckner runner-runner straight and sent Young home on the money bubble.
After the bubble burst, the eliminations came in a rush, with Rami Boukai heading to the rail just a couple of hands later in 36th ($16,849). Almost immediately after Boukai hit the rail, Benjamin Hamnett claimed two scalps in one hand, sending Clonie Gowen and Steven Ware to the rail in 34th and 35th respectively. All the money went in preflop, and Hamnett showed
. Ware was in the lead with
, while Gowen had big cards and a double-suited hand with
. Hamnett picked up a straight as the board ran out
, and Gowen and Ware both picked up $16,849 for their tournament.
Nikolay Evdakov added another cash to his amazing run at the 2008 WSOP, making his seventh money finish. Evdakov finished in 30th place ($16,849), adding to his money finishes in events ranging from hold'em to 2-7 triple draw. Evdakov moved to within one cash of the record of eight cashes in a single WSOP, currently held jointly by Michael Binger, Chad Brown, Phil Hellmuth and Humberto Brenes.
Erik Seidel headed to the rail in 21st place when he got it all in preflop with
against Michael Guzzardi's
. Guzzardi hit the board harder than Seidel, as it ran out
, and Guzzardi's turned boat sent Seidel to the rail with $19,257 for his efforts.
With Michael Zowie's elimination in 19th place ($19,257), the players redrew for seats at the last two tables, and knockouts continued. Tino Lechich headed home in 15th ($30,089) after a three-way all-in with Thomas Wahlroos and Francisco Azares. All the money went in preflop, and Wahlroos was holding the bullets with
. Lechich tabled
, and Azares was looking for black cards with
. The board ran out
, and Wahlroos' aces held up to keep him alive and send Lechich to the rail.
Wahlroos' luck didn't hold long, as he was the next elimination in 14th ($30,089). Michael Guzzardi fired at a flop of
, and Wahlroos raised all in. Guzzardi called with
for the nut flush, and Wahlroos showed
. The board failed to pair on the turn or river, and Wahlroos was busted.
With Francisco Azares busted in 13th ($30,089), Layne Flack was guaranteed a profit in the event. Flack, who rebought more than 20 times, needed to finish 12th or better to show a profit for the tournament. Flack's rebuy-heavy strategy paid off in a final-table seat. Once Michael Schwartz was eliminated in 11th place ($36,106), the players redrew for the final 10-handed table.
It didn't take long for the final table to be decided, as Ted Forrest bounced Kevin O'Donnell in 10th place to set the final table. O'Donnell limped in from middle position, and Forrest checked his big blind to see a flop of
. O'Donnell bet the pot on the flop, and Forrest put out a strong check-raise. O'Donnell moved all in, and a pot-committed Forrest made the call. O'Donnell tabled
for the nut straight, while Forrest was left drawing for a boat with
. Forrest's ship came in on the turn when the
gave him a full house and left O'Donnell drawing dead. O'Donnell picked up $36,106, but missed the final table by one spot.
Kyle Kloeckner took the chip lead into the final table, but with Ted Forrest, Dario Alioto and Layne Flack in the hunt, his chip lead is far from secure. The final table seating assignments and chip counts looked like this:
Seat 1: Frank Vizza (Cold Spring Harbor, New York) — 378,000
Seat 2: Dario Alioto (Palermo, Italy) — 659,000
Seat 3: Tim West (Los Altos, California) — 187,000
Seat 4: Daniel Makowsky (Zurich, Switzerland) — 493,000
Seat 5: Kyle Kloeckner (St. Louis, Missouri) — 845,000
Seat 6: Jacobo Fernandez (Hollywood, Florida) — 348,000
Seat 7: Layne Flack (Las Vegas, Nevada) — 601,000
Seat 8: Michael Guzzardi (Melbourne, Australia) — 751,000
Seat 9: Ted Forrest (Las Vegas, Nevada) — 757,000
Join PokerNews at 2PM PDT for all the live updates and hand-for-hand action from the final table.