2008 WSOP Event #35 $1,500 Seven-Card Stud Day 1: Pappas, Barbieri Chase Ebeling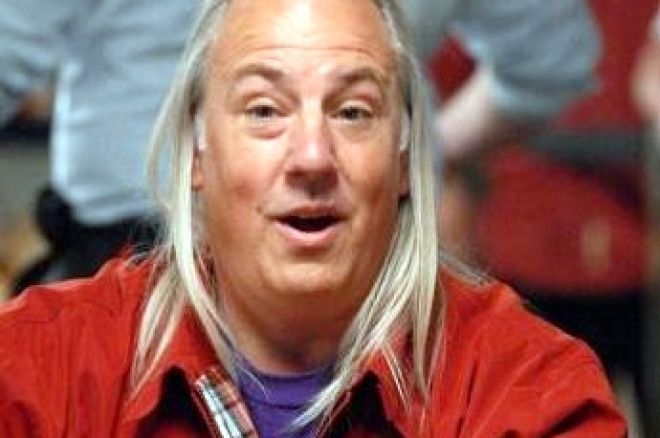 With so much star power in the field, it was a lesser-known German player who led Event #35, $1,500 Seven-Card Stud at the end of Day 1. A field of 381 poker players was winnowed down to 71 after eight levels of play, with Leonardo Ebeling topping the leader board and American pros Greg Pappas and Al Barbieri a distant second and third. Last year's winner, Michael Keiner, showed up to defend his title, but busted out before the end of the day. Five tables (40 players) will make the money, with 40th place collecting $2,346 and first place winning $136,111.
The top ten in chips going into Day 2 are:
Leonardo Ebeling 78,000
Greg Pappas 50,000
Al Barbieri 44,500
Levon Torosyan 38,700
Charlie Townsend 38,000
Michael Rocco 36,400
Chris Tryba 32,900
Payam 'Paul' Attarchi 31,300
Kim Erfle 31,200
Alan Jaffray 28,900
Seven-card stud was expected to bring an experienced and star-packed field, and this event did not disappoint. Phil Ivey, David Sklansky, Dewey Tomko, Eskimo Clark, Huck Seed, John Juanda, "Miami" John Cernuto, Sam Grizzle and a host of others all came to play. But a number of the famous faces failed to make it as far as the dinner break, including David Williams, John "The Razor" Phan, Max Pescatori and Phil Hellmuth.
Phan, sporting his shiny new bracelet, did not have as good a day as yesterday, when he won the $3,000 NLHE event. Phan put all of his chips in on sixth street, showing x-x /
against two opponents, one of whom showed a board of [x-x]
and the other a board of [x-x]
. Phan, on a busted straight draw, ended up with a pair of nines, good enough to beat the ace-high of one of his opponents, but not good enough to beat the pair of kings of his other opponent.
Phil Hellmuth, who had just cashed for a record 65th time, did not add to that record here. He was out after pushing the last of his chips in on third street with a pair of kings, where he was called by a player with a pair of jacks. By the last card, Hellmuth had improved to two pair, but his opponent took down the pot with trip jacks.
Chad Brown made it to Day 2 on what could only be called a miracle. He was all in against an opponent who had made quad threes. Brown, showing three aces, squeezed the river card and, with a flourish, flipped over the case ace to scoop the pot and stay alive.
Katja Thater had no idea what was lurking in her opponent's hole cards, but could not have liked being called down with her board showing jacks. Still, when the cards were flipped, her two pair was better than the hidden aces of her opponent and she was on her way to Day 2.
Al "Sugar Bear" Barbieri, who ended the day third in chips, was involved in an unusual situation. While playing heads up, his opponent was carrying on a conversation in a foreign language with a busted player on the rail. After Barbieri won the hand with trip jacks against his opponent's two pair, Barbieri called a floor to the table to complain and the spectator was escorted from the Amazon Room.
With so many first-class players, every table was dangerous. At one table, Greg "FBT" Mueller was up against Humberto Brenes, and the confrontation was not good for the Costa Rican pro. Mueller led out every street until sixth when, showing a board of
he checked to Brenes. Brenes led out a bet with his board showing
and Mueller called. Mueller checked the river and Brenes bet again. "I started rolled up, Humberto," said Mueller. "I'm gonna lose, but I have to call." Mueller turned up his down cards, showing
for trip aces. Brenes showed two of his down cards
for trip nines, before mucking. Mueller took a hit to his stack later, but stayed alive with 9,100 in chips.
Other notables moving on to Day 2 include recent bracelet winner Jens Voertmann, Chip Jett, Sabyl Landrum, Sam Grizzle, Cory Zeidman, and LA Lakers' owner Jerry Buss, perhaps finding some solace here after his team's crushing defeat in the NBA Finals.
Join PokerNews.com and its live reporting team for full coverage of Day 2 of this event beginning at 3pm Pacific Time.