2008 WSOP, Event #36 $1,500 No-Limit Hold'em, Day Two: Hougaard and Slaubaugh on Top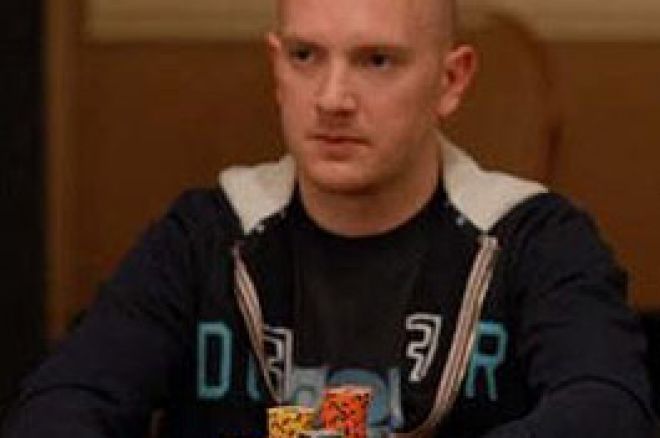 There's plenty of World Series of Poker experience at the final table for Event 36 No-Limit Hold'em, including several rising stars, a former Main Event final table participant, and one of the chip leaders who has shown he has plenty of gamble in him.
Cody Slaubaugh, a tournament pro from Rugby, North Dakota who already has three 2008 WSOP cashes to his credit, heads to the final table in this $1,500 buy-in event as the chip leader after mixing it up in a few key hands as the final-table bubble approached.
Slaubaugh takes 1,419,000 chips into the final table, just a shade under the chip stack of up-and-comer Jesper Hougaard, but well above the stack of fellow rising star Danny Wong, who has reached multiple World Poker Tour and EPT final tables. Hougaard made an impression in last year's Main Event when he almost single-handedly separated defending champ Jamie Gold from all of his chips on Day 1. He went on to finish 356th.
Other notable final-table participants include WSOP veteran John Shipley, who has cashed 11 times in the WSOP and finished 12th in the 2002 Main Event, and Aaron Kanter, the young pro from Sacramento who memorably made a run to fourth place in the 2005 Main Event and cashed for $2,000,000.
Play on Day 2 slowed considerably once the field was reduced to 27 players, but it picked up just as quickly toward the end of the night, with the final six eliminations taking place in a 30-minute span.
In one pivotal hand, Slaubaugh got tricky when he flat called John MacDonald's pre-flop raise while holding pocket aces in the cutoff seat. MacDonald moved in on a flop of Q-J-3 with nothing more than a gutshot straight draw with A-10. Slaubaugh made the call and scooped the pot after the turn and river blanked MacDonald, moving Slaubaugh up to 900,000 in chips.
Slaubaugh decided to gamble a few rounds later when his 44,000 pre-flop raise was met with an all-in reraise by Bryan Micon for 203,000. Slaubaugh made the call with 8-9 off-suit, which outran Micon's K-Q when an 8 hit the flop and Micon didn't improve.
Slaubaugh made a tough call earlier in the night against Dan Bowman when the flop of 5-6-8 with two spades hit the felt and Bowman led out and then raised all-in over the top of Slaubaugh's raise. Slaubaugh had pocket 7s but was about even money against Bowman's A-J of spades. However, his hand held up and he was in comfortable chip position from that point forward.
Slaubaugh continued his string of eliminations when he knocked out Craig Douglas. All the money went in on a jack-high flop between the two players and Slaubaugh's A-J held up over his opponent's J-10, pushing him over the 1,500,000 mark in chips.
Hougaard avoided big pots for the most part but picked up a nice chunk of change when Chase Steed moved all-in over the top of his pre-flop raise and Hougaard tabled pocket aces. They held up, and gave Hougaard a nice working margin for the rest of the night.
Day 1 chip leader Owen Crowe, an online poker specialist, was nearly down to the felt with two tables left but he survived an all in with K-J by spiking a pair against Wong's 6-6. He slowly rebuilt his stack, then won one of the night's significant showdowns when his A-Q flopped two queens against Tom Braband's 9-9. A third 9 hit the turn to fill up Braband, but a 4 on the river paired the board and gave Crowe a higher full house.
Justin Wald also hit a set of 9s against Bryan Paris, who held A-Q and, although the K-J-9 flop gave Paris outs to an inside straight, Wald's hand held up and he advanced to the final table.
The final nine were essentially sealed after Jeremy Schofer took a devastating beat from Rick Solis, who moved in from early position with 10-10. Schofer made the call with K-K, but a 10 on the flop gave Solis the lead and his set took down the pot. Schofer was left with just 50,000 in chips and was eliminated by Hougaard a few hands later.
The winner of Event 36 will take home $610,276. Here is a list of the final table participants and their chip counts:
Jesper Hougaard 1,582,000
Cody Slaubaugh 1,419,000
Danny Wong 1,105,000
Rick Solis 900,000
Justin Wald 873,000
Owen Crowe 674,000
Doug Middleton 356,000
John Shipley 269,000
Aaron Kanter 165,000