2008 WSOP, Event #37 $10,000 Omaha hi/lo, Day Two: Matusow, Others Chase Vaswani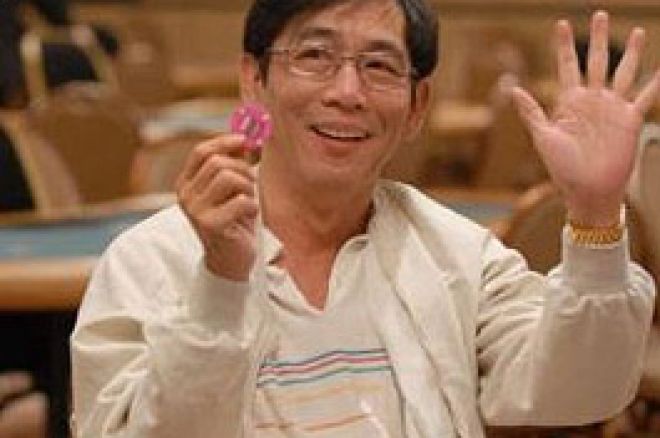 Play of Day Two of the $10,000 Omaha hi/lo Championship was suspended when the field got down to 18 players, which they finally reached just before 3:00 am. The Amazon room usually falls quiet when the fields play late, but tonight Mike Matusow was serenading the remaining players and thin crowd of spectators. Matusow had a lot to sing about, starting the day 41st in chips out of the 123 remaining players and ending the day in second place. Although Ram Vaswani could have been belting out an opera with his run from 42nd place to the chip lead, ending the day with more than a 100,000 chip advantage over Matusow. Mike is in the hunt for his second bracelet of this 2008 WSOP.
Although the field started with a fair number of former WSOP Champions, only one remained at the end of Day Two. Five-time bracelet winner and 1986 WSOP Champion Berry Johnston outlasted his championship cohorts Doyle Brunson, Phil Hellmuth, Scotty Nguyen, Greg Raymer, Chris Ferguson, Huck Seed and Carlos Mortensen to end the day in good position going into Day Three.
The Final 18 Chip Counts and Seat Assignments
Table 14
1 Danny Dang 257,000
2 Stuart Paterson 96,000
3 Eugene Katchalov 252,000
4 Chau Giang 384,000
5 Shun Uchida 134,000
6 Pat Pezzin 65,000
7 David Benyamine 378,000
8 Ram Vaswani 569,000
9 Toto Leonidas 269,000
Table 15
1 Brent Carter 114,000
2 Jason Gray 347,000
3 Berry Johnston 338,000
4 Mike Matusow 396,000
5 David Chiu 372,000
6 Greg Jamison 208,000
7 Hieu "Tony" Ma 319,000
8 Ray Dehkharghani 149,000
9 William McMahan 76,000
The starting Day Two field had to shed 96 player to make it into the money and Daniel Negreanu was among the first to exit in the process. Negreanu got his short stack in against Hasan Habib and Men Nguyen, only to see Nguyen catch a baby flush for high and Habib take the other half with the nut low. Habib would relinquish those chips as he was eliminated by Johnny Chan's flush soon after. Greg Raymer, Carlos Mortensen, Bill Gazes, and John Hennigan were also early departures.
The second wave of eliminations occurred just after the first level of the day, claiming Barry Greenstein, John Juanda, Hoyt Corkins, Brett Jungblut, Tom Schneider and Gavin Smith.
As he called all in, Gabe Kaplan asked, "You got ace-king?" Unfortunately for Kaplan, his opponent did indeed have A-K-x-x to complement the Q-J-T flop, while Kaplan had the bottom end with 9-8-x-x. Erik Seidel, Johnny Chan, Dutch Boyd, Mel Judah, Thor Hansen, and Jamie Pickering also failed to hold on until the dinner break.
Mike Matusow: "Chris, we're a bit worried that you are losing your luster. I mean a 2nd and a 3rd?"
Jeff Madsen: "The old Chris Ferguson would have won both."
Chris Ferguson: "Don't lose faith yet."
Chris Ferguson started the day as the shortest stack, after missing most of Day One for his final table appearance in the Stud hi/lo Championship event. Ferguson was able to improve his chip position throughout the day, but finally had to give up the faith, at least for this event. Ferguson was all in with babies, only to see a high only board develop. Jennifer Harman, Chris Bjorin, Huck Seed, Roland de Wolfe, Annie Duke, and Matt Lefkowitz were also unable to navigate their way into the money.
David Benyamine's QQ-x-x sent Alex Kravchenko's A-K-x-x to the rail when the ladies held up. Erick Lindgren got all his money in on a Q-2-5 flop, but William McMahon's A-3-4-7 found an ace on the turn for the wheel and the scoop. And the field was finally approaching the money.
With 29 players remaining and only 27 places paying, two players were eliminated simultaneously, sparing the field from a prolonged hand-for-hand ordeal. The obliging bubble players were Doyle Brunson and Thang Nguyen. Nguyen was all in before the flop and the board missed his hand completely while delivering a boat to his opponent, Ram Vaswani. Brunson's hand was far more painful. Brunson got all his chips in on the turn with the board reading J-T-T-5. Brunson was ahead with A-A-9-5 to James Grove's A-K-J-3. The river, however, delivered a queen, one of Grove's few outs for the Broadway straight to eliminate Brunson.
Alexander Kostritsyn had carefully nursed a short stack through the bubble and pushed his stack as soon as it burst. He failed to connect and Kostritsyn was eliminated in 27th place. Bruno Fitoussi had to settle for 24th place for his second cash of this WSOP when he the same two pair as Pat Pezzin, but Pezzin's ace kicker played.
Brad Booth and William McMahon were both all in by the river with David Chiu along for the ride. McMahon hit tens full for the scoop and Brad Booth was eliminated in 23rd place. Chiu would replenish his stack when he eliminated Danny Smith on the very next hand. Smith was well ahead on the K-8-3 flop with A-K-9-4 vs. Chiu's A-Q-5-3. But a jack and ten followed, filling a Broadway straight for Chiu. Smith finished in 22nd place.
David Chiu would also get a quarter of James Van Alstyne's stack when he shared the low with Danny Dang. Dang would get the rest when he showed down a seven high straight. James Van Alstyne finished in 21st place. James Grove was all in on the turn with a board showing 8-K-8-A, but David Benyamine already had kings full of eights by that time. Grove finished in 20th place.
With one more elimination to go for the night, Patrick Rao found nothing but trouble in a three-way pot played down to the river. Jason Gray had the nut low while Chau Giang caught a straight, leaving Rao with only 15,000 chips after the hand. He pushed in on a subsequent hand with 2-4-7-Q and got called down by Berry Johnston's A-3-4-8. The board came A-2-5-9-9, delivering the wheel to Johnston and a 19th place finish for Patrick Rao.
Day Three will take this field of 18 right down to the bracelet. Ram Vaswani clearly has the edge going into the day, but there is a healthy pack of talented players with 300,000+ chips that are going to make a run for him, including Mike Matusow, Berry Johnston, Chau Giang, David Benyamine, David Chiu, Tony Ma, and Jason Gray. Check back with the PokerNews Live Reporting Team to check out all the action as it happens.