2008 WSOP, Event #38 $2,000 Pot Limit Hold Em, Day One: Binger Surges to Big Lead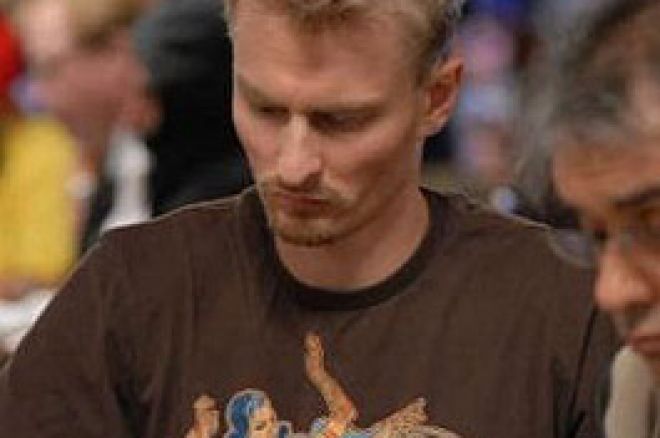 With a late charge, Michael Binger ended Day 1 as the chip leader with 146,100 chips, overtaking Ayaz Mahmood, who had mounted his own attack on the lead, and Lee Watkinson, who they had been chasing for most of the day. The three sit atop a talented pool of players moving on to Day 2 that includes Shane Schleger, Marco Traniello, Roy Winston, Vanessa Rousso, and Clonie Gowen. Last year's winner was Greg Hopkins who outlasted a 599-player field to win $269,274. This year the winner will take home $244,546 and the bracelet.
Going into Day 2, the top ten in chips are:
Michael Binger 146,100
Davidi Kitai 97,600
Ayaz Mahmood 97,600
David Chicotsky 94,100
Ben Roberts 81,900
Chris Bell 80,200
Shane Schleger 79,400
George Shahrezay 76,500
Lee Watkinson 74,500
Eric Lupovich 73,500
Just a handful more players than last year signed up, a total of 605, but in that modest crowd were some of the top poker players in the world. Newly minted bracelet winners Dario Minieri, David Singer and Nenad Medic were there along with many early-exiting top pros including John Phan, Kathy Liebert, John Hennigan, Tom Schneider, Mark Seif, Jeff Lisandro, and Scott Clements – most of who busted out within just the first two hours of play. Dapper Dutchman Marcel Luske suffered a quick, but not painless, elimination when, all in preflop with
against his opponent's
, the board ran out
to give his opponent a flush.
The always tough Lee Watkinson led right out of the gate, winning hand after hand and building a commanding chip that would keep him at or near the top the entire day. He pushed all in early with kings and dodged an ace on the river to more than double up. He continued to dominate his table, at one point having more than four times as many chips as the next closest player. He won with just ace high against queen high and won with sixes over Big Slick. He encountered very few bumps along the road.
A number of opponents took a run for the chip lead. Some, like Randy Lowery, closed the gap to within inches, others, like Ayaz Mahmood actually surged ahead. Mahmood had raked in two big pots to overtake Watkinson. In the first, his opponent went all in on a flop of Q-5-5 holding K-Q against the pocket queens of Mahmood. With no king on the turn, the river was irrelevant and Mahmood was up to 55,000. A few hands later, Mahmood went up against another big stack. With a board showing
Mahmood turned over
for the flush and his opponent tossed his two pair.
Two players who later busted had some pretty big hands, in pretty close proximity. Within five minutes of each other John Murphy found four deuces – good enough to knock out two all-in players — then Scotty Nguyen hit four aces, doubling him up at the expense of his opponent, who had made a full house. But those weren't the best hands of the day. Rolf Slotboom was on the losing side of an even better hand when, all in with the board reading
, his opponent turned over
for the straight flush. A true gentleman, Slotboom shook the hands of everyone at the table before taking his leave.
There was a bit of drama at a table involving Shane "Shaniac" Schleger, a player in Seat 7, and Davood Mehrmand. Schleger complained loudly and passionately about Seat 7 showing his hand to Mehrmand while Mehrmand was still in the hand, and vice versa. Mehrmand denied the charges and said of Schleger, "This man needs to see a doctor, he has a problem." Seat 7, meanwhile, rose from his seat exclaiming at Schleger, "Don't you use the F word with me!" Eventually, Schleger got a warning for being disruptive and Mehrmand and Seat 7 each were warned about showing cards and play continued, albeit tensely.
Due to a late surge, Lee Watkinson was passed by Michael Binger. Earlier, Binger had taken out two players in a single hand, propelling his chip stack to near the top. His opponents were all in on a
flop. Binger showed A-K, one player showed pocket queens, and the third showed
for the straight flush draw. The
turn changed nothing, but Binger spiked a king on the river giving him top pair.
With just fifteen minutes left before the end of the day, Binger finally overtook Watkinson. With the board showing,
it was checked around to Tom Werthmann who bet 4,500, only for Binger to raise to 14,500. An early position player laid his hand down and then Werthmann went over the top of Binger for 32,500. After a moment in the tank, Binger called. Werthmann had the nut flush draw and an overcard with an
against Binger's A-8 for a pair of eights. The river was neither a king nor a spade and Binger took down the pot, knocking out Werthmann in 65th place, and moving to the top of the leader board.
It was determined that play would continue until the money bubble burst. It took almost an hour, including a brief break, but the unlucky 64th finisher was finally identified. Peter Tran was the bubble boy, taken out by Derek Dempsey who found pocket rockets in the big blind as Tran was pushing from the small. Tran had two live cards, 8-6, but there was nothing for him on the board and he went out with the deep appreciation of those left standing.
Day 2 will start with 63 players, each guaranteed at least $3,744, playing down until the final table is set.
Join the live reporting team at PokerNews.com for full coverage of this event, beginning at 2:00 p.m. Pacific Time.