2008 WSOP Event #38, $2,000 Pot-Limit Hold'em Day 2: Von Halle Heads Final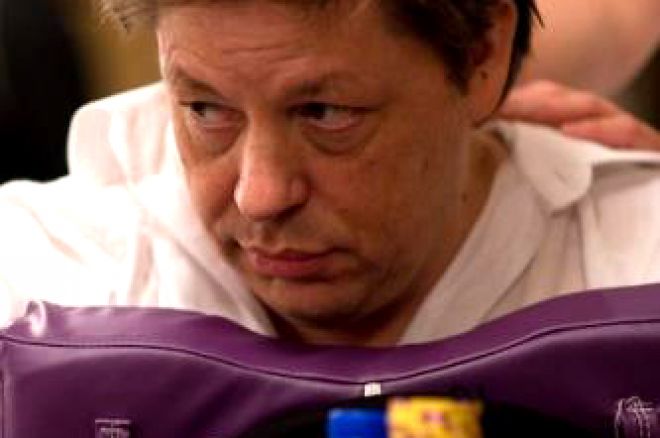 Jan Von Halle shot up from near the bottom of the chip count when Day 2 began to become the clear leader going into the final table, sitting on a third more chips than his closest competitor. The German pro, husband of Team Pokerstars' Katja Thater, surged ahead of the field late in the day for his third cash in this Series and a shot at his first WSOP bracelet. In second place is previous bracelet winner and Full Tilt pro Lee Watkinson, who dominated most of Day 1 before falling back, only to move back up by the end of Day 2 courtesy of a late double-up. Third place is held by another previous bracelet winner, Canadian Robert Cheung, for whom 38 must be a lucky number; He won Event #38 just last year.
Going into the final table, here are the seat assignments, hometowns and chip counts:
Seat 1: David Kitai (Belgium) — 274,000
Seat 2: Ben Roberts (London, England) — 82,000
Seat 3: Ayaz Mahmood (Houston, Texas) — 314,000
Seat 4: Michael Greco (London, England) — 120,000
Seat 5: Chris Bell (Raleigh, North Carolina) — 260,000
Seat 6: Jan Von Halle (Hamburg, Germany) — 485,000
Seat 7: Robert Cheung (Vancouver, British Columbia, Canada) — 352,000
Seat 8: Keith Greer (Fort Worth, Texas) — 238,000
Seat 9: Lee Watkinson (Cheney , Washington) — 357,000
Day 2 began with 63 players who had crossed their first milestone in this tournament – they were already in the money. Their next goal was to make it to the final table. One player, however, had an even greater barrier to overcome than his competitors – he had to get past security without his ID. Michael Greco may be a well-known former soap star in his native England, but at the Rio he was just some guy trying to get to a table without the proper documentation. Eventually, he was able to get to his seat – and immediately double up, his A-Q starting ahead and staying ahead of Rado Boltryk's Q-7. It's likely he will remember his ID on Sunday so he can take his seat at the final table.
As the day progressed, a number of noted pros fell by the wayside. Vanessa Rousso, Roy Winston, Dale Pinchot, Sunny Chattha, Matthew Hilger, Marco Traniello, and Clonie Gowen each had earlier exits than they wished. Rousso was out when she had the bad luck to move in with pocket queens only to discover her opponent, Eugene Todd, had cowboys in the hole. The ladies didn't improve and, in fact, Todd four-flushed on the river, and Rousso was out in 59th place.
Clonie Gowen started the day on a very short stack, but managed to build back up by surviving four all-ins, but an unfortunate river ended her run of double-ups. With a board reading
her opponent, Ben Roberts, led out, and Gowen just flat-called. The river was the
and Roberts bet out again, enough to cover Gowen. She called and they tabled their cards:
for Gowen,
for Roberts. Gowen had hit top pair on the turn, but Roberts rivered a set. Gowen, clearly frustrated, muttered, "Ah, I gave you a free card," as she left in 34th place with $5,506.
Shane "Shaniac" Schleger quickly followed Gowen to the exit, his K-J no match for his opponent's pocket jacks and he went from top ten when the day began to the 33rd-place finisher. This was Schleger's second WSOP cash this year, his fifth overall.
Michael Binger began the day with a big lead, having 50% more chips than his closest competitor. By the time the field had shrunk to just two tables, he was still in good shape, with 170,000 in chips to the 250,000 of then co-leaders Chris Bell and Ayaz Mahmood. As the final table loomed, Binger decided to challenge one of the bigger stacks and that resulted in the most heated departure of the day. Chris Bell had raised to 24,000 from under-the-gun, Binger popped it to 82,000 total. Bell almost instantly went over the top to put Binger at risk and, and after a brief pause, Binger made what appeared to be a very reluctant call. He had put himself all in on a coin flip, A-Q against Bell's J-J. The jacks held up on the 7-5-9-10-9 board and Binger was eliminated in 11th place. Binger stormed off, his frustration at having just missed the final table more than evident.
With just ten players left, and only one to go before the final table was set, all eyes turned to short stack Keith Greer. With fewer than ten big blinds, it looked like he'd have to make a move soon if he wanted to survive, but he picked his spots and was able to scoop a couple of blinds and avoid a heads-up confrontation. But then Greer ended up making a move after there had been a raise and a reraise in front of him. He moved all in for his remaining 67,000 and was isolated heads up by Cheung who moved all in over the top of Greet. Cards on their back, Cheung showed
and Greer had
. The board ran out a blank for Cheung –
— and Greer more than quadrupled up.
Benjamin Zamani had the unfortunate distinction of being the last elimination of the day. He had started ten-handed play squarely in the middle of the pack, but ended up out in back-to-back hands. First, he lost a coin flip against David Kitai who was all in for his tournament life, with A-Q racing Zamani's pocket tens. Kitai caught an ace on the flop to devastate Zamani's stack. Zamani then pushed his last two 1,000 chips against Jan Von Halle. This time it was his opponent who had the tens and he had the ace. But unlike the previous hand, no ace fell anywhere on the board – instead an unnecessary ten spiked on the river – and Benjamin Zamani was out in 10th place with $14,314, setting the final table.
Sunday's winner will take home $244,546 along with the coveted bracelet. Join the live reporting team here at PokerNews.com for full coverage of this final table, beginning at 2pm Pacific Time.