2008 WSOP Event #40, $2,500 2-7 Triple Draw Day 2 – Phan Edges into Lead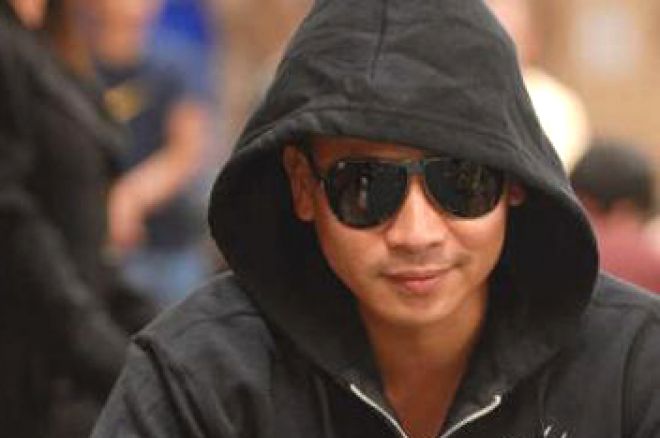 Play started off near the money bubble on Monday in Event #40, $2,500 2-7 Triple Draw, with some big names still in the field. David Sklansky, John "The Razor" Phan, Greg Raymer, Robert Mizrachi and lowball master Billy Baxter all vied for a spot in the money and at the final table. It didn't take long for the bubble to burst, as the 30 remaining players were only six off the bubble as play began on Day 2.
Trung Ly was the unfortunate bubble boy when he found himself all in from the big blind against Claude Cohen. Cohen drew two cards, then one, then one on the final round to finish up with a J-7-5 low. Ly drew three, then one, then one on the last draw to finish up with a J-7-6, one too high to stay in the tournament. Greg Raymer celebrated Ly's elimination, as it marked the end to a streak of 23 WSOP events without a cash for the former world champion.
After the redraw to the final four tables, Bill Chen became the first bustout to collect his winnings. Chen, who finished in 24th ($5,274), saw a huge reversal of his fortunes from his success on Day 1 to his poor starting hands on Day 2. Chen got all his chips in after the first draw, and Chris Vitch was his only caller. Vitch stood pat on every draw, while Chen drew two each time. After the final draw, Vitch showed a 9-8 low, while Chen held 7-5-2 with two cards coming. His first draw was a 3, giving him outs to win, but the 10 on the last card sent him to the rail.
The first table collapsed quickly as the shortest stacks got it all in once the bubble popped. Von Altizer, the last woman in the field, busted in 21st ($5,274) after a frustrating day. Just before her elimination, Altizer was heard to remark, "I've had the best draw four times but it never gets there. Yesterday I made seven wheels, today not one. I keep making straights - even gutterballs!"
Altizer started her final hand with a strong draw again, holding 8-6-5-2. Raymond Davis drew two cards on the first draw, then stood pat with a 10-7-6-4-3. Altizer took one card on each draw, and finally paired her six on the last card and headed to the rail.
Seven-time WSOP bracelet holder Billy Baxter sent Chau Giang to the rail in 17th ($6,843), when Giang got coolered for his bustout. He made a 7-6-5-3-2 after the second draw, and got the last of his short stack into the pot. Baxter made the wheel (7-5-4-3-2) to send Giang to the rail. "Cold deck, cold deck," said Giang as he headed to the payout line. "How can I lay down the hand?"
With the field thinning and the blinds escalating, James Copeland headed to the rail in 13th ($6,843) to set the final two tables. After he was eliminated by Ben Ponzio, the final two tables looked like this:
Table 2
Seat 1 - Gioi Luong
Seat 2 - Ben Ponzio
Seat 3 - Mike Wattel
Seat 4 - Greg Raymer
Seat 5 - Richard Chase
Seat 6 - David Sklansky
Table 4
Seat 1 - Robert Mizrachi
Seat 2 - Dario Alioto
Seat 3 - Steve Sung
Seat 4 - Billy Baxter
Seat 5 - John Phan
Seat 6 - Shun Uchida
Dario Alioto lost a sizable portion of his stack in the elimination hand with James Copeland, and then lost two big hands against John Phan to head to the rail in 12th place ($9,580). Soon after, Greg Raymer lost three big hands in a row to exit in 11th place ($9,580). In the first hand, he came up second-best to Gioi Luong's 7-6-4-3-2 and lost a big pot.
On the next hand, Raymer called Mike Wattel's raise from the button, then drew two cards to Wattel's one. Wattel fired at the pot, and Raymer called. Wattel stood pat on the second draw, and Raymer took one. Wattel then led out again, and Raymer called once more. Raymer stood pat on the third draw, and Wattel decided to break his hand and drew one card. Wattel bet out again, and Raymer thought for a moment before making the call. Wattel showed 8-7-5-3-2, and Raymer's 9-low was no good. Raymer was left crippled and busted on the next hand when he paired deuces to Richard Chase's 8-5-4-3-2.
As the night wore on, the rate of attrition grew quicker, with Richard Chase (10th), Mike Wattel (9th) and Steve Sung all heading to the rail in relatively short order. Billy Baxter fell short in his quest for bracelet number eight, busting in seventh ($15,054) to become the final-table bubble boy. After starting the day with the shortest stack, Baxter ran his luck almost all the way to the final table before busting out.
Baxter raised before the draw and was called by David Sklansky and Gioi Luong. All three players drew two cards, and the action checked to Baxter. He led out, and Sklansky folded. Luong called, and drew two again. Baxter took one card, and led out again with a bet. Luong raised, and Baxter called all in. Both players drew one card, and Luong showed 7-6-5-2. His draw was a queen, putting Baxter's draw live with his 8-5-4-2. Baxter also drew a queen, and he was eliminated.
The final hand moved Gioi Luong into striking distance of John Phan's chip lead, as the final table chip counts will be as follows entering Tuesday's play:
John Phan 294,000
Gioi Luong 291,000
Robert Mizrachi 215,000
Shun Uchida 200,000
Ben Ponzio 113,000
David Sklansky 78,000
Join PokerNews at 2PM PDT for all the updates as these final six players battle for the bracelet.