2008 WSOP Event #41 $1,500 Mixed-Limit Hold'em Day 2: Gavatin, Binger Lead Way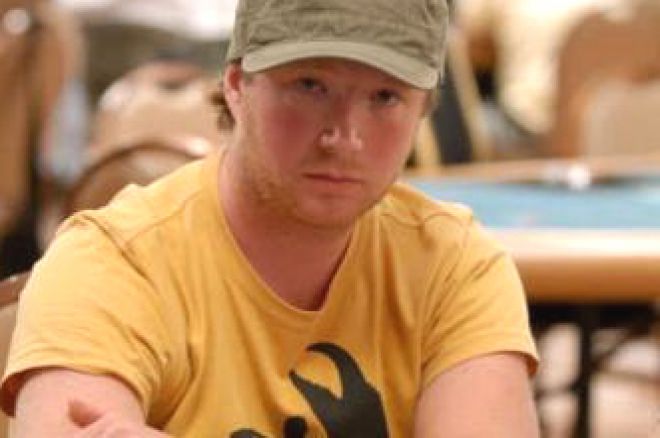 Day 2 of 2008 WSOP Event 41, $1,500 Mixed-Limit Hold'em, began with 98 players vying for a spot at the final table, where Tuesday's winner will take home $219,508 and the WSOP winner's bracelet. Mats Gavatin, a Swedish pro with two major European tournament wins, ended the day at the top, with 405,000 in chips. He is followed by Las Vegas pro Nick Binger who has 23 major cashes, but, like Gavatin, is seeking his first bracelet.
Going into the final table, here are the players' seat assignments, hometowns and chip counts:
Seat 1: Chris Rentes (Kinnegad, Ireland) — 132,000
Seat 2: Michael Chu (Los Angeles, California) — 264,000
Seat 3: Alex Jalali (Bochum, Germany) — 204,000
Seat 4: Nick Binger (Las Vegas, Nevada) — 339,000
Seat 5: David Machowsky (Dayton, Ohio) — 147,500
Seat 6: Jonathan Tamayo (Humble, Texas) — 238,500
Seat 7: Mats Gavatin (Stockholm, Sweden) — 405,000
Seat 8: Frank Gary (Fort Myers, Florida) — 332,000
Seat 9: David Sorger (Toronto, Ontario, Canada) — 130,000
Jonathan Tamayo, the overnight chip leader, was the only one of the Day 1 top ten to make it to the final table. He started the day seated at a table packed with talented players – David Levi, Alex Bolotin, Lou Esposito, Bob Lauria, and Nam Le. Tamayo moved further out in front right away at the expense of Bolotin. With the board showing K-8-8-4, Bolotin check-raised all in. Tamayo called and turned over K-8 for the flopped full house. Bolotin had K-Q and needed the case king for a chop. But the river was a ten and Bolotin was out early.
At that same table, Nam Le was nursing a short stack as play turned to hand-for-hand in anticipation of the money bubble bursting. He saw a flop of
with Esposito and Levi. After Levi bet, Esposito folded and Le pushed for his remaining chips. Levi called. Le showed
for a set of sevens, while Levi had
and needed some help. The turn was a
and the river the
, and Le scooped up some much-needed chips at just the right time.
The bubble boy eventually did come from that table; it was Bob Lauria who took that unwanted honor. Lauria pushed his remaining 600 chips in with
. Le raised to isolated Lauria, whom he had covered. Le showed
and was in the lead. The board only improved Le's hand further, coming
giving Le a full house and sending Lauria out in 73rd place. From then on, the least a player would leave with was $2,794.
Todd "Dan Druff" Witteles had just barely escaped taking Lauria's place, when he survived his 600-chip all-in. An hour later, he had brought his stack up to 68,000. One hand that helped get him there was against Chris Hughes. Witteles called Hughes' reraise and they saw a flop of
. After the flop, betting was eventually capped with Hughes all in. Hughes turned over
and was ahead of Witteles'
. He stayed ahead on the
turn, but the
river gave Witteles trips and sent Hughes out in 61st place, with $3,093.
A number of notable pros had survived past the money bubble, adding another WSOP cash to their stats. Stuart Paterson (62nd), David Plastik (59th) and Stuart Rutter (56th) each left with $3,093; Fabrice Soulier (53rd) and Rolf Slotboom (51st) took $3,393, while WPT and WSOP Circuit event winner Lou Esposito (66th) also made his first World Series cash.
Ricky Sanders came into the day second in chips, but was out in 21st place when he put all his chips in with K-K against the A-A of Mats Gavatin. The bullets held up and Sanders was out, with $5,688. Alexander Borteh, who had won a bracelet last year in $3,000 Limit Hold'em, was eliminated next when he couldn't beat the ace-high of Alex Jalali.
After three more relatively quick eliminations – Michael Rosenthal, Quyen Nguyen and Jeff Norman – the pace of play slowed. In the next hour there were only two significant hands, one in which Todd Witteles survived an all-in and the other where Daniel Kraus was not so lucky, and was eliminated in 16th place, with $7,484.
Klein Bach, who had started the day third in chips, hit a cooler for most of his chips when his Q-Q ran up against the K-K of Frank Gary. He was out the next hand after going all in under the gun and getting three callers — Gary, Witteles and Hien Tran. The three checked the
flop. After the
turn, Gary bet 8,000, Witteles folded and Tran called. The
hit on the river; Tran moved all in for 16,000 and Gary called, showing
for aces up. Bach was out in 15th place, with just pocket sevens, and Tran was next out, revealing
. They each took home $9,978.
Chris Rentes sent the next two players to the rail. First, he had A-6 against Elliot Smith's Q-9, then paired his ace on the flop — while Smith only paired his nine — and the board ran out with no change. Then Rentes took A-7 against Sam Hiatt's pocket jacks and spiked two aces on the flop; Hiatt's needed jack failed to show. Smith took $9,978 for 13th, while Hiatt made $12,473 for 12th.
David Sorger eliminated Justin St. John in 11th place. Sorger started ahead,
to St. John's
. St. John hit a jack on the flop, but Sorger spiked the ace on the river and St. John was out with $12,473.
While he escaped being the money-bubble boy, Todd Witteles ended up on the final-table bubble. After a flop of
, Witteles check-raised all in. Michael Chu called and their hands were tabled:
for Witteles,
for Chu. The
turn gave Chu a set but added some outs for Witteles, but the river
missed and he was out in 10th, taking home $12,473.
Join PokerNews for live reporting of this event's final table, starting at 3pm Pacific Time on Tuesday.