2008 WSOP Event #42 $1,000 Seniors NLHE: Dale Eberle Heads Final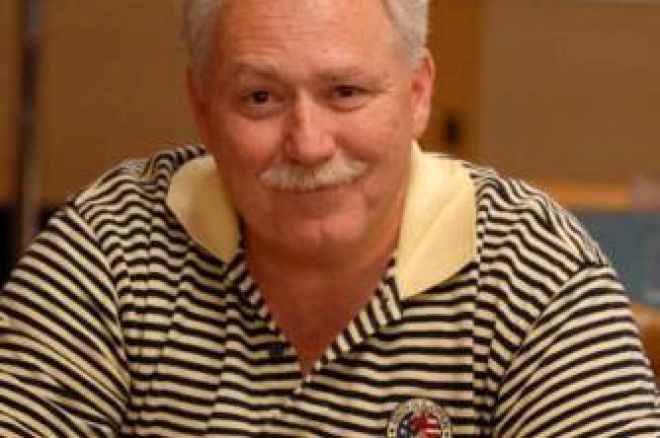 Day 2 of Event #45, the $1,000 Seniors No-Limit Hold'em World Championship, started with 220 players and handily made it past the money bubble early in the day. But it would take until nearly 4:30 in the morning before Dale Eberle's pocket aces eliminated Ronald Puleo in 10th place, giving Eberle the chip lead and setting up the final table. These nine players will return on Wednesday to battle for the bracelet:
Dale Eberle — 1,414,000
Dan Lacourse — 1,364,000
Marc Fluss — 873,000
Jerry Yamachika — 558,000
Charles Wood — 531,000
Fred Berger — 518,000
Ed Clark — 504,000
Martyn Wilson — 454,000
Peter Silverstein — 435,000
Soon after the money bubble burst, Fred Berger's pocket aces defeated Gary Goad's A-K to eliminate Goad in 196th place and to start Fred Berger's run to the final table. When the final table begins, Berger will be looking for his second WSOP bracelet, after having won a WSOP Pot-Limit Hold'em event in 2002. Two-time bracelet winner Hieu "Tony" Ma, however, lost his bid for another when he was eliminated in 186th place.
It's never too late to cash in your first WSOP. The oldest member of this year's Seniors event field was Herald Waite at 91 years old who put in a 142nd-place, money-winning performance. Soon after, the 2004 WSOP Seniors bracelet holder, Gary Gibbs was unable to regain his title, finishing in 139th. Before his 2004 bracelet-winning performance, Gibbs hadn't moneyed in a major tournament, only taking up poker in earnest after his retirement. Gibbs has since added well over $500,000 in tournament cashes to his retirement account.
Bob Feduniak finished in 131st for his second cash of the 2008 WSOP, while author/publisher Avery Cardoza finished in 97th place for his second money finish in any WSOP event.
"You've got to be kidding!" said Amarillo Slim before declaring, "It's getting late and the boss has got a date! I call!" Slim was able to keep his date when his pocket jacks failed to overcome Charles Wood's pocket queens. The former WSOP Main Event champion removed his hat and waved to the room, saying, "Thank you, everybody," as he exited the tournament in 91st place.
Men "The Master" Nguyen put together a strong run at the beginning of the day, but it ended when his flopped flush draw couldn't connect to overtake Martin Wilson's flopped set. Men Nguyen finished in 45th place. On his way to the final table, Charles Wood eliminated a number of players, including Marsha Waggoner, the highest woman finisher, in 35th place.
Fred Berger had former WSOP Champion Tom McEvoy covered by a nose when Berger's pocket kings held against McEvoy's A-J; McEvoy ended his day in 28th place. Berger would also get another key double-up toward the end of the night when his pocket queens held against Daniel Lacourse's pocket nines. But Lacourse would rebuild his stack and then some, first doubling through Edward Clark and then eliminating Mike Allis in 11th place. Lacourse took the chip lead, but only temporarily. The final hand would belong to Dale Eberle and his pocket aces, pushing him just over the top of Lacourse in chip count as they head into the final table.
Check back with the PokerNews "Live Reporting" team on Wednesday for all the final table action. Play resumes at 2pm Pacific Time.