2008 WSOP Event #42, $1,000 Seniors Day 1: Gerleman Leads as Money Bubble Looms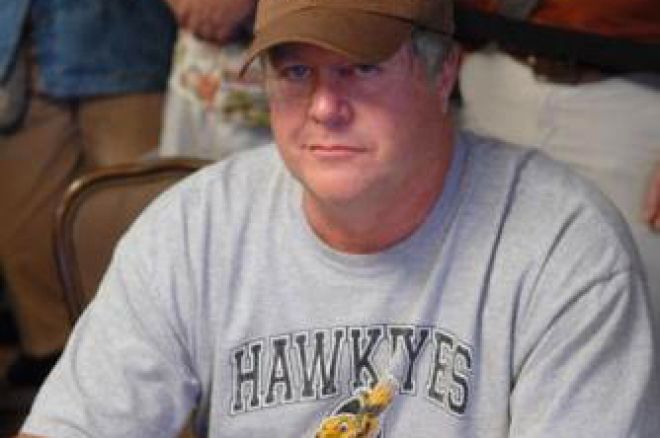 Day 1 of Event 42, $1,000 Seniors No-Limit Hold'em World Championship, began with 2,218 players, the largest starting field ever assembled for the WSOP Seniors event. And when the 220 remaining players, led by Duane Gerleman, return for Day 2, they'll have short work to reach the money which begins in 198th place.
The event attracted ESPN commentator Lon McEachern, who took a bit of a busman's holiday to play, as did poker tournament director Jack McClelland and author/publisher Avery Cardoza. While 1987-88 WSOP Champion Johnny Chan was among the youngsters in the field at a spry 51, Harold Waite claimed the other end of the event's age spectrum at 91, and received an ovation from the field as well.
Chan wasn't the only former WSOP Champion in the field as Tom McEvoy and Amarillo Slim Preston were also in attendance. Seven-time WSOP bracelet winner Billy Baxter was two-timing this event, simultaneously playing in Day 2 of the Deuce-to-Seven Lowball event where he ultimately put in a seventh-place performance.
As with prior large NLHE events, this event played fast and dealers yelling "Seat open!" were early and frequent refrains. Mike "The Mad Professor" Caro got all his chips in on a flop of 8-7-4 announcing, "Even if you have 6-5, I still have outs." Caro had pocket fours for bottom set and needed those outs as his opponent did indeed have 6-5 for the straight. But Caro was eliminated when the board failed to pair.
Blair Rodman was crippled early in the event when he called holding A-K against a player who was all in pre-flop with Q-9 and a nine flopped. Soon after, Rodman took his pocket threes up against pocket tens and an A-K; an ace on the river sent him to the rail. Johnny Chan, Thor Hansen and Maureen Feduniak were also early casualties.
Lon McEachern's pocket nines failed to overcome an opponents pocket jacks to end his day. And Humberto Brenes' pocket fours faced off against two opponents, one holding pocket kings and the other with an A-Q. An ace fell on the flop and Brenes was out when no salvation came on the board that followed. Paul "Eskimo" Clark took an early hit in the event when an opponent hit a gutshot straight draw on the river. Clark nursed a short stack for awhile, but eventually succumbed.
Mike "Little Man" Sica pushed all in on a 7-7-3 flop holding 4-3 for two pair. An opponent called with K-10 and caught a ten on the river to eliminate Sica. "Minneapolis" Jim Meehan was eliminated when his A-4 couldn't navigate past a player's pocket deuces. And Barry Shulman called all in with A-7 after connecting with a 10-7-2 flop, only to discover he was up against top pair. Shulman's exit came just before the dinner break.
Shortly after the dinner break, a wave of eliminations claimed Doug "Rico" Carli, Jack McClelland, and Nancy Todd Tyner. But Marsha Waggoner, Men Nguyen, Tony Ma and Tom Franklin found renewed strength after dinner, all chipping up as the day drew to a close.
The returning players will be chasing the money bubble on Day 2, which will come early in the day. After the bubble bursts it will be a long day to reach a final table of nine. And it will be another day after that before the bracelet and $368,832 first-place money find their rightful owner.
Among those returning for Day 2 are our top-ten chip leaders (listed below), along with 2004 Seniors bracelet winner Gary Gibbs, Tom McEvoy, Marsha Waggoner, John Esposito, Bob Feduniak, Tony Ma, and "Amarillo Slim" Preston.
Duane Gerleman — 139,800
Steve Fager — 101,700
Dale Eberle — 86,200
Tom Franklin — 84,100
Men Nguyen — 81,500
Dempster Ross — 75,800
Avery Cardoza — 73,100
Ralph Wetterhahn — 70,800
Gregory Alston — 69,000
Lonnie Boeding — 68,500