2008 WSOP Event #43 $1,500 Pot-Limit Omaha Hi/Low: Martin Klaser Claims Title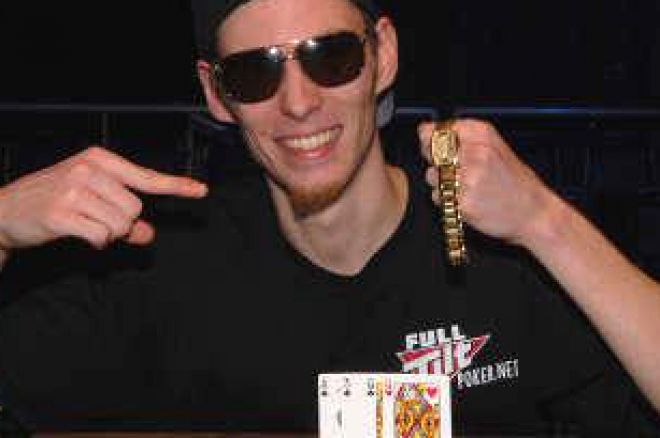 It took three long days and 719 eliminations, but Martin Klaser came from the middle of the final-table pack to claim his first World Series of Poker bracelet in Event #43, $1,500 Pot-Limit Omaha Hi/Low. Along the way he eliminated over half of his final-table opponents and claimed nearly every heads-up pot in an impressive display of dominance. He picked up $216,249 and the bracelet for his three days of tournament poker.
Klaser started the final table third in chips, behind Jon Maren and eight-time bracelet winner Erik Seidel. The chip counts and seating assignments looked like this as the final nine players took their seats:
Seat 1: Joseph Haddad (Portland, Oregon) – 135,000
Seat 2: Tom Chambers (Chicago, Illinois) — 263,000
Seat 3: Larry Wright (McQueeney, Texas) — 117,000
Seat 4: Chad Burum (Grants Pass, Oregon) — 117,000
Seat 5: Michael Fetter (Vallejo, California) — 288,000
Seat 6: Casey Kastle (Chicago, Illinois) — 188,000
Seat 7: Jon Maren (North Andover, Massachusetts) — 377,000
Seat 8: Martin Klaser (Rheinbach, Germany) — 337,000
Seat 9: Erik Seidel (Las Vegas, Nevada) — 340,000
Tom Chambers hit some bad luck early and headed to the rail in ninth place ($19,656). After starting the day in the middle of the pack, Chambers got into a big pot with Casey Kastle on a board of
. Kastle led out at the turn with a pot-sized bet, and Chambers quickly raised all in. After several minutes, Kastle called with
for a flush draw and a nut low draw. Chambers tabled
for top set, but the
on the river completed Kastle's low and the flush, and Chambers was busted.
Short-stacked Larry Wright busted in eighth place ($27,027) when he got his last few chips in against Casey Kastle preflop. Kastle flopped the nut flush, and no low cards came on the turn and river to save Wright as he went to the rail in eighth.
Martin Klaser took over for Kastle when he knocked out Joseph Haddad in seventh place ($34,389). Haddad moved all in over the top of Klaser's preflop raise with
and was in good shape when Klaser called with
. The flop was perfect for Klaser, however, coming down
to make his wheel. No help came on the turn or river for Haddad, and he was done.
Klaser continued his aggressive play when he bounced Chad Burum in sixth place ($44,226). Burum called a preflop raise from Klaser to see a flop of
. Burum got all his chips in the middle with
for a flush draw and a strong low draw, but Klaser held
for a made two pair and the nut low draw. The turn and river ran out
, and Klaser scooped the last of Burum's chips.
Casey Kastle picked up another knockout when he busted Day 2 chip leader Jon Maren in fifth place ($56,019). Maren raised preflop, and Kastle called to see a flop of
. Kastle checked, then called Maren's all-in move. Kastle was slightly ahead with 6-6-5-2 for a pair of sixes, and Maren tabled A-J-2-3 for a straight draw and overcards. The
turn was no help for Maren, and the
river sent him to the rail.
Erik Seidel came into the final table looking for his ninth WSOP bracelet, but fell short when he was eliminated in fourth place ($68,304). In his final hand, Seidel raised preflop, and called all-in when Casey Kastle reraised. Seidel tabled
to Kastle's
. Seidel missed everything on the
board, while Kastle made a full house to send the eight-time WSOP champ to the rail.
Martin Klaser took out the short-stacked Michael Fetter in third place ($83,538) to set up the seemingly inevitable confrontation between the two men who had eliminated all the rest of the final table. All the chips went in preflop, with Klaser holding
to Fetter's
. Klaser made trips on the
flop, and Fetter couldn't catch up as the turn and river ran out
and
.
Klaser took a solid chip lead into heads-up play, and he turned up the heat on his dominating final table performance, winning 16 of the 19 heads-up hands on his way to the bracelet. The chip stacks looked like this when heads-up play began:
Martin Klaser: 1,520,000
Casey Kastle: 590,000
In his final hand, Casey Kastle moved all in on a
flop, and Klaser called with
for an overpair. Kastle held
for top pair and a backdoor straight draw. The
turn killed all the suspense, giving Klaser the full house and leaving Kastle drawing dead. Kastle picked up $137,985 for his runner-up finish. Martin Klaser pocketed $216,249 for his victory in his very first WSOP event. The young German player has seen a lot of success overseas, and this undoubtedly marks the beginning of a great career.