2008 WSOP Event #44 $1,000 No-Limit Hold'em w/Rebuys: Jesse Chinni Heads Final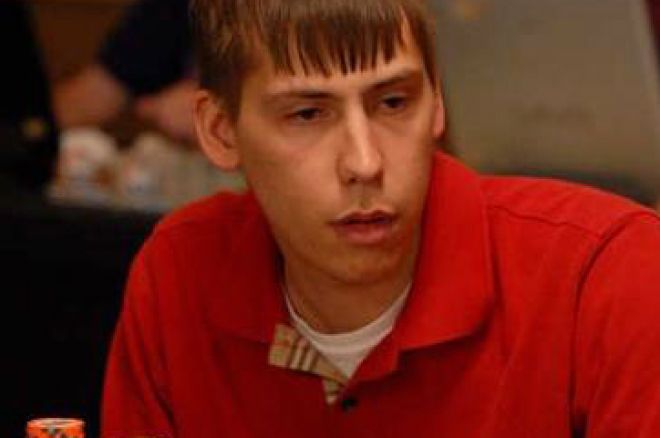 Day 2 of Event #44, $1,000 No-Limit Hold'em w/ Rebuys, began Day 2 with 115 players and ended with the final nine who will come back to compete on Friday for the top payout, $693,392, and the winner's bracelet. Jesse Chinni leads the field going into the finals. This is his second cash of this year's WSOP and his first final table. Among those chasing Chinni are Scandinavians Albert Iversen, in third spot, who has already cashed twice in the Series, and Rene Mouritsen, currently second, who has had two WSOP second-place finishes and will be hoping to best that here.
Here are the seat assignments, hometowns, and chip counts of the final nine:
Seat 1: Scott Freeman (Los Angeles, California) — 675,000
Seat 2: Max Greenwood (Toronto, Canada) — 728,000
Seat 3: Curtis Kohlberg (Weston, Massachusetts) — 209,000
Seat 4: Rene Mouritsen (Aarhus, Denmark) — 1,007,000
Seat 5: Alex Bolotin (Brooklyn, New York) — 308,000
Seat 6: Albert Iversen (Aarhus, Denmark) — 921,000
Seat 7: Aliaksandr Dzianisau (Russia) — 186,000
Seat 8: Phung Ngo (Commerce, Michigan) — 556,000
Seat 9: Jesse Chinni (Ellicott City, MD) — 2,160,000
The day started with the countdown to the money bubble. 34 players were eliminated before the cash was reached, including John Phan, Tommy Vu, Jordan Smith, and Sarah Bilney. Bilney's early departure came courtesy of Albert Iversen who called her all-in after a flop of
. When the hands were tabled, Bilney was in the lead
giving her top pair over Iversen's
for bottom pair and flush draw. But the
spiked on the turn, giving Iversen a flush and leaving Bilney drawing dead.
This event's unfortunate bubble boy was Ken Hennum. Hennum was all in preflop against J.C. Tran and had him dominated,
versus
. The flop seemed to guarantee a double-up for Hennum as it fell
. But runner-runner nines for Tran gave him the winning trips and Hennum an untimely exit. To make up for the bad beat, Tran reportedly offered Hennum 1% of his prize money.
Albert Iversen seemed to be involved in every big hand early. He came out on top of a three-way preflop all-in by Bryan Asch and Eric Semel which built a pot of 300,000 chips. When they turned over their hands, Asch was in the lead with A-K; Semel had 5-6 and Iversen had A-10. The dealer spread out the cards 3-10-9-3-5 and Iversen knocked out two opponents and scooped a massive pot.
Later, in another three-way pot, Iversen ended up on the losing end. Scott Freeman opened by moving all in, Jeff Williams reraised all in from middle position and Iversen went all in as well. They each had a monster hand:
for Iversen,
for Williams, but Freeman was ahead with
. The board ran out
, changing nothing and ending Williams' tournament, taking Iversen's stack down to 160,000, and pushing Freeman up to 750,000 for the chip lead.
Two players who had been back-to-back atop the leaderboard at the end of Day 1, left back-to-back as well. Brent Hanks was out when he made the wrong bluff at the wrong time. With the board reading
, Hanks moved all in against Rene Mouritsen. Mouritsen showed
for the full boat and caught Hanks in a bluff with
; he was drawing dead and out in 50th place.
Simon Ravnsbaek started Day 2 just behind Hanks, fourth in chips, and ended up exiting right after him, in 49th place. Ravnsbaek moved all in on the button and he received a snap-call from Scott Freeman, who turned up
. Ravnsbaek was in trouble with
, and watced as Freeman's third ace hit on the flop and the fourth came on the turn, and Ravnsbaek departed with a $10,692 payout, the same as Hanks.
Many notables went deep into the money, but fell short of the final table. Scott Clements was the first to cash, out in 81st place, followed shortly by Humberto Brenes (77th); each earned $7,776. Men "The Master" Nguyen (57th), Stuart Paterson (55th), and Sam Simon (53rd) also had short days, and left with $9,720. Peter Feldman (12th) and Eric Froehlich (13th) went deep, cashing $39,854 and $31,753, respectively.
Jamel Maistriaux, the overnight leader, was out in 78th place. He lost most of his chips to Mark Seif after calling Seif's all-in with a board showing A-8-A-4-5. Seif turned over A-4 for the full house and Maistriaux was knocked down and unable to get up again. Seif came into today sixth in chips, and was the leader after that hand, but was crippled after pushing pocket nines preflop against Phung Ngo. Ngo called with pocket aces. Another ace came on the turn for good measure, and Seif was out in 23rd place, for $18,144.
Down to the final 14 players, two big stacks went toe-to-toe. Curtis Kohlberg fired three bullets at a board that played out K-6-3-9-6 holding just 8-9. His opponent, Rene Mouritsen, called him down each time and then revealed K-7 for top pair. His Danish supporters let out a yell of, "Kongen med oeksen!" or "King with the axe!" as Mouritsen raked the chips. With that win, Mouritsen topped one million.
In the final big pot of the day, five players saw a
flop. Jamie Rosen got all his chips in and one of the five, Jesse Chinni, stayed with him. As soon as Chinni called, Rosen asked, "You have sevens full?" He did indeed, showing Rosen
. Rosen had
and was looking for the case three. When it didn't come, Rosen was out in 10th place, taking home $39,854, and the final table was set.
Join PokerNews.com for live reporting of the final table of this event beginning at 2pm Pacific Time on Friday.