2008 WSOP Event #45, $50,000 H.O.R.S.E. Day 4: Erick Lindgren, Scotty Nguyen Head Final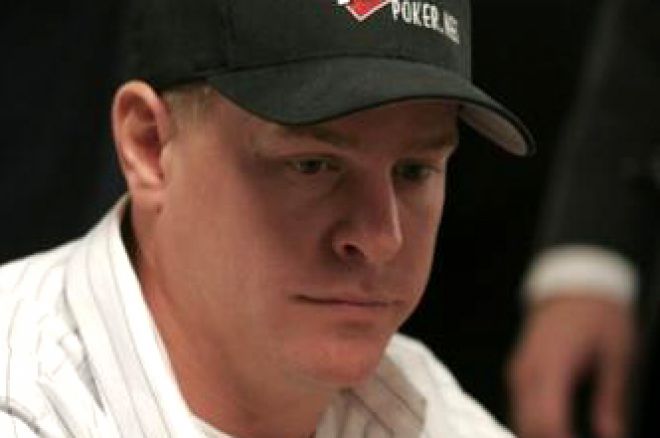 Beginning Day 4, the 24 remaining players in Event #45, $50,000 H.O.R.S.E., featured world champions, internet superstars, top cash game players, TV stars and one living legend. With over 30 WSOP bracelets among them, the players comprised one of the toughest fields in poker history. Michael DeMichele took the chip lead into Day 4, with Barry Greenstein and Daniel Negreanu hot on his heels.
The eliminations came steadily on Day 4, with only 16 players busting before the final table was set. Chad Brown was the first to fall when he, Gabe Kaplan and Patrick Bueno got into a big pot in stud. Bueno completed on third street, and both Kaplan and Brown called. Brown raised on fourth street with
showing, and Kaplan and Bueno both called. Bueno led out again on fifth street with
showing, and Brown called all in. Kaplan called with
showing, and called again when Bueno led out on sixth street. By this time Bueno was showing
to Kaplan's
. Kaplan folded on seventh street, and Bueno showed
in the hole for the queen-high flush. Brown mucked, and Kaplan was left crippled as Brown headed to the rail in 24th. Kaplan busted soon after in 23rd.
James "mig.com" Mackey headed to the rail in 22nd when he raised preflop in Omaha hi/lo with
and was reraised by Farzad Bonyadi with
. Mackey called all in, the board ran out
, and Bonyadi scooped the whole pot with a pair of aces and a 7-5-3-2-A low.
Mike Wattel became the money bubble boy when Barry Greenstein sent him to the rail in stud. Wattel got the last of his chips in with split queens on third street, but Greenstein started with [
]
and caught three more spades for a flush. Wattel was drawing dead by sixth street, and he finished in 17th place to burst the money bubble.
Wattel's elimination set up a redraw for the final two tables, and the final sixteen looked like this after the new seating assignments were made:
(Table 32)
Seat 1: Patrick Bueno 730,000
Seat 2: Huck Seed 900,000
Seat 3: Joseph Michael 575,000
Seat 4: Scotty Nguyen 1,050,000
Seat 5: Phil Ivey 635,000
Seat 6: Barry Greenstein 1,300,000
Seat 7: Doyle Brunson 60,000
Seat 8: David Bach 800,000
(Table 39)
Seat 1: Erick Lindgren 355,000
Seat 2: Raymond Davis 1,200,000
Seat 3: Michael DeMichele 1,010,000
Seat 4: Lyle Berman 1,100,000
Seat 5: Andy Bloch 120,000
Seat 6: Ralph Perry 1,635,000
Seat 7: Daniel Negreanu 1,480,000
Seat 8: Matt Glantz 1,460,000
Doyle Brunson's quest for his 11th bracelet and the memorial trophy to his best friend Chip Reese fell short in 16th place when he lost a three-way stud hand against Barry Greenstein and Phil Ivey. Brunson was all in on third street, and Greenstein and Ivey traded bets on every street until Ivey tabled a pair of kings with an ace kicker to take down the pot and send Brunson to the rail in 16th place ($124,320).
Andy Bloch started Day 4 as one of the players capable of claiming the lead in the 2008 Player of the Year race. Depending on finish, Bloch, Barry Greenstein, Daniel Negreanu and Erick Lindgren all had the opportunity to overtake POY leader Jacobo Fernandez. Bloch's chances at the POY title faded along with his hopes for a bracelet in Event #45, and he busted in 15th ($124,320). Bloch's last chips went in on a stud hand with tens in the hole, but he ran into Matt Glantz's aces in the hole. Bloch never improved, and he was done.
Stud was also a killer for Joseph Michael, as he got the last of his chips in on sixth street with David Bach. Michael's board showed
, and Bach showed
. Bach had wired kings in the hole to Michael's [
], and was in good shape when the money went in. Michael picked up the
on seventh to make two pair, but Bach made a bigger two pair when he drew the
. Michael picked up $142,080 for his 14th-place finish.
Daniel Negreanu took a huge hit to his stack just before the dinner break, and then came back from dinner to bust in 13th place ($142,080). Negreanu got the last of his stack in the middle against Lyle Berman in a stud hi/lo hand with [
]
on fifth street against Berman's [
]
, but Berman caught the
on sixth street for two pair, then the
on seventh for a full house to send Negreanu to the rail.
Phil Ivey picked up another cash in the 2008 WSOP here, but fell short of a bracelet again when he busted in 12th ($159,840). Scotty Nguyen made a pair of aces on seventh to bust Ivey's pair of threes and send him to the cashier's cage. Nguyen became even more active after eliminating Ivey, picking off a huge bluff by David Bach and grabbing chips with abandon as the final table neared. Nguyen's aggression paid off as he finished the day close behind chip leader Erick Lindgren.
Raymond Davis found himself crippled after a huge pot with Erick Lindgren in Omaha hi/lo, then headed to the rail in 10th place ($177,600) after Patrick Bueno caught the perfect flop in hold'em to bust him. All the money went in preflop, and Davis held
, dominating Bueno's
. The flop came down
, and Bueno surged into the lead. The turn and river came down running fives to give Bueno a full house and send Davis home just off the final table.
Ralph Perry became the final-table bubble boy when he pushed his remaining chips in against Huck Seed on a flop of
in Omaha hi/lo. Seed flopped the nut flush with a nut-low redraw holding
to Perry's second-nut flush with
. No help came for Perry on the turn or river, and he went out in ninth place ($177,600) in a real cooler of a hand. That hand moved Seed into the middle of the pack at the final table, as Erick Lindgren and Scotty Nguyen held dominating chip leads over the rest of the field. The final-table seating assignments and chip stacks looked like this when the last chips were bagged:
Seat 1: Matt Glantz 1,445,000
Seat 2: Huck Seed 1,200,000
Seat 3: Patrick Bueno 695,000
Seat 4: Lyle Berman 1,430,000
Seat 5: Scotty Nguyen 3,535,000
Seat 6: Barry Greenstein 1,955,000
Seat 7: Michael DeMichele 905,000
Seat 8: Erick Lindgren 3,680,000
Join PokerNews at 3PM PDT for the final table of the biggest buy-in event at the 2008 WSOP, to see who will be the winner of the 2008 Chip Reese Memorial Trophy.