2008 WSOP Event #5, Day 1, $1,000 NLHE: Ivey Surges Late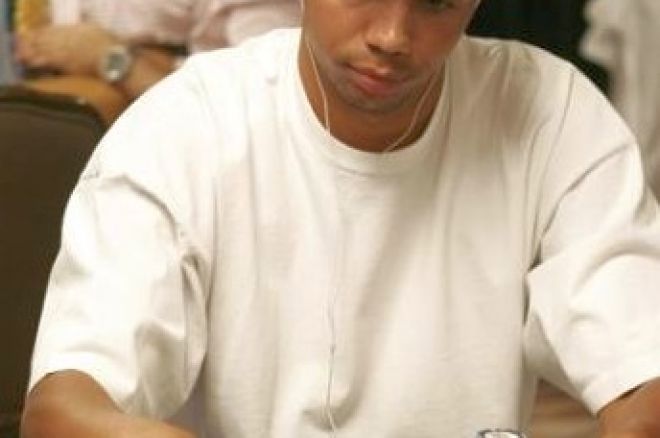 Event #5, the $1,000 No-Limit Hold'em w/ Rebuys, promised to be a wild and woolly event where in the early stages "out" wouldn't be "out" for long – at least not as long as one's bankroll and desire to play held up. But as players knew, deep pockets don't necessarily equal success as last year's winner, Michael Chiu, proved when he mastered the 814-player field and won $585,774 – without a single rebuy. This year's event attracted 766 entrants and, with a staggering 2,258 rebuys, its prize pool will top out at a whopping $2,894,094. The top 72 players will cash, with 72nd place taking home $8,103 and first place raking in $636,736 – a great return if, like Chiu, you're lucky enough to get there with just your original $1,000 buy-in.
This event had its share of star power with the likes Gavin Smith, David Benyamine, T.J. Cloutier, Greg Raymer, Johnny Chan, Erick Lindgren, Daniel Negreanu, Mike "The Mouth" Matusow, Men "The Master" Nguyen, Vanessa Rousso, John "The Razor" Phan, Jeff Lisandro, and Lee Watkinson in attendance. Fashionably late arrivals included Allen Cunningham, Freddy Deeb, Max Pescatori, Brandon Cantu, and Layne Flack. Phil Hellmuth made his customary late entrance and immediately lost his remaining 1,075 chips when he ran pocket eights into pocket aces. First rebuy of the day for Hellmuth.
Loose play ruled the early rebuy section, as many players opted for the blind all-in move on multiple and successive hands. So much re-buying went on that some tables ran out of chips, requiring the floor to scramble to bring in trays of reinforcements. With the conclusion of the rebuy levels, the atmosphere in the Amazon room was completely different. Players weren't as anxious, tables weren't as lively, and the level of intensity escalated. From every table was heard the sound of "Seat open!" and at least one table had lost five players in the first 15 minutes following the rebuy period.
Many famous faces were sent to the rail early including Cloutier, Lisandro, Dario Minieri, Gabe Kaplan, Robert Mizrachi, Men Nguyen, J.C. Tran, Barry Greenstein, Freddy Deeb, and Kathy Liebert. Another notable loss – quite a few pounds off of Mike Matusow. Apparently, Matusow and Ted Forrest had a prop bet that involved Matusow losing a significant amount of weight by a certain date. From the looks of the newly sleek Matusow, Forrest may need to pay up.
There was a big of a commotion at table #1 when Bill Pryor made it 950 to go from under the gun. A player in the hijack moved all in and Mark Puma, from the button, moved all in as well for his remaining 3,000. Pryor called but as the dealer scooped in the blinds she inadvertently mucked Puma's cards. A tournament director was immediately called over to determine the outcome of the hand and ruled that 950 was owed to the pot from Puma's stack but that his hand would be dead. Pryor, who had shown his pocket aces at this point, became quite upset and asked to appeal the decision. The player in the hijack showed pocket nines while the wait began for a second ruling. The new floor staff upheld the decision and the hand continued. The board ran
and the player with the pocket nines was eliminated. As the chips were being shipped Pryor's way, Puma chuckled and said, "You woulda lost, dude."
Before dinner, knock-out punches sent Jennifer Tilly, Eli Elezra, Jonathan Little, Todd Witteles, Shannon Shorr and Gavin Smith to the rail. But near the top of the leader board there were still plenty of familiar names including Raymer, Negreanu, Hellmuth, Ivey, and Juanda. After the dinner break, some more big names hit the rail — Alex Bolotin, Matusow, Erick Lindgren and Jamie Gold each called it an early night.
It must have been quite a sight for the other five players at Table #13 to look around and see Johnny Chan, Phil Hellmuth, Allen Cunningham and Lee Watkinson at their table. But one of them, Lyric Duveyoung, took on the challenge and found much good fortune. After pushing all in with marginal hands and showing the table, he pushed with pocket tens after Hellmuth limped, and Cunningham called for the last of his chips. Hellmuth snap-called and showed
while Cunningham tabled
. The board was a bust for the overcards and Cunningham was eliminated while Duveyoung doubled through Hellmuth. A couple of hands later, Lyric raised, moving all in on Johnny Chan, after Chan bet 5,000 on a
board. Chan called, showing
while Duveyoung rolled over
. A king on the river eliminated Chan.
The players at Phil Hellmuth's table got a taste of his frustration when he announced, "That's it, I'm raising every pot, I'm here to gamble." Under the gun, he raised to 2,000 and had one caller before another player (with about 10,000 in his stack) raised to 7,500. Hellmuth pushed, the original caller folded, and the player who raised and who'd already committed about three-fourths of his chips... folded. Hellmuth showed the
and proclaimed, "Who do you think you're playing? I can read them... I can read their souls. Not today baby, good luck bluffing me."
Elsewhere, Phil Ivey, was in control of his table. Near the end of the day, while in the big blind, Ivey called a 2,000 preflop raise. The flop came
. Ivey checked-called a 4,000 bet and the turn brought the
. Both players checked the turn, and the
fell on the river. Ivey checked the river, only to have his opponent fire 16,000 into the pot. Ivey counted his chips, then relooked at his cards, counted his chips once more, then slid the 16,000 into the pot. His opponent flipped over A-Q for top two pair, while Ivey turned over
for the flush.
After ten levels of play, Day 1 of Event #5 came to a close just before 2 am with approximately 106 players remaining and Phil Ivey sitting atop the leader board with 175,500 chips. Several pros close on Ivey's heels included Amit Makhija, Daniel Negreanu, Alex Jacob, Jeff Madsen and John Juanda. The top ten in chips are as follows:
Phil Ivey 175,500
Amit Makhija 161,100
Jeff Williams 145,700
Marco Johnson 132,600
Jesse Chinni 129,000
John Hoang 125,400
Zachary Clark 122,000
Scott Dorin 117,300
Alan Sass 111,800
Anirudh Seth 103,400
Day 2 of this event will start at 2 pm PDT on Wednesday and the PokerNews Live Reporting Team will bring it to you every step of the way.